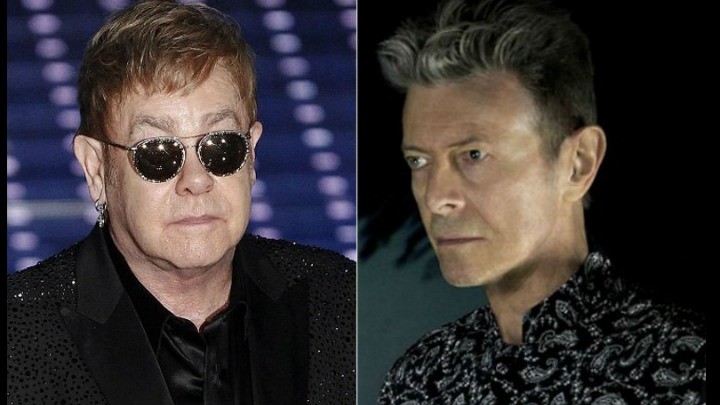 Elton John has spoken about the death of his former friend David Bowie for the first time, revealing the pair never made up after a disagreement 40 years ago.
Elton said the pair started out as friends, but fell out when David made a comment about him in a Rolling Stone interview in 1976.
"David [Bowie] and I were not the best of friends towards the end," he told the Evening Standard's ES Magazine.
"We started out being really good friends. We used to hang out together with Marc Bolan, going to gay clubs, but I think we just drifted apart.
"He once called me 'rock'n'roll's token queen' in an interview with Rolling Stone, which I thought was a bit snooty.
"I wasn't his cup of tea. But the dignified way he handled his death, I mean, thank God. I knew he'd had a heart attack on stage in Berlin years ago, but not about the cancer.
He then went on to praise the singer for the way he handled in illness and managed to stay out of the spotlight in the months leading up to his passing.
"Everyone else take note of this: Bowie couldn't have staged a better death. It was classy."
Despite the apparent bitterness between them, Elton said he was devastated when he heard the news of David's passing.
"I was in Los Angeles, asleep.
"It was 3am and the phone rang. It was David [Furnish]. I immediately panicked, as when you get a phone call at three o'clock in the morning you think something is wrong.
"I thought of the kids, something has happened to the kids. And David said, 'I thought I better let you know, David Bowie has died.' And I was shocked … I couldn't go back to sleep."
He also talked about how David's popularity had soared to even greater heights following his death.
"The best thing to happen to your records is for you to die.
"Death is very popular. Obviously, no one wanted David to die, but it's astonishing how many records he's sold since — something like two million in two weeks. And that's CDs."
While many people were interested to hear Elton's insights about the fighting between the pair, there were others who accused the singer of trying to get publicity out of the music legend's death.
What do you think?
Should Elton keep quiet about the feud now that David Bowie has passed? Where you surprised to hear about the feud between to two singers?
Comments