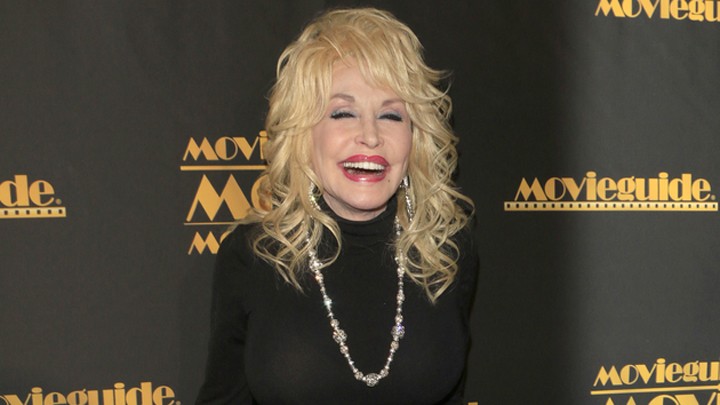 Have you ever accidentally said something you shouldn't have? Dolly Parton has put her foot in it a little bit while the younger world waited for her goddaughter Miley Cyrus to confirm she was in a relationship with on-again off-again boyfriend Liam Hemsworth.
Dolly confirmed her goddaughter Miley has rekindled her romance.
"I was really happy when I heard they'd gotten back together, 'cause I know that seemed to be a big heartache for both of them when that happened," she told Entertainment Tonight.
She went on to praise her goddaughter, the daughter of Billy Ray Cyrus. "Miley, she's great," she said. "She's a talent, she's deep, she's smart, she's sensitive, and she's gone through a lot — she's put herself through a lot — but she's gonna always land on her feet 'cause she's a gifted girl."
In other big Dolly news, the country singer announced she will perform in more than 60 cities in Canada and the US this year, making it her biggest tour in 25 years. She has not announced any Australian dates yet.
"We're so excited to get out there and see the fans again," Parton wrote on her website.
"I'm really looking forward to singing songs the fans have not heard in a while, as well as the hits, while debuting a few new ones off Pure & Simple".
She told ET, "This tour is called Dolly Pure & Simple, and I thought, 'Well, I need an album to go with that' and I didn't have time to do an album.
"I just sat down one night and I started to write the song 'Pure & Simple.' I thought, 'That would make a beautiful love song. A simple country song.'
"So I wrote it and it really was pretty!" she continued. "Then I wrote another one, and another one, and it turned out to be a love song album. It's all love songs! It really turned out really pretty and a lot of the songs are done real simple".
Pure & Simple with Dolly's Biggest Hits is a two-disc set, to be released in June/July, including all new material as well as a compilation of the beloved singers biggest hits.
As for Miley and Liam, their respective spokespeople have not responded, but it's safe to say the cat's out of the bag!
Tell us, have you ever accidentally revealed some big news you shouldn't have?
Comments