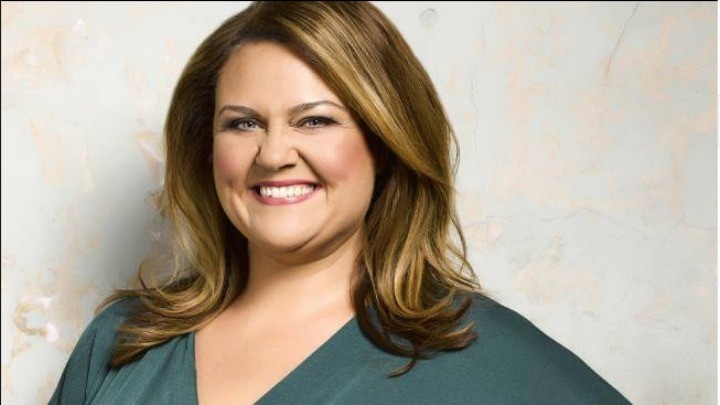 Television and radio host Chrissie Swan has lashed out at critics who berated her for failing to push her own trolly full of groceries back to her car at her local fruit and veg store.
Yesterday, Chrissie was attacked online by media outlets and online commenters who branded her as "too posh to push" her trolly after she was photographed walking ahead of a young man wheeling her trolly to her car for her.
It comes off the back of a similar story, where a Mt Tamborine hiker was accused of being "unfit" after he was rescued by SES workers after failing to make it back down the mountain on his own.
It turned out the man was an army veteran who had completed two tours in Afghanistan and was suffering from PTSD, which caused him to have a panic attack at the top of the mountain and left him stranded and alone needing to be rescued.
Chrissie appeared on her commercial radio show today where she was teased by her co-hosts before jumping in to defend herself.
"What about the arrogant look, just looking back as if to say 'hurry up you little boy,'" one of her co-hosts said after saying Chrissie was meant to be "a woman of the people".
"You're ten metres out in front of him, paying absolutely no attention to him."
Lollll story of the day. Pls respond @ChrissieSwan pic.twitter.com/oiMl9ckNkN

— Jo Robin (@Jofacekillah) March 31, 2016
But Chrissie said she had a perfectly good explanation for the incident.
"Can I please butt in here and tell you what happened, can I?" she said, after they declared she was also "too posh to listen".
"Yes, somebody pushed my shopping trolley," she admitted.
"I do my shopping down at Coltivare in Camberwell, the centre of the universe," she said sarcastically.
"It is posh, it's the best food and veg there is, I've been shopping there for four or five years.
"The owners, our kids go to school together, I'm there once or twice a week, they insist that somebody pushes my trolley to the car, they insist, and I say, I go, 'don't be silly, it's just here, it's stupid, it's embarrassing'. 'No Chrissie, we're doing it,'" they responded.
"I can't say no, they are Italian, you can't.
"It happened but it wasn't like I said '(Hey) you! Bring my vegetables to my Volvo!' I was in there talking to the owners, who I see all the time, it's my local, four or five years of history, they always send someone out to push my trolley, always.
"Even the future Queen of England can push her trolley, let me tell you I do more than push my own trolley."
The incident has caused some people to jump to Chrissie's defence saying it is just another case of people being too quick to judge and bullying others without knowing the full story.
"OMG leave her alone. She's a lovely beautiful woman," wrote one commenter.
While others took the chance to attack her even further.
"Don't know who she is but she looks lazy to me. Just another lazy celebrity milking it for all they can," said another.
What are your thoughts?
Is this another case of people being too quick to judge? Do we all need to be kinder to one another?
Comments