Whoopi Goldberg has been an electrifying, envelope-pushing public figure of many stripes: acclaimed actor, comedienne, singer, songwriter, author, political activist and talk show host. Now, she speaks openly about why marriage isn't for everyone, how being alone can be satisfying, and how what's most important is understanding who you are and what makes you happy.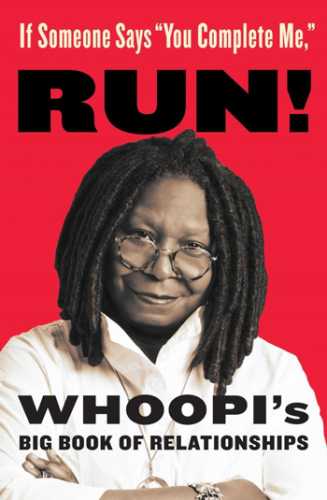 Whoopi says: "I get to hear from a lot of different people about relationships and this got me trying to figure out why the divorce rate is so high. It occurred to me that as one who has done it badly often, I might have some insight. It's hard to know the other person's agenda, but if someone says 'you complete me'…RUN!!!"
Karen says: I find Whoopi Goldberg quite an amazing and even inspirational woman. She espouses many causes and is a Goodwill Ambassador to the United Nations. In addition to her very successful career, she is a daughter, wife, mother, grandmother and now great grandmother AND she has the most amazing collection of shoes! For me, The View was one of the few daytime talking heads programmes worth watching.
I couldn't resist the opportunity to read If Someone Says "You Complete Me," Run!  I laughed out loud at some of her reasons for avoiding relationships, recognising the compromises she is not prepared to make. In the introduction, Whoopi says "things that are required in a relationship are not things I'm willing to do".  She continues "What I hope, though, is that you read this and say "Hey, I'm going to try that, it makes perfect sense," or "Maybe not" and then you can move on …"
In Chapter 2 Whoopi goes on a rant about the unrealistic expectations we are fed by music, literature,movies and TV.  "Leave it to Beaver", to Jerry Maguire, Barry White and Snow White, she points out the ridiculous statements which somehow have become truth, one being part of the title of her book "You complete me" – so you were only half a person before this person come into your life?
I stopped laughing however when reminded that one of THE great love songs is sung by the hapless Nancy in Oliver. Beaten and abused by Bill Sykes, Nancy believes that the bad treatment is all worth it "As Long as He Needs Me". What a horrid lesson in low self esteem.
Throughout the book Whoopi invites us to complete lists with her such as the 10 movies which are the biggest cons relationship wise; the 5 things we want from a relationship and the 5 things we don't want, and numerous others. I had fun with these and they really made me question how easily I accept many of the relationship myths.
As she asks, I agreed sometimes, on others I moved on, but here very strong message that unless we are a whole person, in our own space and our own being, we cannot expect anyone to "complete me".  This message should be delivered to both men and women, you need to love, admire and value yourself, never expecting anyone else to "give" you these things.
Whoopi's final word is "I Complete Me", now that is a message worth hearing.
If Someone Says "You Complete Me," RUN!, by Whoopi Goldberg is published by Hachette Australia and is available from Dymocks
Comments