It isn't often we feature a Sci-Fi novel, but but this first book in an epic series takes this genre into a new dimension.  Illuminae, is Book 1 of The Illuminae Files, a Trilogy  by Amie Kaufman and Jay Kristoff.
Victoria Aveyard, bestselling author of Red Queen described Illuminae as: "A truly beautiful novel that redefines the form" whilst Veronica Rossi, bestselling author of Under the Never Sky says: "Stunningly creative. Smart, funny, and romantic. This is the book I've been waiting for." 
Kady and Ezra thought their break-up was messy until they witnessed their entire world literally falling apart. Now they're are piecing together what's left of their lives, and their romance, and trying to survive an intergalactic war. An innovatively designed story that's best described as Battlestar Galactica meets 10 Things I Hate About You.
The year is 2575, and two rival mega-corporations are at war over a planet that's little more than an ice-covered speck at the edge of the universe. Too bad nobody thought to warn the people living on it. With enemy fire raining down on them, exes Kady and Ezra – who are barely even talking to each other – are forced to fight their way onto the evacuating fleet, with an enemy warship in hot pursuit.
But the warship is the least of their problems. A deadly plague has broken out and is mutating, with terrifying results. The fleet's AI, which should be protecting them, may actually be their enemy; and nobody in charge will say what the hell is going on. As Kady hacks into a tangled web of data to find the truth, it's clear only one person can help her bring it all to light: the ex-boyfriend she swore she'd never speak to again.
Illuminae is the first book in a heart-stopping, high-octane trilogy about lives interrupted, the price of truth and the courage of everyday heroes.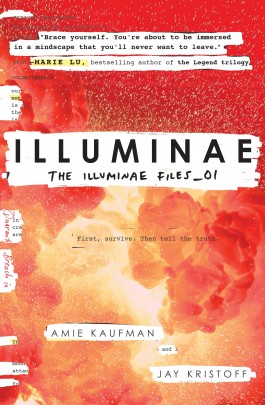 Amie Kaufman is the award-winning co-author of the Starbound series. Jay Kristoff is the award-winning author of the Lotus War series. Collectively, they are 12'5″ tall and live in Melbourne, Australia, with two long-suffering spouses, two rescue dogs, and a plentiful supply of caffeine.
They met thanks to international taxation law, and stuck together due to a shared love of blowing things up and breaking hearts. You can learn more about Amie and Jay at amiekaufman.com and jaykristoff.com.
Comments