Agatha Raisin waltzes into yet another murder investigation!
Doing a bit of channel surfing one night, I "discovered" Agatha Raisin and I've never looked back!
Agatha is delightful, a younger version of Miss Marple, with more humour and genuine wit, but with that quintessential "Englishness" which is my personal favourite when I'm choosing crime TV or books.
Agatha Raisin, of course, has a perfect pedigree, as she lives in the same mind as Hamish Macbeth; M C Barton is "mother" to both.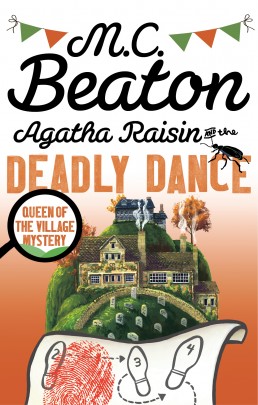 In this, her fifteenth adventure, Agatha Raisin and the Deadly Dance, can our feisty Agatha cut it as a private investigator?
She soon learns that running her own detective agency in the Cotswolds is not quite like starring in a Raymond Chandler movie.
But then walks in wealthy divorcee Catherine Laggat-Brown, and Agatha is given her first real case.
Death threats, blackmail and physical attack soon follow, and once again Agatha is off scouring the countryside for clues and showing friends and enemies alike what Raisin Investigations can do!
Praise for the Agatha Raisin series:
"Sharp, witty, hugely intelligent, unfailingly entertaining, delightfully intolerant and oh so magnificently non-PC, M.C. Beaton has created a national treasure."
Anne Robinson
"M.C. Beaton's imperfect heroine is an absolute gem."
Publishers Weekly
"The Miss Marple-like Raisin is a refreshing, sensible, wonderfully eccentric, thoroughly likeable heroine." Booklist
About the Author
M.C Beaton is the author of both the Agatha Raisin and Hamish Macbeth series, as well as numerous Regency romances. Her Agatha Raisin books are currently being turned into a TV series on Sky. She lives in Paris and in a Cotswold village that is very much like Agatha's beloved Carsely.
Agatha Raisin and the Deadly Dance by M C Barton, published by Hachette Australia, is available now from Dymocks:


Join Books at 60 on Facebook, or sign up for our weekly newsletter below for more great reading recommendations!

Comments