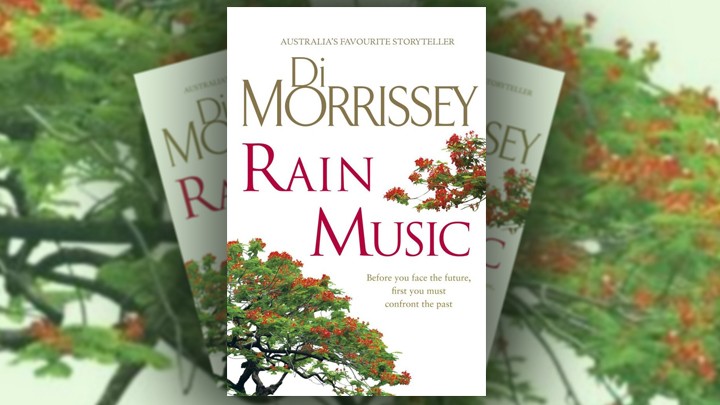 Is it possible to have Christmas without a new release from Di Morrissey?
Her fans all feel we know Di, not only because she is one of the most successful and prolific authors Australia has ever produced, but because she is a tireless and passionate advocate for causes dear to our hearts.
I know when I pick up a Di Morrissey novel I'll be entertained, of course, but she has the ability to weave fact into her fiction so that we learn a little about the real landscape, period and people. Di writes with such a strong sense of place; she knows her physical landscape and then puts the people into that world; the South Coast of New South Wales, in The Winter Sea; the Kimberley region in Tears of the Moon, Kimberley Sun and The Songmaster; the Hawaiian Islands in The Islands and Vietnam in Monsoon.
Now in Rain Music, Di Morrissey takes us to Far North Queensland (FNQ). Listen to this: "The vista before him could have been from the dawn of time … untouched as though no one before him had passed this way.   … Out here the baking dry seasons were replaced by surging wet seasons, when the land turned green and wildlife was replenished. This was not the country for the faint-hearted."  These lines are from pages 1 and 2 of chapter one and I admit I was hooked. She tells us a story of the area, not only its past but present history too.
Ned Chisholm loves music and makes his living, writing and performing music. His guitar is his constant companion, and his forays into Cairns and surrounds have made him well known. But Ned wants and needs to write his magnum opus: "He'd always thought that if he could find a place to retreat he would be able to search for the trigger, the spark, the idea that would form the basis of a long simmering goal of writing a dramatic musical. And now, finally, he'd found his chance."
Ned's father died 12 months earlier; his mother and sister are trying to encourage him to come home, perhaps reconcile with his fiancée and settle down. The late Doctor Chisholm is to be honoured by naming a wing in his local hospital in his memory. Surely Ned can spend one day in his hometown to attend the ceremony?  Bella firmly believes she can convince Ned to come home, but when he drops off the radar, not answering his phone or email, she decides to go searching for him.
In his research for a special story to tell through his music, Ned is given access to "The Bish's Box" whose contents are uncatalogued in the archives of the James Cook Museum. The modern day museum is housed in the restored former St Mary's Convent, established by an intrepid band of Sisters of Mercy in 1888. As I read I realised that much of the story was the truth, and there were historically correct names used for characters. I was so intrigued, I emailed Di's agent to ask if some of the letters included in the text were original. Let me explain.
Much of the history of Cooktown is imparted to the reader via letters written by Sister Evangelista to her parents at home in Dungarvan in County Waterford. Fact, among the first sisters to arrive in Cooktown, was a Sister Mary Evangelist Morrissey and the first floor of the museum houses classrooms and histories of the students and teachers.
You don't need me to tell you Di Morrissey writes well, but when you read the letters from Sister Evangelista you read a totally different voice to the rest of the novel. The grammar and tone are different and they have a different feel. I could hear the soft Irish lilt; these are what I thought may be real letters, but are in fact the invention of the author.
Meanwhile, while trying to find Ned, Bella has met an interesting woman Roberta, whose forebears were Kanakas, effectively slaves stolen from the islands north of Australia and brought to work in the cane fields. I loved how Roberta's history told to Bella and what Ned reads draw the novel together, as the cover says "One story through two sets of eyes".
Di Morrissey is a favourite author of mine and I've enjoyed the majority of her 23 novels (those I didn't enjoy I haven't read yet!), but even for this awesome author, this is a very special story.
Rain Music by Di Morrissey is available now from Dymocks.

Join the Starts at 60 Book Club for more great reading recommendations!

Comments