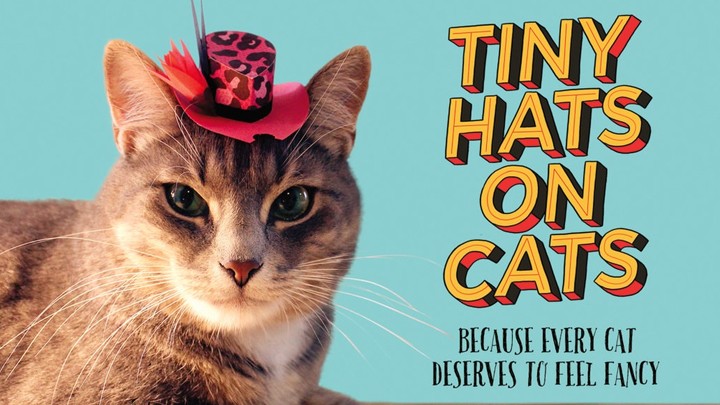 Because "every cat deserves to feel fancy"  Adam Ellis crafts Tiny Hats for Cats.
This charming little book will make a very special present for the cat lover in your family; I know at least three people who would open this book with pure joy time after time.
Writer and illustrator Adam Ellis adopted a little three-legged kitten named Maxwell. They don't know how he lost his limb, but Adam assumes it was a shark attack, like that surfing girl in Hawaii. (Just kidding.)
One day, after coming across a pack of coloured paper, Adam started crafting tiny hats for Maxwell and posting pictures of them on Instagram.
People loved it so much that he made another one and another. Before long, he had made a few dozen and they exploded in popularity – Adam's hats were featured on The Huffington Post, E!Online, Buzzfeed UK, Jezebel, Reddit and more.
Now Adam is sharing his designs with the world so that beloved cats everywhere can share in the fashion craze that is sweeping the internet. The book will feature about 35 hats in total, organised in order of difficulty from easiest to make to hardest to make.
Tiny Hats on Cats is published by Hachette Australia. Purchase it now now from Dymocks in either hardcover or eBook versions


About the author
Adam Ellis is a 29-year-old artist and blogger and works as an illustrator at BuzzFeed. His first book, Books of Adam: The Blunder Years, was published in 2013. Originally from Montana, Adam now lives in New York City with his two cats, Maxwell and Pepper.
Join the Starts at 60 Book Club for more great reading recommendations!



Comments