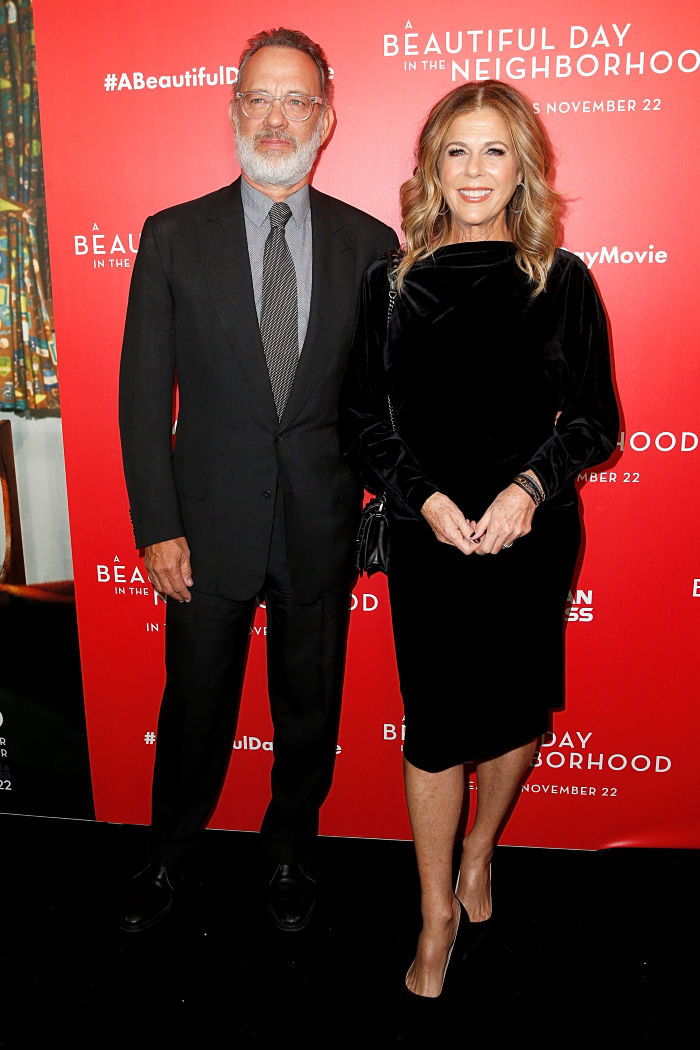 Meanwhile her husband donned a smart dark grey suit for the special night, which he wore with a pale grey shirt and blue patterned tie.
The trailer for the highly anticipated film was released earlier this year and shows Hanks wearing the late Fred Rogers iconic red button-up sweater on the set of his famous children's show Mr Rogers' Neighborhood [sic], which aired from 1968 to 2001.
In the two and a half minute clip, Hanks is seen meeting a journalist named Lloyd Vogel – a character based on real-life journalist Tom Junod – who is working on a profile of Rogers. In the clip, Junod – played by Matthew Rhys – says: "This piece will be for an issue about heroes. Do you consider yourself a hero?"
Rogers then replies: "We are trying to give the world positive ways of dealing with their feelings … there are many things you can do. You can play all the lowest keys on the piano at the same time."
Hanks, 63, can also be heard singing the show's theme song at the beginning of the trailer, as he sings: "It's a beautiful day in the neighbourhood, a beautiful day for a neighbour … Would you be mine? Could you be mine? Please won't you be my neighbour."
Rogers passed away in 2003 however Junod is still alive. Now aged 61, the former journalist penned an essay about the upcoming movie for The Atlantic titled 'My friend Mister Rogers'.
"A long time ago, a man of resourceful and relentless kindness saw something in me that I didn't see in myself," he wrote. "He trusted me when I thought I was untrustworthy, and took an interest in me that went beyond my initial interest in him. He was the first person I ever wrote about who became my friend, and our friendship endured until he died."