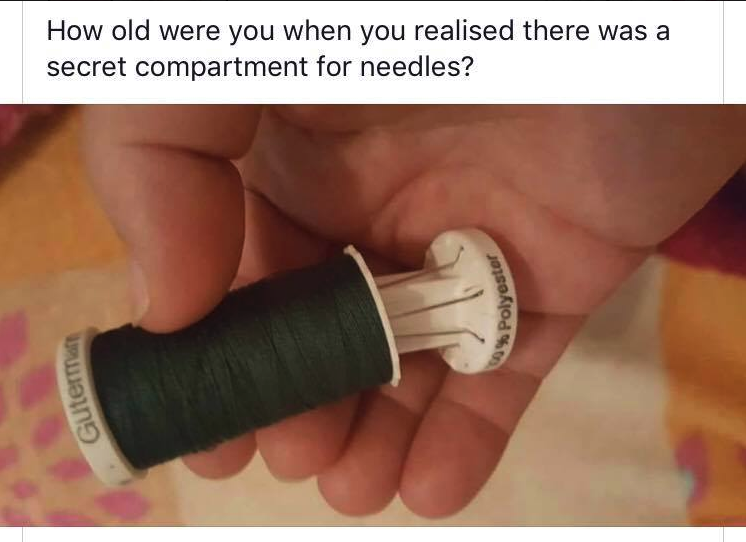 It was an absolutely mind-blowing moment for many, including several Starts at 60 members who after many years sewing, didn't know about the very clever trick.
"Oh my gosh… I'm glad it's never too late to teach an old lady new tricks," one person wrote.
While a second said: "Well I'll be blowed! Never knew. I'll have to go and check out my reels! I'm 66".
And a third added: "Well you live and learn. I'm 60 and have been sewing since I was 12. Have my own online business making puppets to order. I use Gutermann all the time and didn't ever know this!"
There have been many handy tips coming out of the woodwork as of late with one of the most recent being the use of the buttons on the shoulder of coats. While plenty of people have owned coats and jackets featuring the simple fold of material with a button to clip it in place on the shoulder, most probably weren't aware that it was more than just a fashion statement.
Taking to social media recently, one woman has claimed the buttons are placed in that specific spot to help handbags stay in place and stop them from slipping off shoulders.
Using a photo as proof, the surprised Twitter user showed how the strap of the handbag can be placed firmly on the shoulder with the button holding it in place so it doesn't move anywhere.
"Taken me 18 years to find out that the weird shoulder buttons on jackets is [sic] to hold your bag in place so it doesn't fall off who knew," she wrote.
Apparently the nifty idea was first born for military shirts and jackets to keep backpacks and ammunition pouches from slipping off the shoulder. The shoulder straps are also used by military personnel to display shoulder marks that bears their rank or other insignia.
Did you know about this handy little compartment?