The top 20 cities you need to experience in your life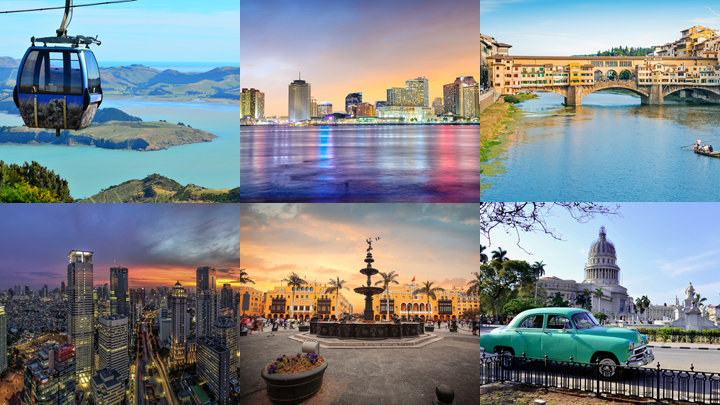 Paris, London, New York – these cities often pop up on bucket lists because they are so iconic, but what are some cities that don't always immediately jump out as amazing, but truly are?
We've found 20 of the best cities, and three things you need to do in each.
Which of these cities would be on your list of must-dos?
1. New Orleans
Ad. Article continues below.
Population: 380,000
New Orleans is a Louisiana city on the Mississippi River, near the Gulf of Mexico. Nicknamed the "Big Easy," it's known for its round-the-clock nightlife, vibrant live-music scene and spicy, singular cuisine reflecting its history as a melting pot of French, African and American cultures. Embodying its festive spirit is Mardi Gras, the late-winter carnival famed for raucous costumed parades and public partying.
Must do:
French Quarter
Southern Food and Beverage Museum
Cruise down the Mississippi River
Ad. Article continues below.
2. Dublin
Population: 525,000
Dublin, capital of the Republic of Ireland, is on Ireland's east coast at the mouth of the River Liffey. Its medieval buildings include 13th-century Dublin Castle and imposing St. Patrick's Cathedral, founded in 1191. Temple Bar is a riverside nightlife and cultural quarter, home to the Irish Film Institute. Bustling, largely pedestrianised Grafton Street is the city's principal shopping area, also famed for its buskers.
Ad. Article continues below.
Must do:
Guinness Storehouse
See the Book of Kells
Visit Phoenix Park and spot the deer
3. Dallas
Ad. Article continues below.
Dallas, a modern metropolis in north Texas, is a commercial and cultural hub of the region. Downtown's Sixth Floor Museum at Dealey Plaza commemorates the site of President John F. Kennedy's assassination. In the Arts District, the Dallas Museum of Art and Crow Collection of Asian Art cover thousands of years of art. The sleek Nasher Sculpture Center showcases contemporary sculpture.
Population: 1.26 million
Must do:
Watch a Dallas Cowboys game
Visit White Rock Lake
Visit the Dallas Zoo
4. Ho Chi Minh
Ad. Article continues below.
Ho Chi Minh City, commonly known as Saigon, is a city in southern Vietnam famous for the pivotal role it played in the Vietnam War. It's also known for its French colonial architecture, including Notre-Dame Basilica, made entirely of materials imported from France, and the neoclassical Saigon Central Post Office. Food stalls line the city's streets, especially around bustling Ben Thanh Market.
Population: 8.22 million
Ad. Article continues below.
Must do:
Visit the War Remnants Museum
Have traditional pho
Go in the Cu Chi tunnels
5. Jakarta
Ad. Article continues below.
Jakarta, Indonesia's huge capital, sits on the northwest coast of the island of Java. A historic mix of cultures – Javanese, Malay, Chinese, Arab, Indian and European – has influenced its architecture, language and cuisine. The old town, Kota Tua, is home to Dutch colonial buildings, Glodok (Jakarta's Chinatown) and the old port of Sunda Kelapa, where traditional wooden schooners dock.
Population: 9.6 million
Must do:
National Monument
Grand Indonesia Mall
Thousand Islands
6. Mumbai
Ad. Article continues below.
Mumbai, formerly called Bombay, is a sprawling, densely populated city on India's west coast. On the Mumbai Harbour waterfront stands the iconic Gateway of India stone arch, built by the British Raj in 1924. Offshore, nearby Elephanta Island holds ancient cave temples dedicated to Shiva. The city is also famous as the heart of the Hindi-language Bollywood film industry.
Ad. Article continues below.
Population: 11.98 million
Must do:
Bollywood
Marine Drive
Kanheri caves
7. Amsterdam
Ad. Article continues below.
Amsterdam is the Netherlands' capital, known for its artistic heritage, elaborate canal system and narrow houses with gabled facades, legacies of the city's 17th-century Golden Age. Its Museum District houses works by Rembrandt and Vermeer at the Rijksmuseum, the Van Gogh Museum and modern art at the Stedelijk. Cycling is key to the city's character, and there are 400km of cycle paths.
Population: 780,000
Must do:
Hop on a bike
Go on a canal cruise
Visit the world famous tulip fields (Bollenstreek)
Ad. Article continues below.
8. Dubai
Dubai is a city in the United Arab Emirates known for luxury shopping, ultramodern architecture and a lively nightlife scene. Burj Khalifa, an 830m-tall tower, dominates the skyscraper-filled skyline. At its foot lies Dubai Fountain, with jets and lights choreographed to music. On man-made islands just offshore is Atlantis, the Palm, a resort with water and marine-animal parks.
Population: 2.5 million
Ad. Article continues below.
Must do:
Palm Islands
The Dubai Mall
Grand Mosque
9. Lima
Ad. Article continues below.
Lima, the capital of Peru, sits on the country's arid Pacific coast. Though its colonial center is well preserved, today Lima is a bustling metropolis that's one of South America's largest cities. It's known for its vibrant food scene, encompassing specialties from ceviche and traditional coastal cooking to refined global fare. It's also home to the preeminent Museo Larco collection of pre-Columbian art and the Museo de la Nación, tracing the history of Peru's ancient civilizations.
Population: 8.5 million
Must do:
Visit Miraflores
Parque de la Reserva
Sample traditional Peruvian cuisine
10. Chicago
Ad. Article continues below.
Chicago, on Lake Michigan in Illinois, is among the largest cities in the U.S. Famed for its bold architecture, it has a skyline bristling with skyscrapers such as the iconic John Hancock Center, sleek, 1,451-ft. Willis Tower and neo-Gothic Tribune Tower. The city is also renowned for its museums, including the Art Institute and its expansive collections, including noted Impressionist works.
Ad. Article continues below.
Population: 2.7 million
Must do:
Millennium Park
Navy Pier
North Avenue Beach
11. Barcelona
Ad. Article continues below.
Barcelona, the cosmopolitan capital of Spain's Catalonia region, is defined by quirky art and architecture, imaginative food and vibrant street life. It has medieval roots, seen in the mazelike Gothic Quarter, but a modernist personality represented by architect Antoni Gaudí's fantastical Sagrada Família church. Its restaurant scene, anchored by the central Boqueria market, ranges from fine dining to tiny tapas bars.
Population: 1.6 million
Must do:
Gothic quarter
Take a city tour
Barceloneta Beach
Ad. Article continues below.
12. Quito
Quito, Ecuador's capital, sits high in the Andean foothills at an altitude of 2,850m. Constructed on the foundations of an ancient Incan city, it's known for its Spanish colonial buildings dating back more than 500 years. It all can be taken in from the TelefériQo, a gondola ride up the Pichincha volcano, with the Parque Vulqano amusement park at its base.
Ad. Article continues below.
Population: 1.6 million
Must do:
Old Town
Visit the equator
Basilicata
13. Kuala Lumpur
Ad. Article continues below.
Kuala Lumpur, the capital of Malaysia, is called KL by locals. Its modern skyline is dominated by the 451m-tall Petronas Twin Towers, a pair of glass-and-steel-clad skyscrapers with Islamic motifs. The towers also offer a public skybridge and observation deck. The city is also home to British colonial-era landmarks such as the Kuala Lumpur Railway Station and the Sultan Abdul Samad Building.
Population: 1.6 million
Must do:
Twin Towers
Pavilion shopping centre
City centre
Ad. Article continues below.
14. Guangzhou
Guangzhou is a sprawling port city northwest of Hong Kong on the Pearl River. Considered the birthplace of dim sum, it has a thriving food scene. Its markets specialize in wares ranging from eyeglasses to electronics. The sandbar Shamian Island, across a canal from Guangzhou, has leafy streets and grand mansions that are a legacy from its time as a foreign concession.
Population: 8.53 million
Ad. Article continues below.
Must do:
Canton Tower
Shamian Island
Cruise the Pearl River
15. Florence
Ad. Article continues below.
Florence, capital of Italy's Tuscany region and birthplace of the Renaissance, is home to masterpieces of art and architecture. One of its most iconic sites is the Florence Cathedral, with its terra-cotta-tiled dome engineered by Brunelleschi and bell tower designed by Giotto. The Galleria dell'Accademia displays Michelangelo's "David," while the Uffizi Gallery exhibits preeminent works such as Botticelli's "The Birth of Venus" and da Vinci's "Annunciation."
Population: 360,000
Must do:
See the statue of Michelangelo
Accademia Gallery
Do a bike tour
16. Havana
Ad. Article continues below.
Havana, Cuba's colorful capital, is known for the Spanish colonial architecture of its 16th-century Old Havana core, including Castillo de la Real fort, now a maritime museum, and the pre-revolutionary Capitolio. 1950s American-made cars line the city's streets and rumba groups play in the painted alley Callejón de Hamel. Salsa emanates from clubs and cabaret is still performed at the famed Tropicana.
Ad. Article continues below.
Population: 2.1 million
Must do:
Old Havana
Plaza de la Catedral
El Malecon
17. Lisbon
Ad. Article continues below.
Lisbon, Portugal's hilly capital, is a coastal city known for its cafe culture and soulful Fado music. From imposing São Jorge Castle, the view encompasses the old city's pastel-colored buildings, Tagus Estuary and the Ponte 25 de Abril suspension bridge. Nearby, the National Azulejo Museum displays 5 centuries of decorative ceramic tiles. And just outside Lisbon is a string of Atlantic beaches, from Cascais to Estoril.
Population: 530,000
Must do:
National Tile Museum
See the 25th of April Bridge
Take Tram 28
Ad. Article continues below.
18. Munich
Munich, the capital of Bavaria, is home to centuries-old buildings and numerous museums. The city is known for its annual Oktoberfest celebration and cavernous beer halls, including the famed Hofbräuhaus, founded in 1589. In the walkable Old Town, Marienplatz is a central square containing landmarks such as Gothic Neues Rathaus (town hall), with a popular glockenspiel show.
Population: 1.4 million
Ad. Article continues below.
Must do:
English Garden
Marienplatz
New Town Hall
19. Budapest
Ad. Article continues below.
Budapest, Hungary's capital, is bisected by the River Danube, and the 19th-century Chain Bridge connects its hilly Buda district with flat Pest. A funicular runs up Castle Hill to Buda's Old Town, where the Budapest History Museum traces life from Roman times onwards. Trinity Square is home to 13th-century Matthias Church and the turrets of the Fishermen's Bastion, which offer sweeping views.
Population: 1.7 million
Must do:
Discover historic Castle Hill with a walking tour
Take a Danube cruise
Enjoy a performance at the Budapest Opera House
20. Christchurch
Ad. Article continues below.
Christchurch is a garden city on the east coast of New Zealand's South Island, set on the Canterbury Plains. Flat-bottomed punts glide on the Avon River, which runs through the city centre. On its banks are cycling paths, the green expanse of Hagley Park and the Christchurch Botanic Gardens. In 2010 and 2011, 2 major earthquakes destroyed many city-centre buildings, and restoration work continues.
Ad. Article continues below.
Population: 366,000
Must do:
The Botanic Gardens
Bungee jumping!
Take the Gondola
Tell us, what cities do you have on your bucket list?