Smart packing tips for cold weather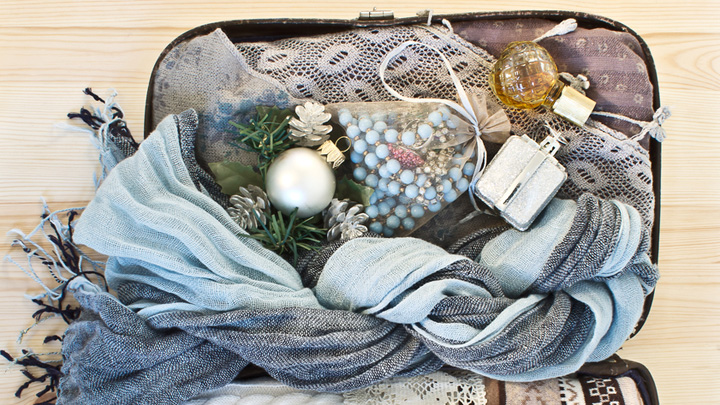 It's so cold at the moment but it's also the perfect time for a getaway to the snow or a toasty cabin in the mountains. This means you will need to pack a suitcase, but everyone knows packing for cold weather can be difficult as warm clothes can be very heavy. But we've found some tricks that will not only save time and hassle, they'll also save space.
Do you have any other tips for cold weather packing to add?
1. Layer it!
One of the most essential things to note when packing for cold weather is to utilise layers. You don't need one massive jacket to keep you warm when you can bring smaller pieces to wear multiple ways!
The problem with bringing one big jacket is that it might only be worn once or twice, and it mightn't go with everything. If you choose your layers wisely, you'll have less bulk, more outfit options, and be just as warm.
Ad. Article continues below.
Think singlets, short sleeve and long sleeve tops with neutral colours and patterns.
2. Think about your bottom layers
The top isn't the only part of your clothing you can layer – you may want to consider layering your pants too! You can layer most pairs of pants by wearing a pair of leggings or tights underneath. The bonus is that leggings or tights are also great to double as pyjama pants or under a dress.
3. Footwear
Make sure that whichever shoes you decide to bring keep out water and cool air. Boots and sports shoes offer support and don't let cold water or air get in.
Ad. Article continues below.
Requirements for good winter travel shoes:
– Weatherproof
– Light on lacing
– Dark coloured
4. Accessories
If all of your clothing items are in neutral or solid colours, it's easier to mix and match them with your accessories. Think hats, beanies, scarves and gloves.
5. Use compression bags
Ad. Article continues below.
Compression bags are a winter travellers best friend! They are great for making space and reducing the size of your bigger items. Use one bag for jumpers and tops, another for pants and bottoms, and a third for accessories. When you have all the items you want to pack, compress the bags and pack in your suitcase.
6. Don't double up
If you want to include jeans or another pair of heavy pants, include one pair – men are the most guilty of bringing more pants than they need! Just bring one type of pants instead of two of the same.
7. Carry on your bulkiest items
Planes can be very cold places to spend a long amount of time so wear your boots and biggest jacket you have! Even if you find you don't want to wear it, you can always store it in the overhead bin. This way you save yourself potential heavy luggage fees.
Share your thoughts below.