How to pack a cabin bag with everything you need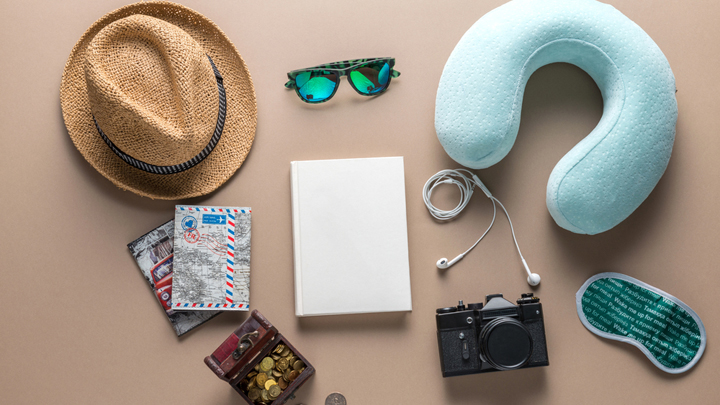 Packing a large suitcase can be quite easy but it's when it comes to what to put in your cabin baggage, it can be tricky. What compounds the issue is trying to be compliant to your airline's baggage restrictions, which may only allow you to carry a certain amount on board.
Most airlines allow a maximum size of around 60cm high x 40 cm wide x 20 cm deep plus one other small item (such as a handbag or backpack), with a total combined weight of between 7 and 12kg. But make sure you check your individual airline before you go. Here's some:
Ad. Article continues below.
Here's the definitive carry-on list for the global traveller so you can make the most of your flight and not be left in the lurch if your luggage (touch wood) gets lost.
Travel wallet with passport, cards, currency, itinerary

You can buy a travel wallet at any good travel store and it should have compartments for all your valuable information including your passport, credit and travel cards, home and away currency, as well as your hotel and car bookings, tour and travel itineraries.

Phone, tablet, computer

Don't forget your electronics! On board entertainment can be great – to a point. Make sure they're charged up and ready to go if you want to play games or watch a downloaded movie.

Eye drops and your glasses

The dry plane cabin can make your eyes feel sore so it's a good idea to keep your eye drops on hand and wear your glasses if needed.

Eye mask and ear plugs

It can be noisy in any plane, but wearing a dark eye mask and soft ear plug can help you get some much needed rest.

A pen and notebook

Don't be the person who has to wait until they get to immigration to fill out the form. Be prepared!

Baby wipes

Planes are full of germs and sometimes the tray and other parts of the seat are not sanitised. Give them a wipe down before use. Baby wipes are also great for freshening up.

A makeup bag with tinted moisturiser, lip balm and hand sanitiser

You may want to bring your whole makeup bag on board – that's fine too, but remember that any liquids need to be under 100ml and placed in a separate plastic bag.

Noise-cancelling headphones

These can help you get in your own world and get rid of any annoying noises.

Chargers

Most plane seats nowadays have USB ports in the armrests, meaning you can keep your electronics charged the entire time. So make sure you have your cords with you!

Medications

Keep your medications on you, as well as a note from your doctor saying what you have.

Fresh socks

The temperature can vary in the cabin and it may get chilly. Warm up with some fluffy socks.

Light change of clothes

In the unlikely event your luggage goes missing, always take a light change of clothes with you to hop into halfway along.

Scarf

Take along a long, multi-purpose scarf that can also double as a shawl or blanket.

Camera

Another one "just in case". You might need your camera so you can take photos straight away, and also so you can keep it close to you on your journey.

Toothbrush and toothpaste 

Get into your regular routine by bringing along a toothbrush and toothpaste.

Tissues 

These will also come in handy on the ground!

Foldable water bottle

Security do not usually allow you to bring a filled water bottle through customs, so bring along a foldable/collapsible type.

Snacks

15 hours is a long time to survive on just plane food. Bring your own snacks from home – sealed of course.

A book or kindle

It's the perfect time to read, so take advantage of it!

Memory foam neck pillow

Forget those ones with beans, a memory foam pillow is so much more comfortable.
What is on your must-bring carry-on list?