The Jamiesons lie, plot, deceive to win their 'Birthright'
Sponsored Content
Book Reviews
3 months ago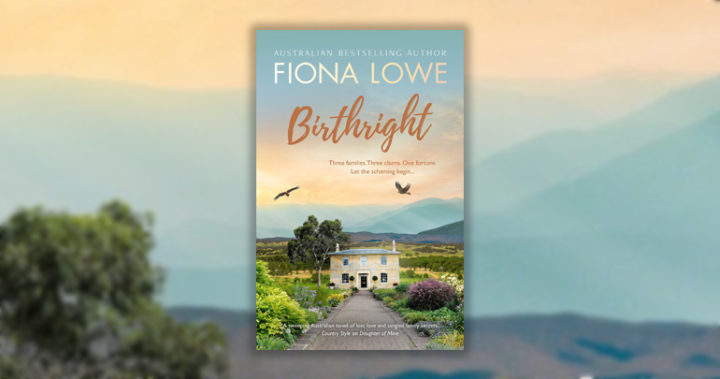 It's said as a joke, "Where there's a will there's a relative!" People who understand wills and inheritance tell us that money, and who gets it, keeps the legal system busy.
Author, Fiona Lowe, has been a midwife, a sexual health counsellor, and a family support worker; an ideal career for an author who writes novels about family and relationships. Fiona's new novel Birthright (click here to see review) is about money and who inherits it. Following is an extract kindly made available to us by HQ Fiction.
*****
'It's Sunday morning on Australia's radio show.'
The twang of a banjo exploded in Sarah's ears, hauling her aggressively and abruptly out of a deliciously deep sleep. Worse than that, it imploded a wondrous dream of a place where she floated peacefully, bathing in all its wonder. A place no one expected her to juggle the transport logistics of bread and cheese, solve staffing issues, find missing wallets/keys/phones/items of school uniforms/homework—in fact, no one was asking her to do anything at all. It was her definition of bliss.
She lay momentarily stunned, her heart pounding and her mind struggling to compute more than No! Too early! Go away! The realisation it was Mother's Day dribbled into her consciousness more slowly, before jabbing her like the sharp end of stick.
Stupid, stupid, stupid. Why didn't you check the alarm last night?
She'd shared her life with Alex for twenty-two years and she was intimate with the fact that eighty per cent of the time he forgot to switch off the six-day-a-week radio alarm on Saturday night. So here she was awake in the dark at 6.30 am on Mother's Day. Fabulous! The temptation to wallow in a seductive bath of 'why today of all days?' tugged at her, but martyrdom wasn't a coat that fit. All her life she'd been a problem solver, a fixer—a woman who got things done. Sure, she was awake ridiculously early on a day that was technically 'her day', when sleeping in was an essential part of the manual, but was it an opportunity? Carpe diem and all that jazz? She smiled. This year, they only had one kid at home and she'd bet Gus wouldn't be up this early, giving her and Alex plenty of time to celebrate.
Rolling over, she moved to spoon her husband. Her arms touched warm but empty sheets just as Alex's feet hit the floor with their usual thump. A streak of cool air zoomed in under the doona, skating up her spine. She sat up in the dark.
'You're going for a ride?'
The sound of lycra snapping against skin answered her. She worked at not sighing out loud and actively bit off the words, 'It's Mother's Day'. There was no point uttering them."
*****
Birthright by Fiona Lowe is available from the publisher, HQ Fiction – click here for details