The best local foods from around the world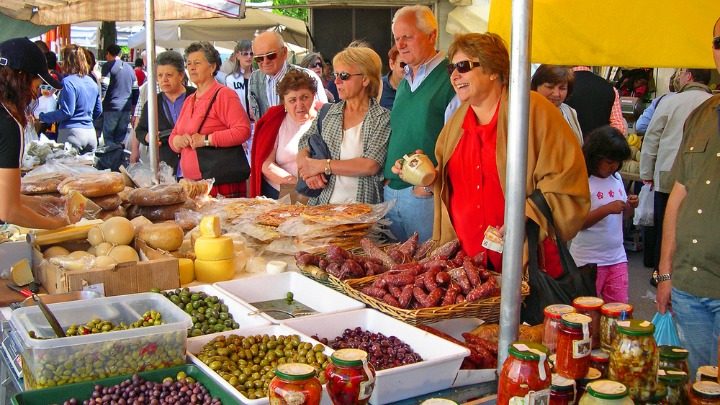 Heading off overseas for a new adventure is always an exciting time. There are so many new places to discover, things to see, and most importantly – for many people – foods to try! One of the best ways to embrace the culture in any country is to try the local food and see what all the fuss is about. Whether it's outrageously spicy or delightfully sweet, there are so many amazing dishes to try around the world. Here is a selection of the best to get you started on your culinary adventure…
Siew Pao, Malaysia
This amazing local pastry is a favourite with locals and tourists alike. Filled with meat, spices and a delectable sauce and encased in a buttery and crumbly pastry, it is truly one of the best things on the menu at the local bakeries and street stalls. You'll often get one fresh out of the oven with a golden top and a sprinkling of sesame seeds.
Ad. Article continues below.
Falafel, Israel
A photo posted by Rosamsagaz González (@cherierefracte) on
It may have originated in Egypt, but Israel is the real home of the falafel. The Israelis have perfected the deep fried chickpea ball and you'll find it at street food vendors across the country. Tel Aviv is home to some of the most renowned falafel stores, where it is served up in warm pita bread and stuffed with hummus, pickled veggies, roasted eggplant salad, feta cheese, and even French fries in some areas.
Pad Thai, Thailand
Ad. Article continues below.
Thailand is famous for its noodle dishes, with local cooks masterfully frying them up right in front of you on the sidewalk and serving them in steaming hot mounds. Try the famous pad thai sweetened with tamarind and cooked over a coal-fired wok. It's finished with a blanket of whisked fried egg and a sprinkling of fresh herbs and peanuts, for that authentic and mouth-watering thai flavour.
Vada Pav, India
Ad. Article continues below.
This is basically an Indian burger of sorts and is beloved by people around the world. Don't expect the same flavours you'd get in a burger at home though, as these spicy potato fritters are served in a fresh bun with red garlic chutney on the top and a fresh green chutney on the bottom. They are particularly famous in Mumbai, where vendors serve them fresh and hot to hundreds of hungry customers every day.
Burek, Bosnia-Herzegovina
Ad. Article continues below.
This gorgeous flakey pastry has a melt-in-your-mouth affect when done right. It comes in both savoury and sweet versions such as spinach-and-feta pita – or zeljanica, an egg-and-cheese version – called sirnica and a potato and onion – krompirusa. The sweet version is made with apples and cinnamon and is called jabukara by the locals. The pastry is almost impossibly thin and is brushed with oil before being gently rolled over and over into a giant circle to encase the filing. It's baked in the oven where the outer layer blisters and turns a deep golden colour, while the filling remains chewy and warm.
Banh Mi, Vietnam
Regarded as the world's best sandwich by many, banh mi is a must-try when it comes to Vietnamese food. Taking influence from the county's French colonial history, the sandwich is served in a fresh baguette slathered with mayonnaise on both sides and filled with local flavours. The meat of choice is usually pork and it is topped off with thin-sliced cucumber, pickled daikon radish and carrots, a handful of coriander and a spicy chili sauce hot enough to knock your socks off.
Ad. Article continues below.
Crêpes and Galettes, France
It's difficult to go to France and resist trying one of these amazing dishes. Local vendors set up carts on the banks of the Seine and busy city streets and sell their delectable goods to hungry crowds. The savoury galette is traditionally served with country ham and melted Gruyere cheese and washed down with a crisp and cold cider. For the sweet tooth, there's always the famous Nutella crepes topped with strawberries, or the simple and classic icing sugar version.
Currywurst, Germany
Ad. Article continues below.
When it comes to Germany, two things come to mind: sausages and beer. Luckily, beer goes perfectly with currywurst, which is a pork sausage-based dish served with hot chips, a generous layer of tomato sauce and a dusting of curry power. The dish is a favourite midnight snack for locals on their way home after a big night out, as well as tourists wanting to sample to the local goods and have an authentic German experience.
Olive all'ascolana, Italy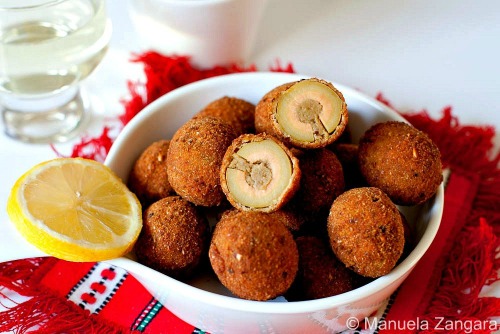 Olive-lovers rejoice! These amazing little street food snacks hail back to the 17 century and are stuffed with a meat and vegetable mixture before being coated in breadcrumbs and deep fried in oil. They are served pipping hot and super crunchy and are definitely one of the most 'moreish' snacks out there. They are dished up in little ramekins and work beautifully with the local wines on offer.
Have you tried any of these dishes? Which one would you most like to try?