Billy Graham, the groundbreaking American TV evangelist, dies aged 99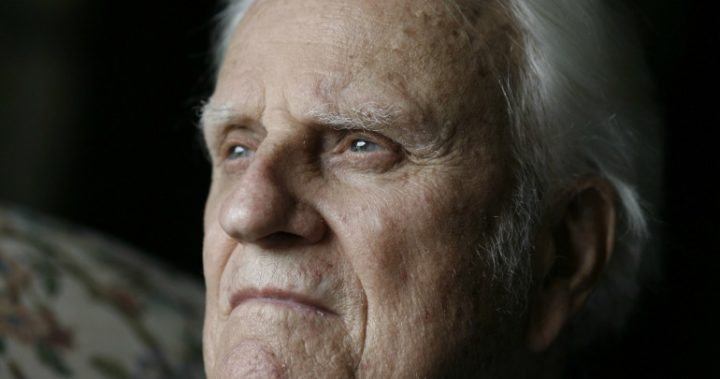 Billy Graham, the original American television evangelist, has died at the age of 99, Associated Press and others have reported.
The reverend was suffering from cancer, pneumonia and other illnesses and died at home in North Carolina, his spokesman Mark DeMoss told the Associated Press. Graham, an ordained Southern Baptist minister, was the first crusading American Christian to harness TV and radio to reach millions of followers, with his shows airing in more than 185 countries and territories.
Graham also had daily newspaper columns and appeared in films and on prime-time TV (Billy Graham Crusades ran from 1947 to 2005), wrote 32 books,  as well as holding crusade events around the world that attracted huge crowds, including a three-month campaign in London in 1954 that attracted more than two million people.
He visited Australia in 1959, attracting more than 130,000 people to the MCG, the ABC reported. In 2009 the ABC looked at the huge impact his four-month crusade in Australia had, noting that Graham's visit triggered mass-conversations to Christianity. Historian Judith Smart told the ABC that Graham was like a "star" to Aussies at the time.
"They wanted to see him. You had to be there," she said. Plus, she added, it was a time of social change in Australia, in which older Australians were in need of the comfort of Christian values and some youngsters were looking for direction.
Ad. Article continues below.
"The coming of rock and roll and rock concerts and rock bands was something that was quite different but made older people a bit scared of what the effects were going to be on younger people," she explained. "There were fears of juvenile delinquency. There was a great concern to try and introduce ways in which you could make sure that young people didn't develop bad habits and move in the wrong direction."
Graham's last public event was held in 2005 in New York, after which he retired. 
Graham admitted in the same year that he regretted one thing about his long career – not using his sway with the public to battle more forcefully for civil rights. He wished, he told AP at the time, that he had gone to Selma to march with Martin Luther King Jr in the historic 1965 event as many other religious figures did. He did however, forbid racial segregation at his crusades before any law dictated he must, and refused to visit South Africa for as long as the apartheid government there insisted on racial segregation.
Instead, Graham reserved his fighting power for combating communism, and counselled many US presidents, including Harry Truman, Dwight D. Eisenhower, Lyndon B. Johnson, Richard Nixon Ronald Reagan, Jimmy Carter, Bill Clinton and George H.W. Bush. He was also on first name terms with Queen Elizabeth and a frequent guest at palace events.
The father of five children, Graham was famously devoted to wife Ruth, who died in 2007 at the age of 87. He said at the time that her passing meant he was looking forward "even more to the day I can join her in heaven."
Ad. Article continues below.
Despite his popular success, and unlike many TV evangelists, Graham never drew a large salary from his ministry business, nor accepted donations made to himself personally. His son, Frankin Graham, continues his Graham's ministering footsteps.
Do you remember seeing Billy Graham on television? What do you think of US-style TV evangelists?