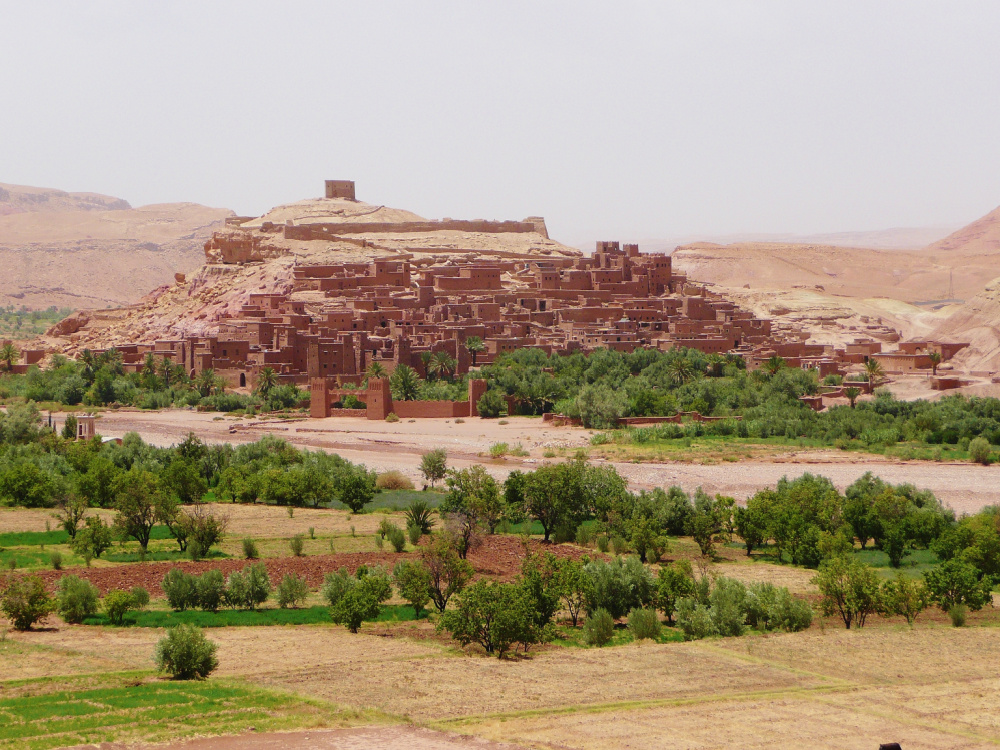 The traditional mud-brick city of Ait Ben Haddou to the west of the Ouarzazate is a UNESCO World Heritage Site. It rises up, red and imposing, not far off the main road. I was really keen to see it, but the thought of walking around in the 42C heat certainly took the edge off it, so sadly we continued on our way. Our driver had insisted on keeping his window down and turning off the car's air conditioning to save on fuel, since he was used to the heat. So by the time we reached the town I was already feeling heat affected.
On arrival in Ouarzazate, we were struck by the modernity of the streets, with paved sidewalks, ornate light poles and wide boulevards, fringed by hotels and modern apartment blocks, nothing like the other regional towns we had seen. The constant influx of international film crews and actors had obviously made their impression.
We spent little time admiring the exterior of the Taourirt Kasbah which is still undergoing restoration but has incorporated shops and artisan spaces along the roadside, and headed straight to a traditional restaurant, across the road, for lunch, hoping for some air conditioning to cool us down. Unfortunately only fans were provided.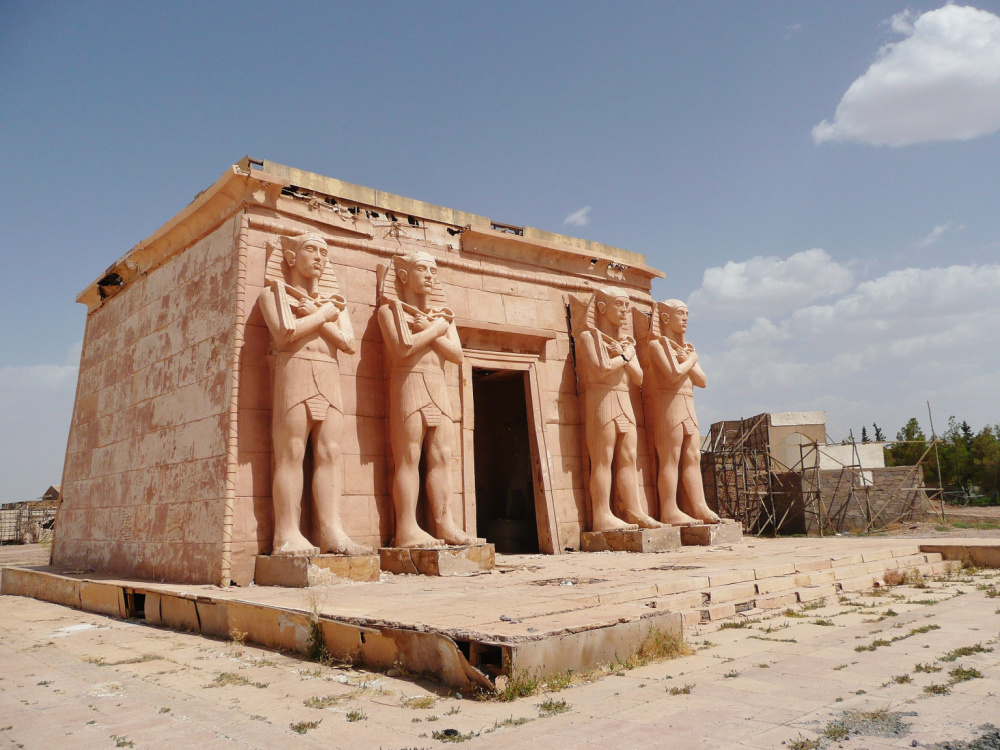 The Ouarzazate area is a noted film-making location, with Morocco's biggest studios inviting many international companies to work here. Films such as Lawrence of Arabia, Cleopatra, The Mummy, and episodes of Game of Thrones, were shot here. Our driver took us out to the Atlas Corporation Studios, where we spent a couple of hours wandering through the various movie sets and examining props used. Created in 1983, the site is spread over 29 hectares, and incorporates all necessary services and equipment for productions: exterior and interior sets, production offices, workshops, stables with trained animals and accommodation in the Oscar Hotel. Films from this studio include The Physician, The Way Back, Pope Joan, Prince of Persia, Gladiator, Babel, Alexander, Kingdom of Heaven and the remake of Ben Hur.
By evening, I was really looking forward to our accommodation – an 18th century Kasbah about 40 kilometres out of Ouarzazate at Skoura: Kasbah Ait Ben Moro. According to its advertising, this stronghold had been restored using traditional methods, turning the rabbit warren of rooms into authentically decorated bedrooms with ensuite bathrooms, and boasting a central dining courtyard and a terraced garden, complete with pool, overlooking a vista of palm trees and mountains. Since it had been a very hot and tiring day, all I wanted was a pool and some air conditioning. No such luck. The 'pool' was ornamental and the only relief from the heat, which did not fall below 39C that night, was constant showers and a fan a few inches from my face as I lay, still wet from the showers, on the sheets. We later learned the Kasbah renovations were still in progress, with pool and air conditioning yet to come.
The next day was devoted to sightseeing from the car, this time with air con on full blast and windows up! The Skoura oasis is well known for its roses, acres of palm groves and numerous Kasbahs in various states of repair. The oasis is fed by two seasonal rivers that emerge from the inhospitable looking landscape that borders the Sahara. We returned through Ouarzazate, taking the road south through the fertile farming valley of the Drâa river, Morocco's longest river, as far as Agdz. The Drâa Valley was once an important transit point on the trans-Saharan caravan trading routes. It is home to Berber villages, sumptuous Kasbahs, lush green plains and endless stretches of palm trees.
Heading back to Marrakech, we ventured off the main road to make a side visit to Telouet and the Kasbah Dar Glaoui that dominates the village. This former fortified palace was the grandest of a string of Kasbahs belonging to the El Glaoui clan, who controlled much of southern Morocco from the late 1800s until Moroccan independence in 1956. Pasha T'hami El Glaoui was a powerful and savage ruler who favoured the French Protectorate of Morocco, but was ousted from power when Mohammed V regained leadership of the country.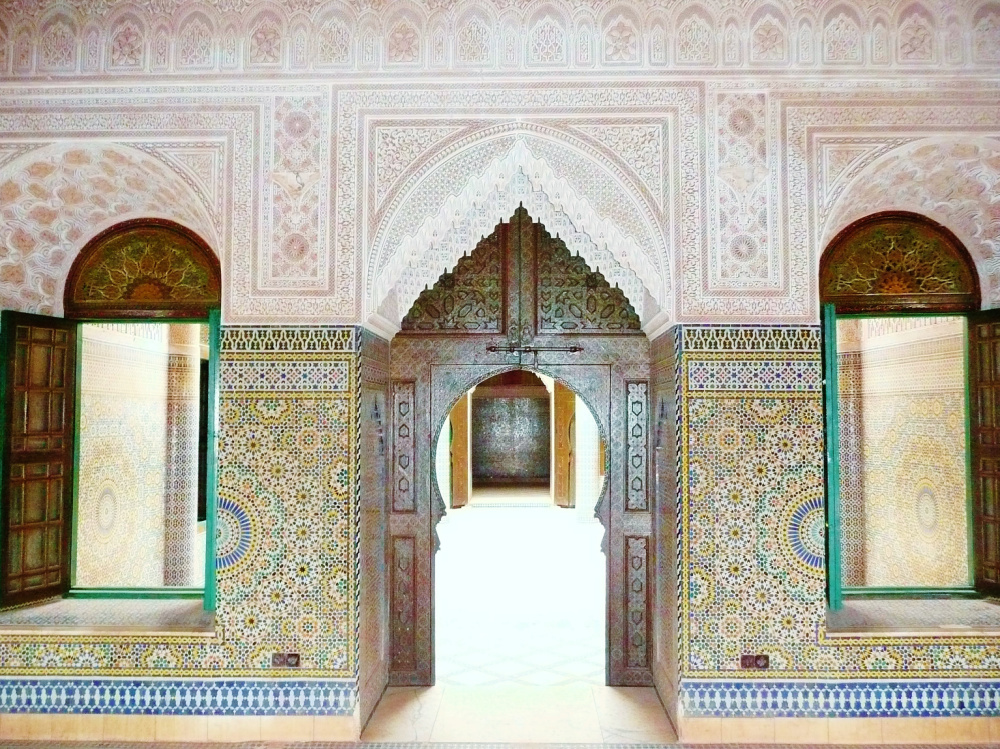 Much of the Kasbah is in ruins, but the current owners are gradually making efforts to restore its grandeur, thanks to donations from visiting tourists. This Kasbah's interior stands out in stark contrast to the crumbling earthen exterior, with its painted salon walls, decorative doors, bright zellij (tiles), intricate iron window grilles and finely carved ceilings decorated using saffron and henna.
We arrived back in Marrakech late in the day, tired but relieved that there had been no accidents along that formidable, winding mountain road. Our journey through Morocco was nearly at an end and we were due to fly out to Madrid the next afternoon on our way home. We were travel weary after five weeks on the go, counting in our three weeks driving in Spain, and were actually looking forward to the cold, July, Melbourne weather! A word of advice to travellers contemplating a trip to Morocco – don't do it in their summer!