Sophie, the Countess of Wessex looking as truly elegant and stunning as ever in a long-sleeved light pink/purple cowl neck dress. The Countess has accessorised with a statement pearl and jewel brooch, matching earrings and a large pink millinery hat to complete the look. Sophie donned light, fresh-faced makeup, bold pink lips and generous eyeliner, accentuating her beautiful facial features.
Baby Blue Bombshell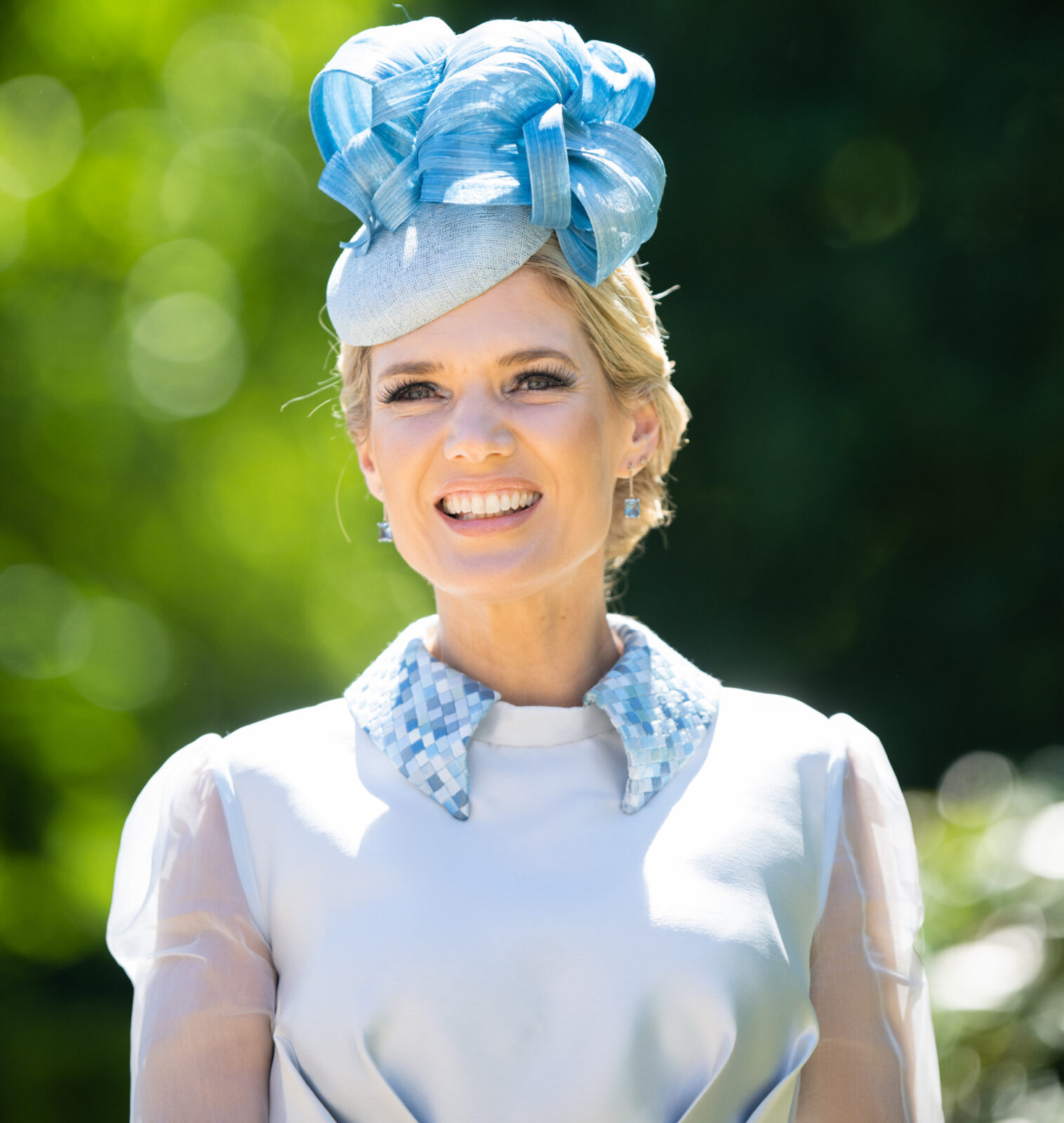 English TV presenter Charlotte Hawkins was possibly one of the best dressed attendees of this year's Royal Ascot, stealing the show with a number of stunning outfits. Hawkins wears a truly unique light blue translucent dress featuring see-through puffed sleeves, a bold checked collar and pinched waist. The famed TV personality paired the outfit with a simple white belt, small blue drop earrings , white and gold clutch, and of course, a contemporary blue headpiece to complete.
Midwife in Millinery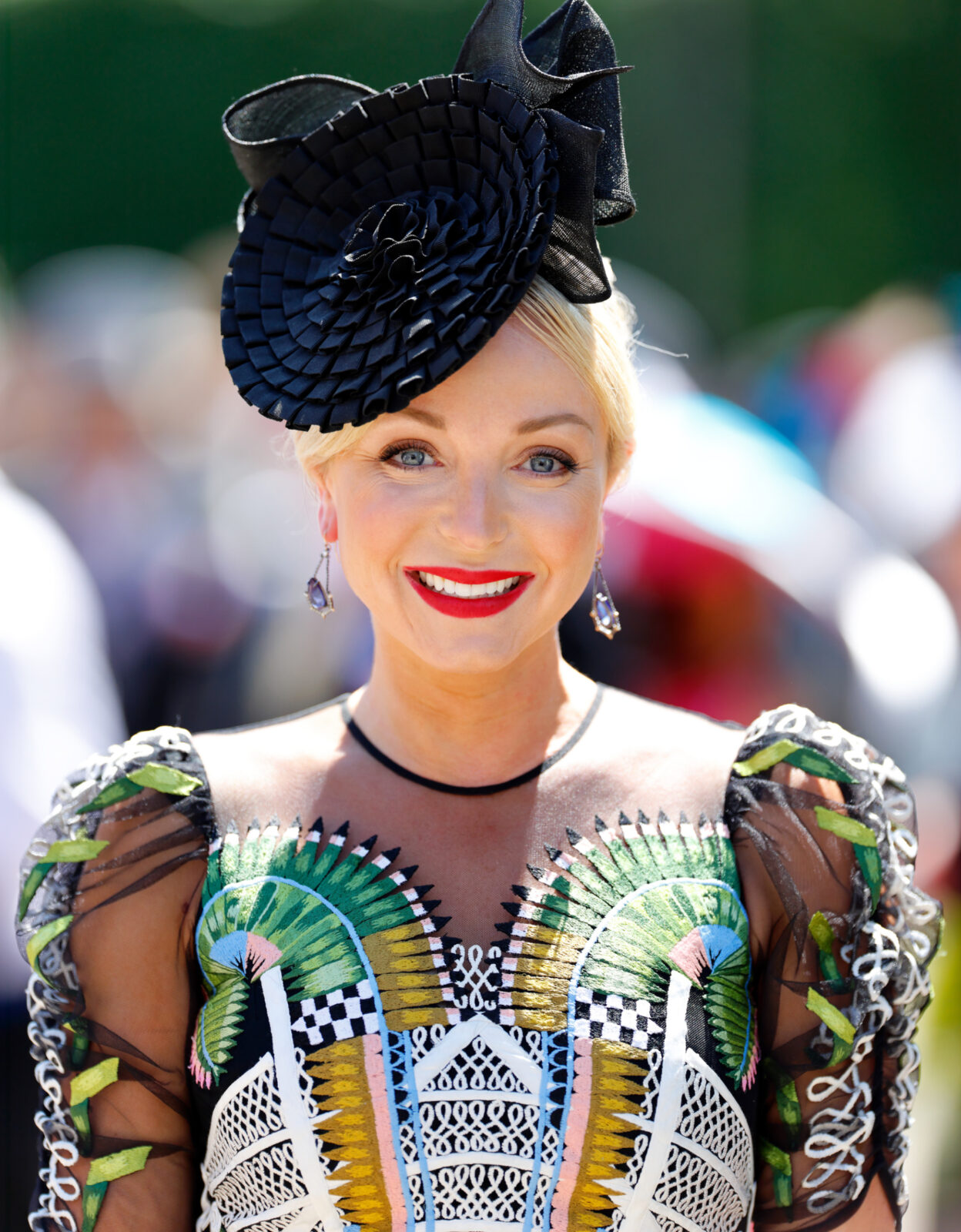 Call the Midwife actress Helen George had certainly one of the more adventurous looks of the day. George opted for a colourful alternative look as she posed elegantly in an extravagant 'tropical-like' dress featuring detailed translucent puff sleeves and a colourful symmetric design. The English actress paired the look with bright red lipstick, classy drop earrings and a boldly designed black millinery headpiece. A true beauty.
Pretty Women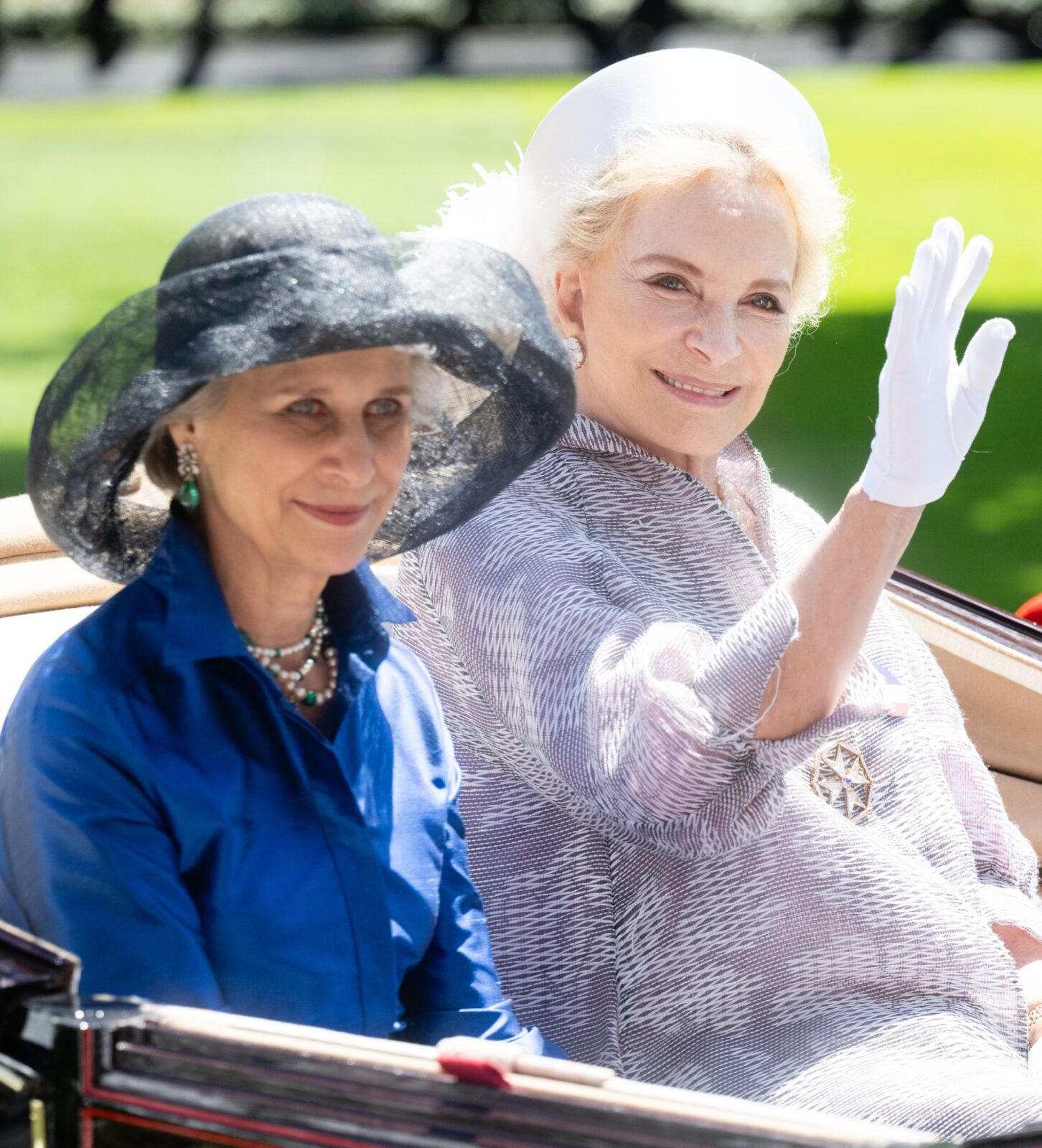 Birgitte, Duchess of Gloucester and Princess Michael of Kent looked wonderful as they arrive at the Ascot Racecourse in England. The Duchess looks stylish in a collared royal blue button-up dress and stunning silver and emerald green earrings and a beaded necklace. The Duchess topped the outfit off with a large sparkling grey/blue hat to match. Princess Michael of Kent opted for a more toned-down colour scheme as she donned a long-sleeved, patterned white and light-brown dress, pearl accessories and a very regal looking headpiece.
Rose amongst the thorns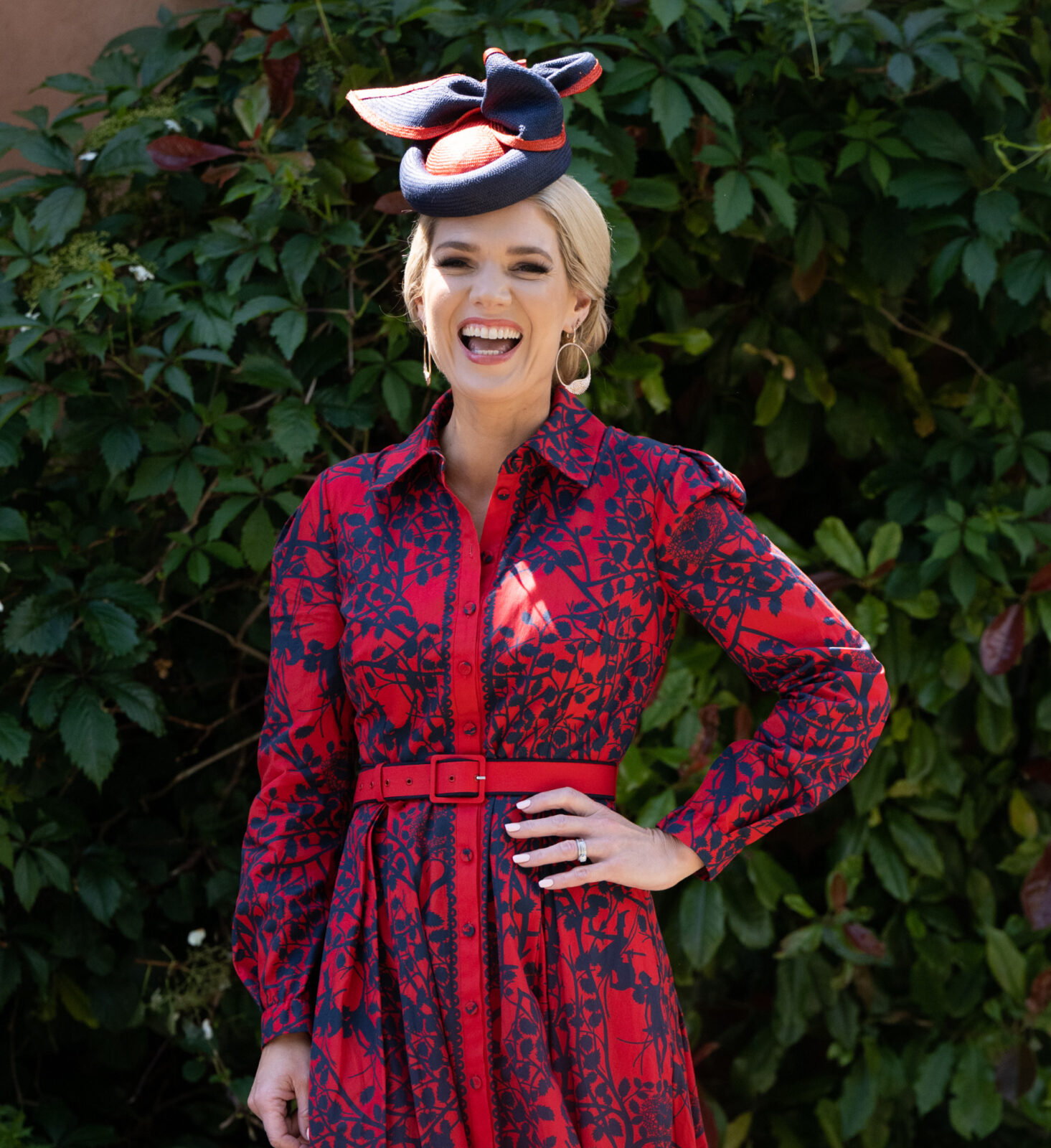 We simply couldn't resist sharing yet another one of English TV presenter Charlotte Hawkins' outstanding outfits of the day. Hawkins stuns in a long-sleeved bright red and navy patterned collar dress as she smiled widely, hand-on-hip, for the cameras. The gorgeous button-up dress is finished off with a simple red belt, large hoop earrings and matching red and navy statement headpiece. This lady knows how to dress.
Beautiful Beatrice
Ever the elegantly dressed and behaved royal, Princess Beatrice looked lovely in a graceful floral puffed sleeved dress paired with an equally adoring gold and floral headpiece. She was pictured chatting happily alongside Princess Anne's daughter, Zara Tindall. Tindall opted for an abstract purple, green and peach dress featuring bold puff sleeves and paired the out with a matching classic pink, purple and white headpiece and leopard print glasses to shade from the sun.
A sight in white
Camilla, Duchess of Cornwall is truly the sight in white as she dons a stunning crisp white dress embellished with small silver stitching on the shoulder and arms. Camilla paired the look with a bold triple pearl necklace, large diamond drop earrings and a number of statement rings and bangles. The Duchess finished the outfit off perfectly with a beautifully designed white wide-brimmed hat, looking as radiant as ever as she smiles for cameras. White is definitely her colour.
Poised Perfection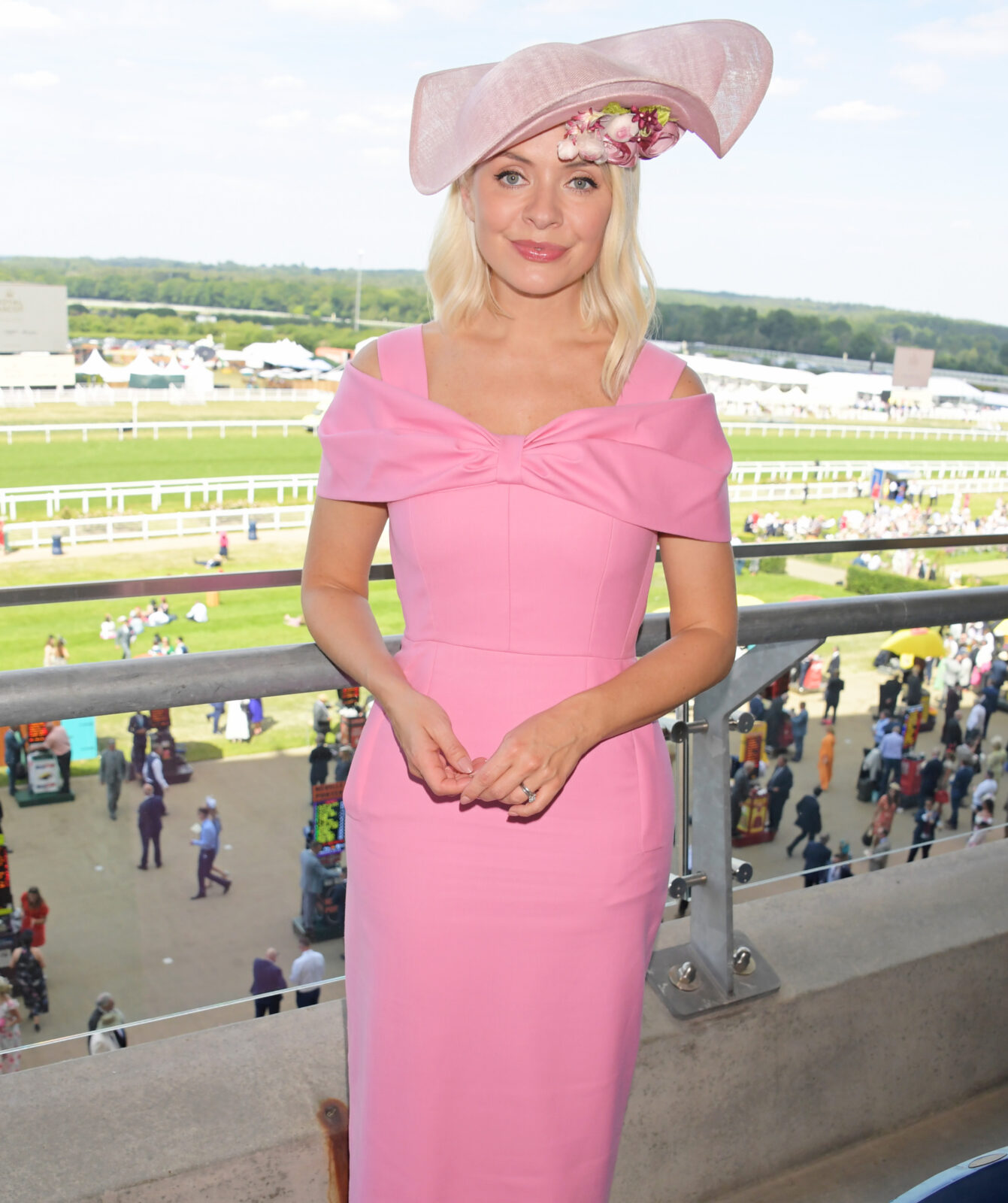 English TV presenter Holly Willoughby is truly the definition of 'pretty' as she dons an ultra simple but elegant pink pencil dress with 'bow-like' neckline and open off-the-shoulder sleeves. The TV presenter pairs the delightfully simplistic look with a uniquely shaped light pink millinery hat embellished with pink and white flowers, accentuating her bright blonde locks and soft features.
True Blue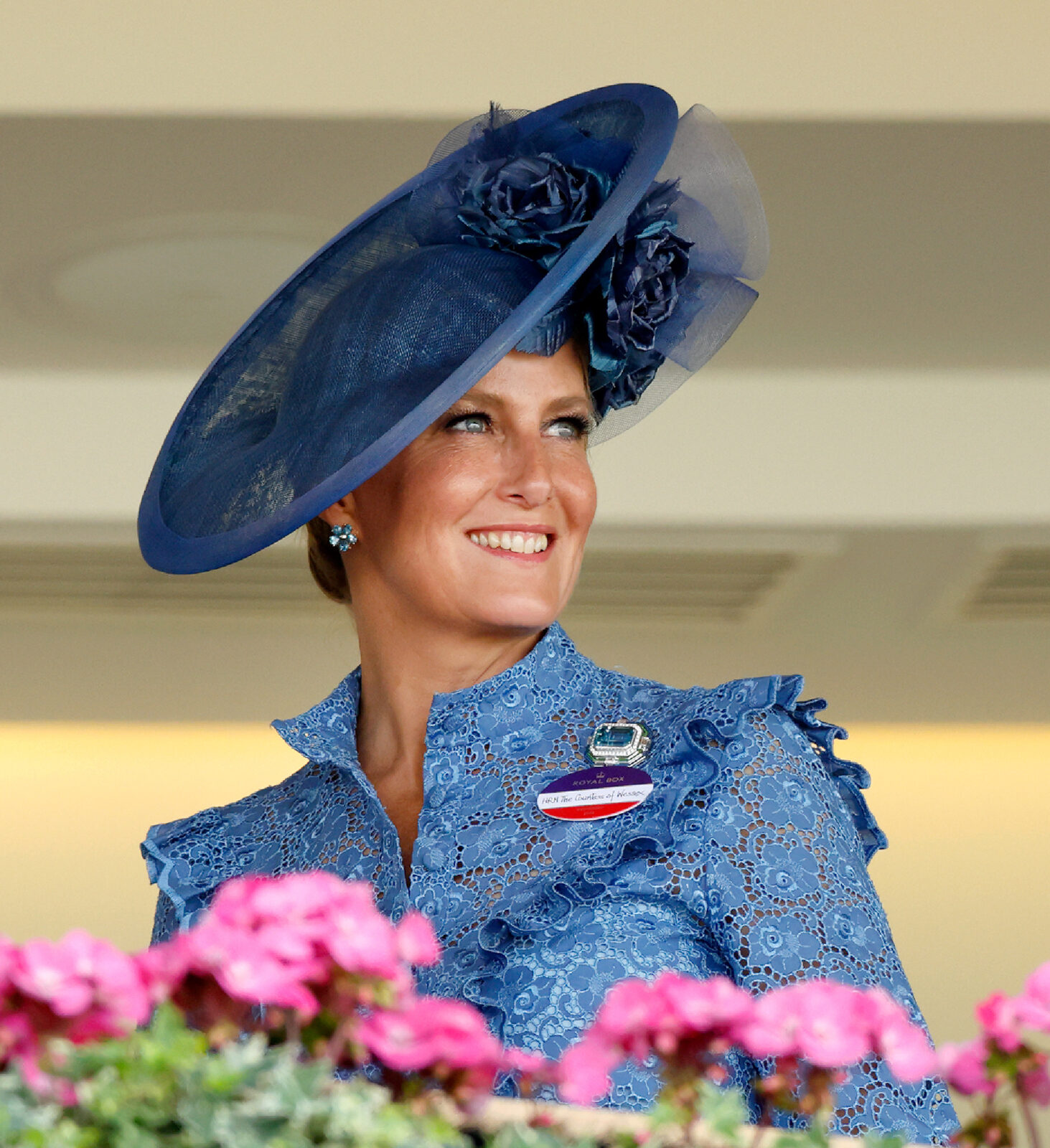 There's no denying that Sophie, Countess of Wessex deserved more than one outfit shoutout, especially after she stepped out in the most stunning long-sleeve, collared, floral lace dress embellished with subtle blue frills. The Countess paired the stunning dress with a beautiful blue crystal brooch and matching flower-designed blue crystal earrings before topping the outfit off with an iconic, slanted oval headpiece. All we can say is, wow Sophie, wow.
Maya Magnificent
One word describes English TV presenter Maya Jama and that word is 'iconic'. Jama wears a show-stealing abstract pink frock dress complete with a high neck and flared sleeves. The TV personality looked truly outstanding as she paired the stunning outfit with a large intricate flower brooch and posed ultra-confidently for the cameras. If she was hoping to be the centre of attention, she certainly achieved her goal. Maya Magnificent.
Pretty in Pastel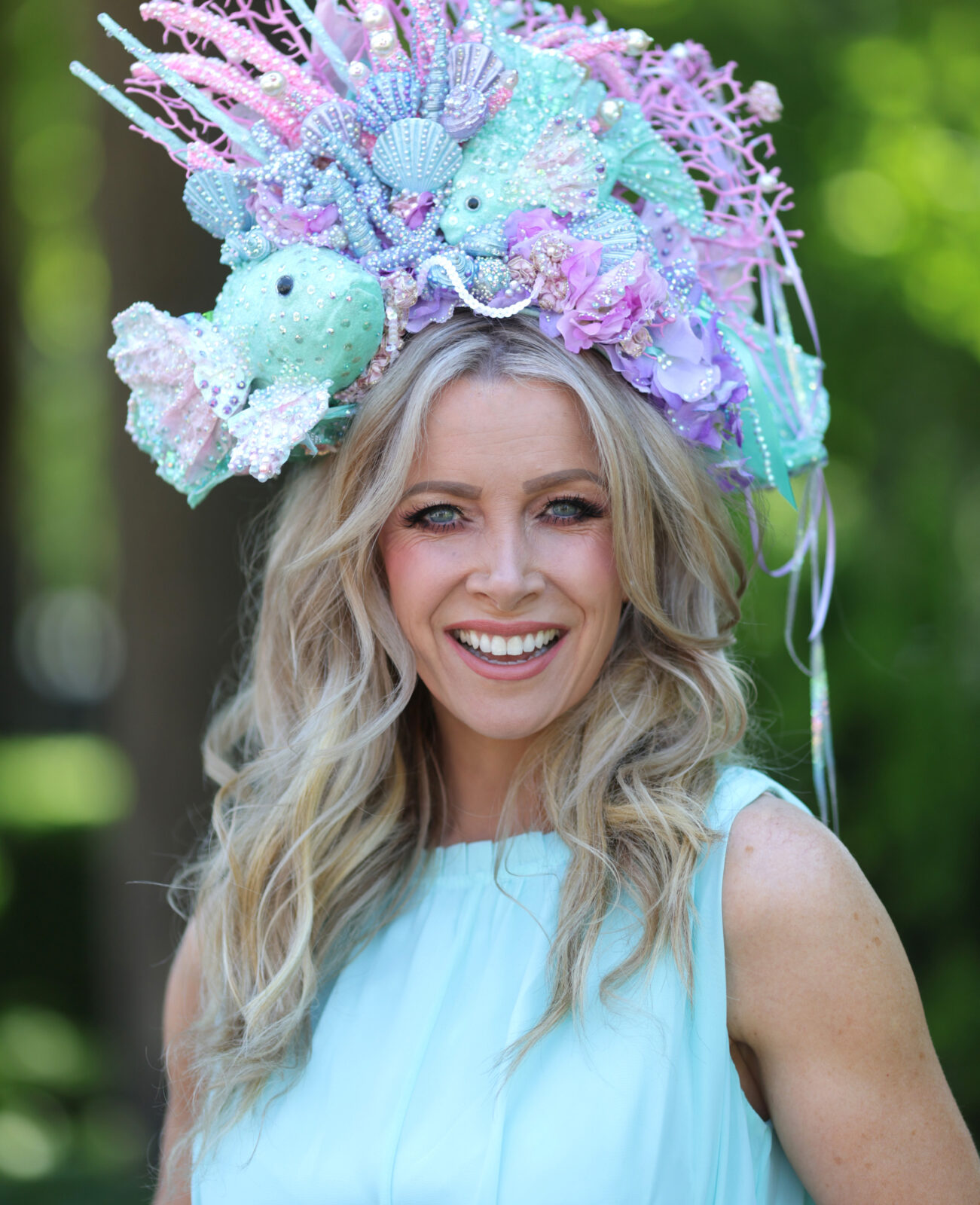 Award-winning Berkshire Interior Designer, Anouska Lancaster resembled a mermaid as she donned a loose flowing silk aqua dress, pulled in flatteringly at the waist. The famed interior designer didn't hold back as she matched the dress with a large colourful 'ocean-inspired' headpiece resembling light pink coral, aqua coloured fish and various clam shells in purple, pink and blue. To be frank, the headpiece was truly a masterpiece and left us all wondering how it stayed on all day!
Silver Stunner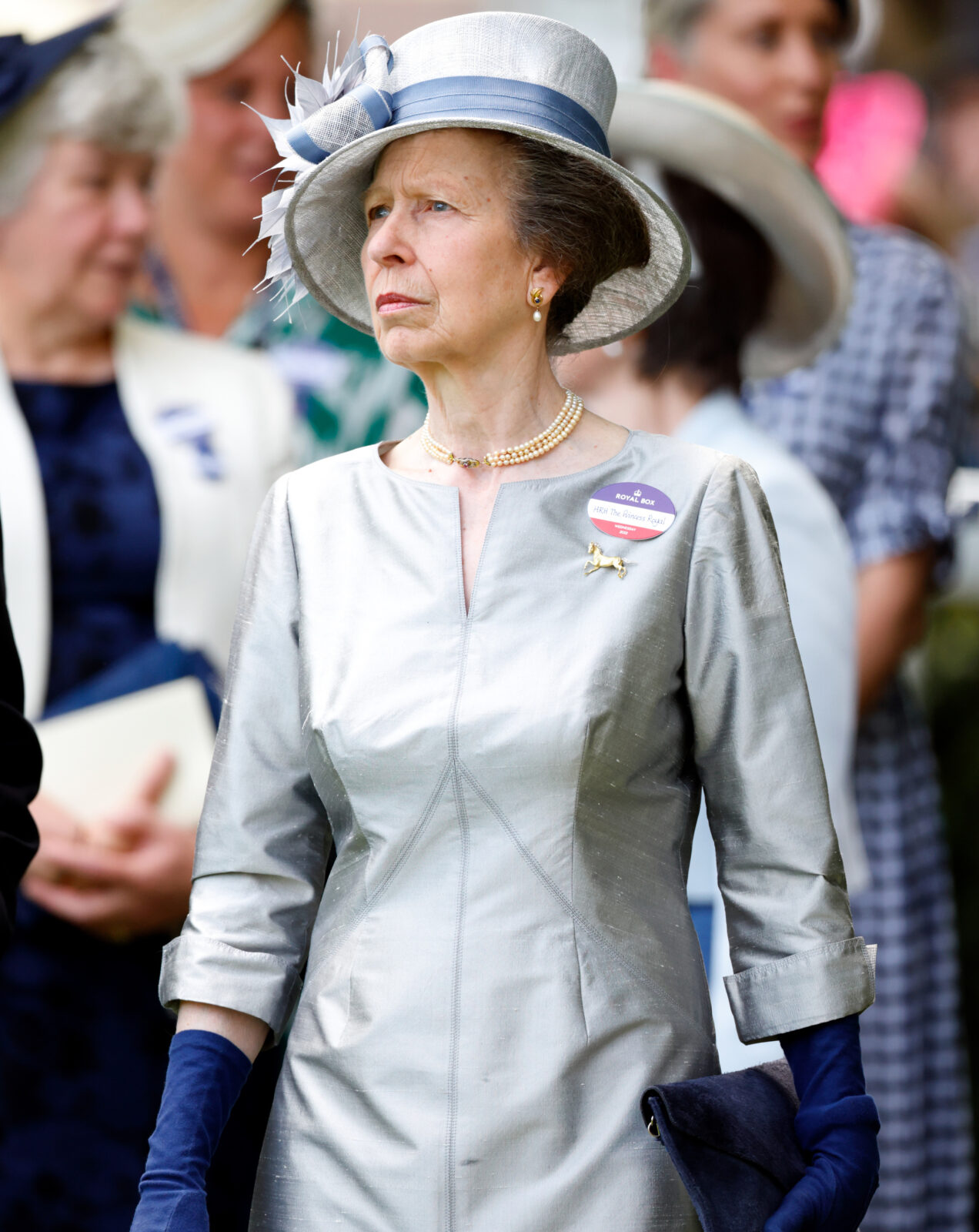 Prince Anne truly stunned when she stepped out in a flattering silver shift dress and stunning royal blue accessories. The Princess Royal wore fitted royal blue velvet gloves, a matching velvet clutch and elegant silver and blue millinery hat embellished with a large bow and synthetic leaf. Anne wore miniature gold drop earrings, a dog brooch and pearl necklace to finish the outfit, looking the true picture of graceful-ageing and royal duty.
Princess Perfect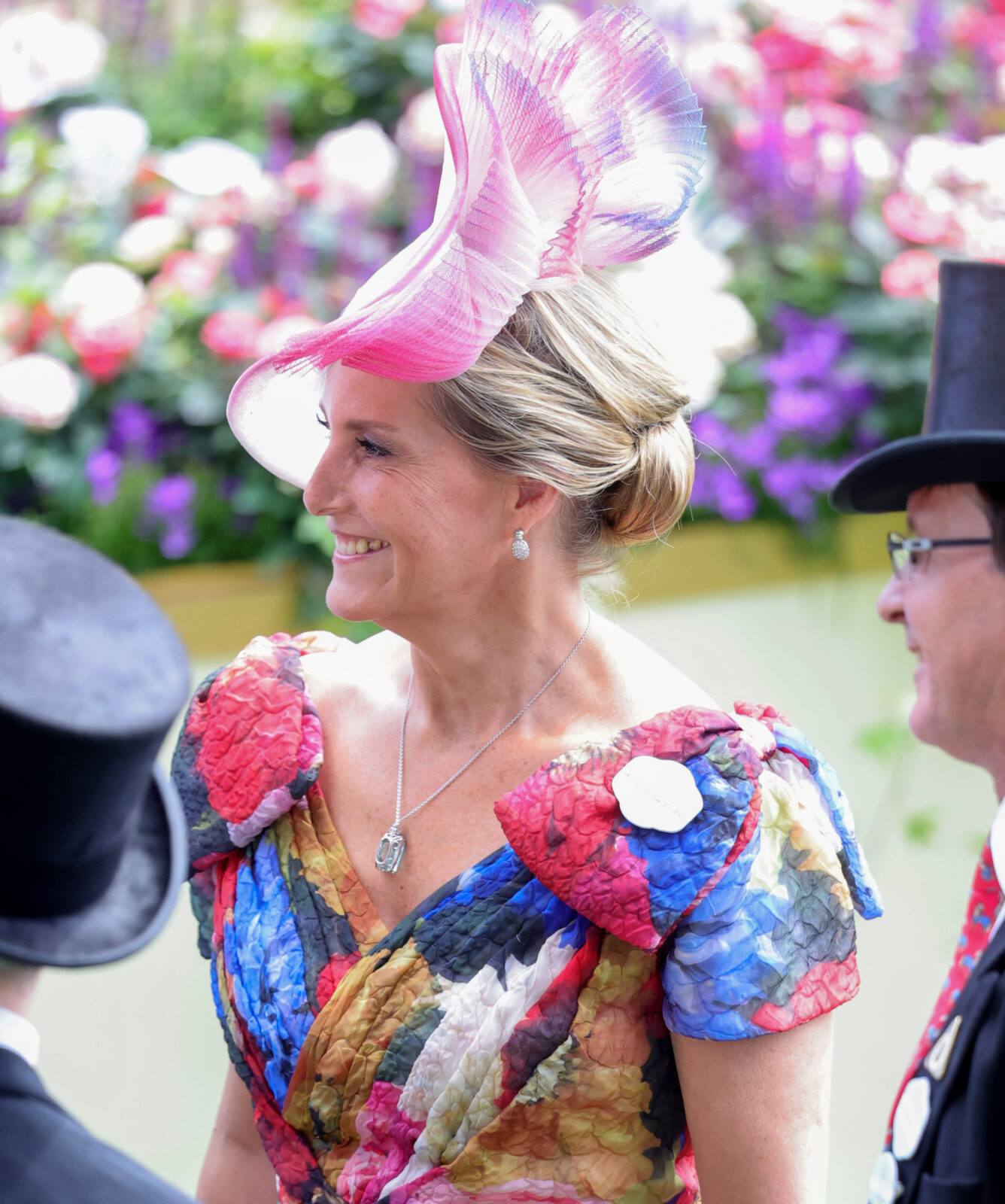 Oh Sophie, Countess of Wessex you truly are a royal goddess. The Countess returns for Day 3 of the Royal Ascot in yet another beautiful outfit as she dons a graceful multi-coloured 'princess-like' dress featuring large bow sleeves. The Duchess opts for subtle silver accessories to compliment and wears a beautifully alternate designed headpiece with pink, purple and blue accents. We can't wait to see what she pulls out for next year's Royal Ascot.
Sleeping Beauty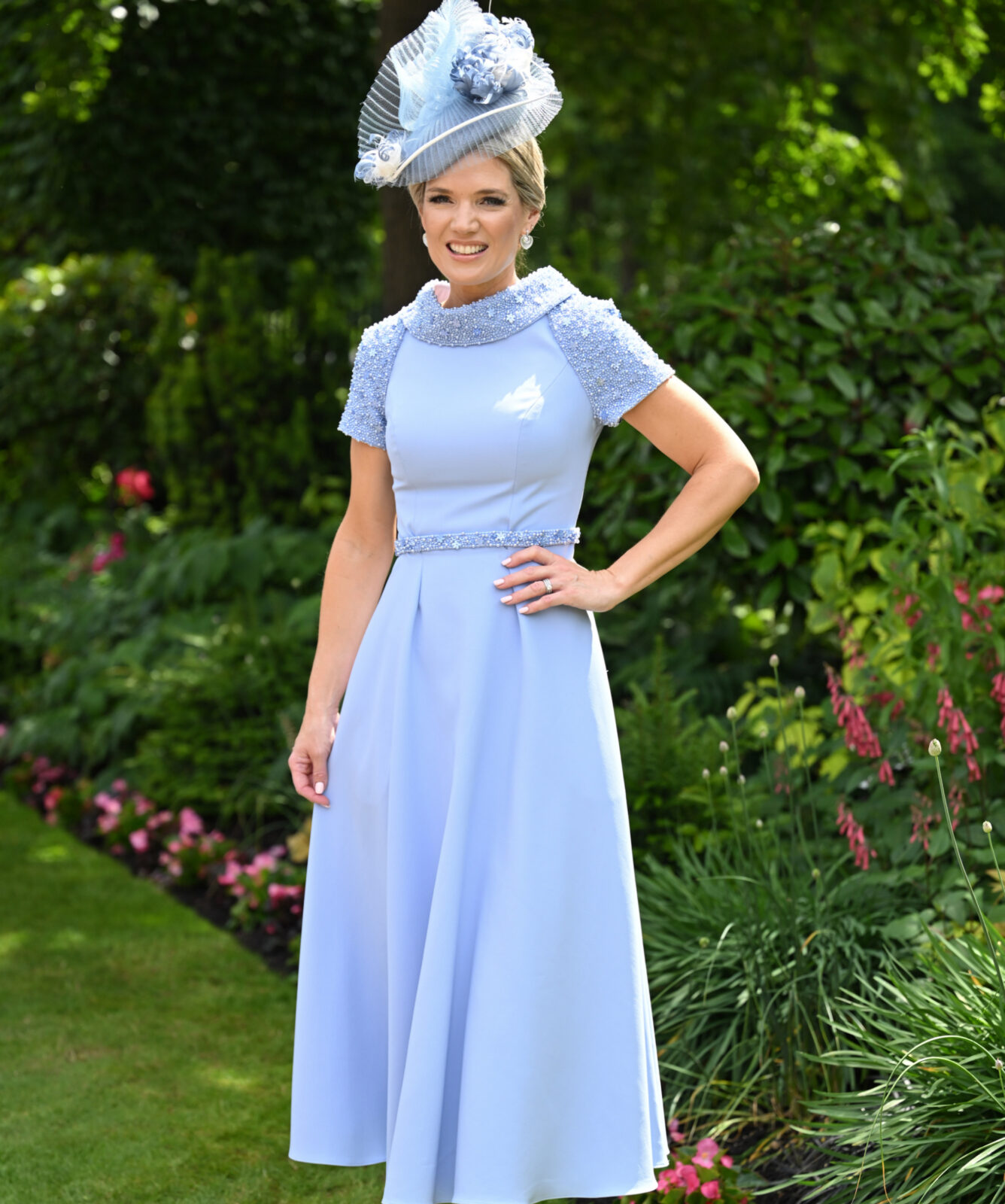 English TV presenter, Charlotte Hawkins has pulled out all the stops this year, wearing some of the most stunning outfits the esteemed annual event has ever seen. Hawkins returns for a third day in a truly 'Sleeping Beauty' style dress featuring a stunning beaded neckline, sleeves and thin waist belt. The English TV presenter pairs the outfit with simple silver heart-shaped earrings and yet another show-stopping fascinator of different shades of and floral themed embellishments.