Charles and Camilla ditch shoes, don local garb in Malaysia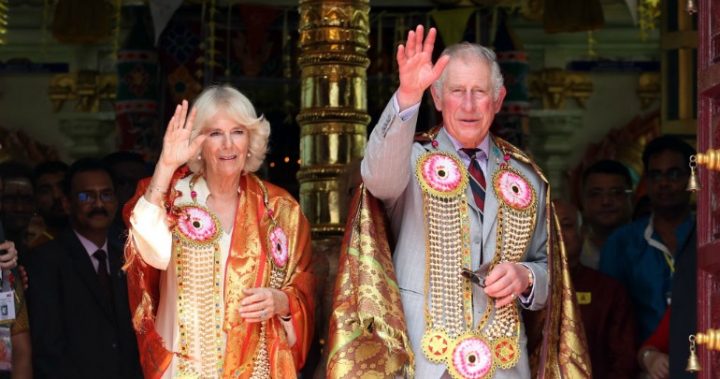 On the eighth day of their whirlwind tour of Singapore, Malaysia, Brunei and India, Prince Charles and Camilla, Duchess of Cornwall, went barefoot and adopted local garb as they experienced four religions in one day. 
The action-packed itinerary for the Malaysian leg of their tour was all about showing off the religious diversity in George Town, the capital of the state of Penang. Though the visits from the royal couple were reportedly unannounced, it didn't take long for locals and tourists to realise what was happening and whip out their smart phones and cameras to record the occasion. 
Charles and Camilla visited St George & Otilde's Church. Founded in 1818, it has the honour of being the oldest Anglican church in Southeast Asia.
Read more: 'Best she's ever looked!': Camilla stuns in floor-length pink frock
Ad. Article continues below.
A trip to the Chinese Han Jiang Temple included a traditional Chinese lion dance to mark the occasion, and a stop at the Teochew Puppet and Opera House, where Camilla tried out her puppetry skills and posed for photos with the elaborately-dressed members of the community.
Read more: Camilla follows up fashion hit with copy-cat style
Ad. Article continues below.
At the Sri Mahamariamman Hindu temple, the royal couple respected tradition by removing their shoes for the brief tour. Charles and Camilla also donned gifted silk shawls and garlands. 
"We wanted to have a fragrant garland so we chose sandalwood; flower garlands will afde and die. The silk shawls were given to Kings and Queens and we believe silk has the power to attract positive vibes," Preveena Balakrishnan, a local historian, said in an article from The Daily Mail. 
Read more: Charles and Camilla's surprise smooch gets tongues wagging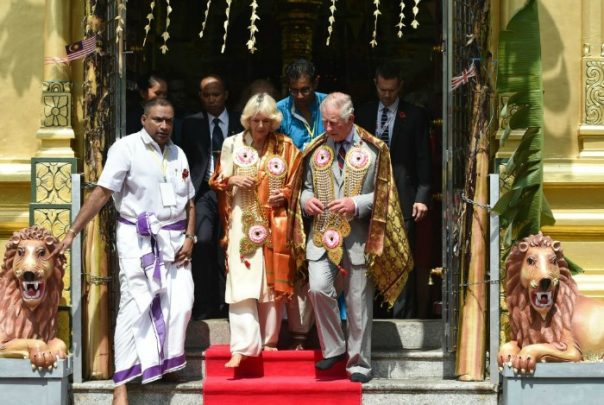 The Kapitan Keling Mosque also required the royals to remove their shoes, and Camilla respectfully donned a headscarf while inside the historic prayer hall—an action that thrilled the Penangites, according to New Straits Times. 
Ad. Article continues below.
"They were very respectful regardless of their royal status," Datuk Meera Mydin Mastan, chairman of the mosque, said of the visit. "I wish they could stay ab it longer with us today so that they can fully experience the culture of our Indian Muslim community in Penang."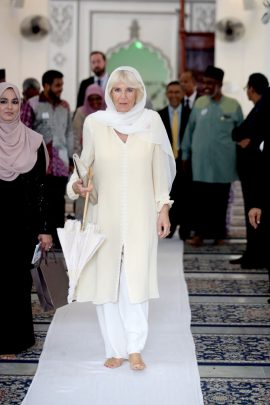 Have you ever visited George Town in Penang? What do you think of the mix of culture and religions?