Camilla follows up fashion hit with copy-cat style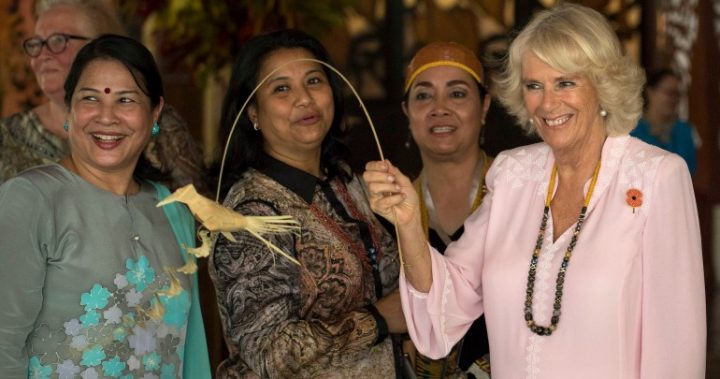 After stunning the crowds with her appearance in a long, flowing pink down in Malaysia, the Duchess of Cornwall is doing it again.
While it's not quite the same outfit, it's pretty close. 
This time Camilla stepped out in a long-line soft-pink top with white embroidery detail. She team the outfit while loose fitting white pants and carried a parasol.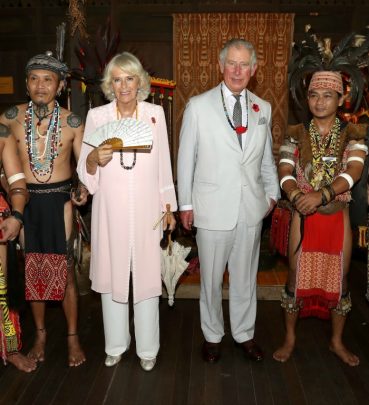 She accessorised the outfit with wooden beads – a handmade beaded garland given to her at the start of a tour while visiting the Sarawak Cultural Village.
Ad. Article continues below.
Read more: 'Best she's ever looked!': Camilla stuns in floor-length pink frock.
Prince Charles and Camilla are currently on tour of Singapore, Malaysia, Brunei and India.
During day three of the royal visit Prince Charles and the Duchess enjoyed a cultural show, which included cooking and craft demonstrations, as well as going on a raft ride across the lake.
Charles also displayed his skills at using the Penan blowpipes when he visited the 'Rumah Penan' (Penan hut) before a closed-door dialogue session with six community leaders representing the major ethnic groups in the state.
Ad. Article continues below.
Prince Charles even got up close and personal with the locals, feeding an orangutan at the Semenggoh Wildlife Centre. 
They've now arrived in Penang, despite the region flooding following storms over the weekend.
Ad. Article continues below.
Have you ever travelled to this region yourself? Did you try some of these activities too?