Nicole Kidman somehow makes head-to-toe velvet look hot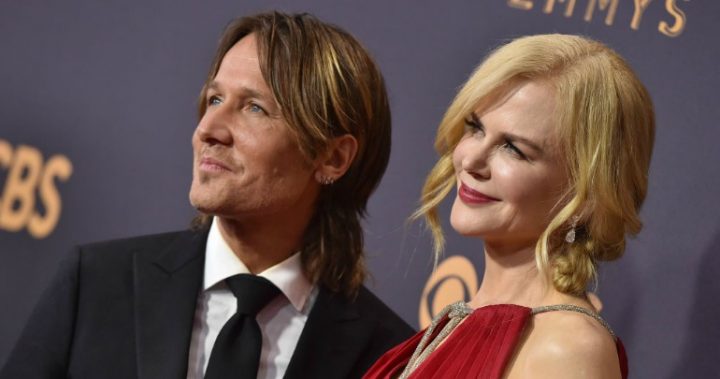 For some of us, a velvet gown would be out of the question. It's not a forgiving material, for starters, and if it catches the light in the wrong way it can go from fab to drab in an instant. But when you're Nicole Kidman, what's forbidden to the common folk is just another opportunity for a red carpet fashion moment. 
The 50-year-old Aussie actress appeared on the CMT Artists of the Year red carpet, wearing a pink velvet gown. While the demure sleeves reached Kidman's wrists, the gown cut off mid-calf, allowing her to show off her strappy silver heels. 
Kidman's sole accessories were a few rings on each hand, and a simple rectangular clutch. 
Read more: Nicole Kidman in hot water over romantic photos with co-star
The fabric twisted artfully at Kidman's chest, bringing some dimension to the otherwise plain cut of the gown. Power shoulders also served as a way to allow the material to taper out rather than clinging too tightly to the Lion star. 
Ad. Article continues below.
While the velvet did indeed catch the light and cast some interesting shadows, Kidman somehow managed to make it look glamorous and even intentional. 
Read more: Nicole Kidman lights up red carpet with Glomesh-inspired gown
Ad. Article continues below.
But while some were eyeing off the dress warily, Kidman was busy keeping her eyes on hubby Keith Urban, sharing a few intimate moments with him on the red carpet as they stood in various loving embraces. 
The over displays of affection may have been a nod to Kidman's latest interview, in which she was jokingly chastised by host Graham Norton about kissing a co-star on the lips at another awards ceremony. The actress scrambled to remind everyone present that she loved Urban "more than anything in the world". 
Read more: Nicole Kidman puts award season on hold to rush home to Australia
Ad. Article continues below.
Urban, who was an honoree at the CMT Artists of the Year event, was never far from Kidman's side, also posing for group photos with his wife and singer-songwriters Lionel Richie, Common, Andra Day, and Diane Warren. 
Read more: Nicole Kidman, George Clooney hit out at 'disturbing' sex assault case
Urban also took to the stage to perform "Blue Ain't Your Color", for which he won Video of the Year and Male Video of the Year at the CMT Music Awards. Kidman could be seen in the audience, singing along to the song and staring adoringly up at her husband. As she got to her feet for a standing ovation, Urban gestured towards her and said, "I love you, baby."
You can see a full video of the performance below. 
What do you think of Nicole Kidman's gown?