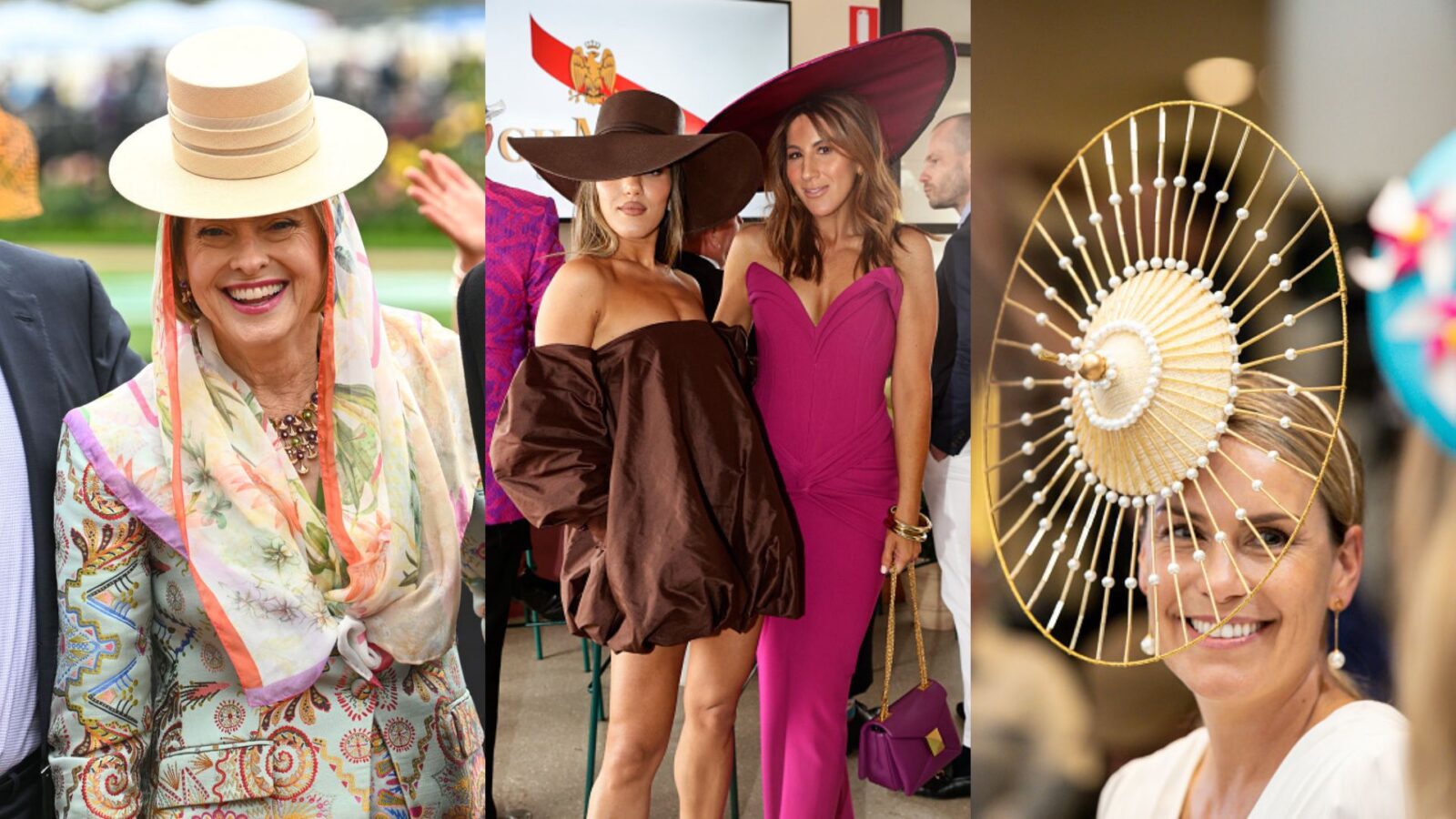 Pictured (L-R) Gai Waterhouse, Lana Effie Kats, Lana Wilkinson, and Rebecca Share. Source: Getty
Bring on the hats
Forget fascinators, it's all about statement hats at this year's races. Australian horse trainer Gai Waterhouse opted for a classic-style rattan hat but added a little flair to her look by wearing a pastel-coloured floral scarf on her head.
Meanwhile, Lana Wilkinson and pal Lana Effie Kats donned classic wide-brimmed hats that complimented their very chic dresses. However, we think bespoke hardware designer Rebecca Share's one-of-a-kind headpiece definitely wins this year's Spring racing hat race.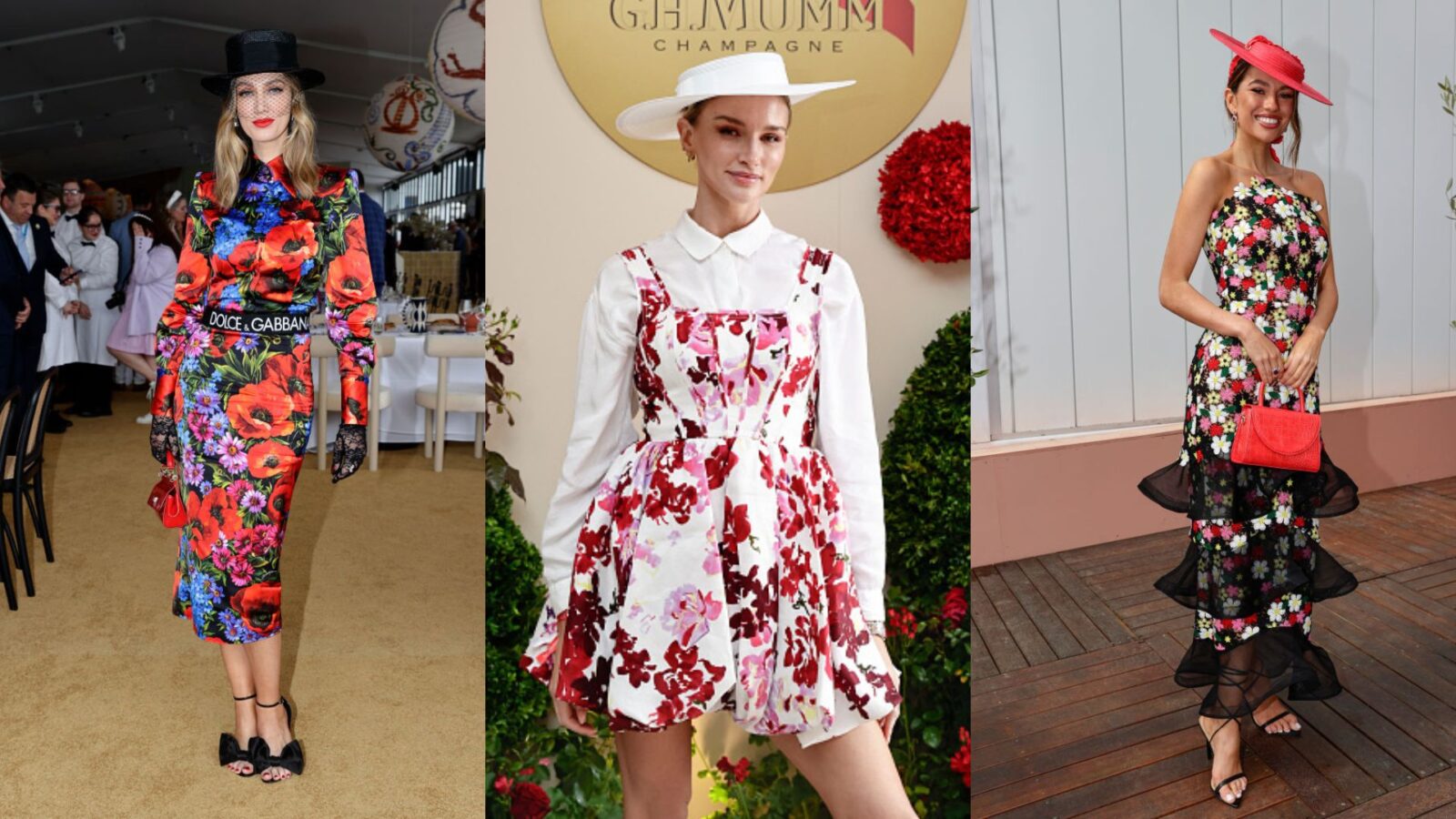 Pictured (L-R): Delta Goodrem, Amy Pejkovic, and Demi Brereton. Source: Getty
Festive florals
The weather may have been gloomy but that didn't stop many VIP guests from rocking floral-themed frocks to this year's Melbourne Cup.
Leading the flamboyant floral parade was 37-year-old pop singer Delta Goodrem, who turned heads in an eye-catching Dolce & Gabanna maxi dress adorned with red flowers. She paired her dress with black laced gloves and strappy black bow heels.
Melbourne Cup Carnival Ambassador Demi Brereton also decided to go for florals for this year's races and flaunted her slim figure in a strapless floral applique maxi dress by Elliat and a bright red hat by Ford.
At the GH Mumm Champagne tent model, Amy Pejkovic was also spotted wearing an adorable floral number. Pejkovic opted for a flowy Aje corset dress which she paired with a white blouse underneath.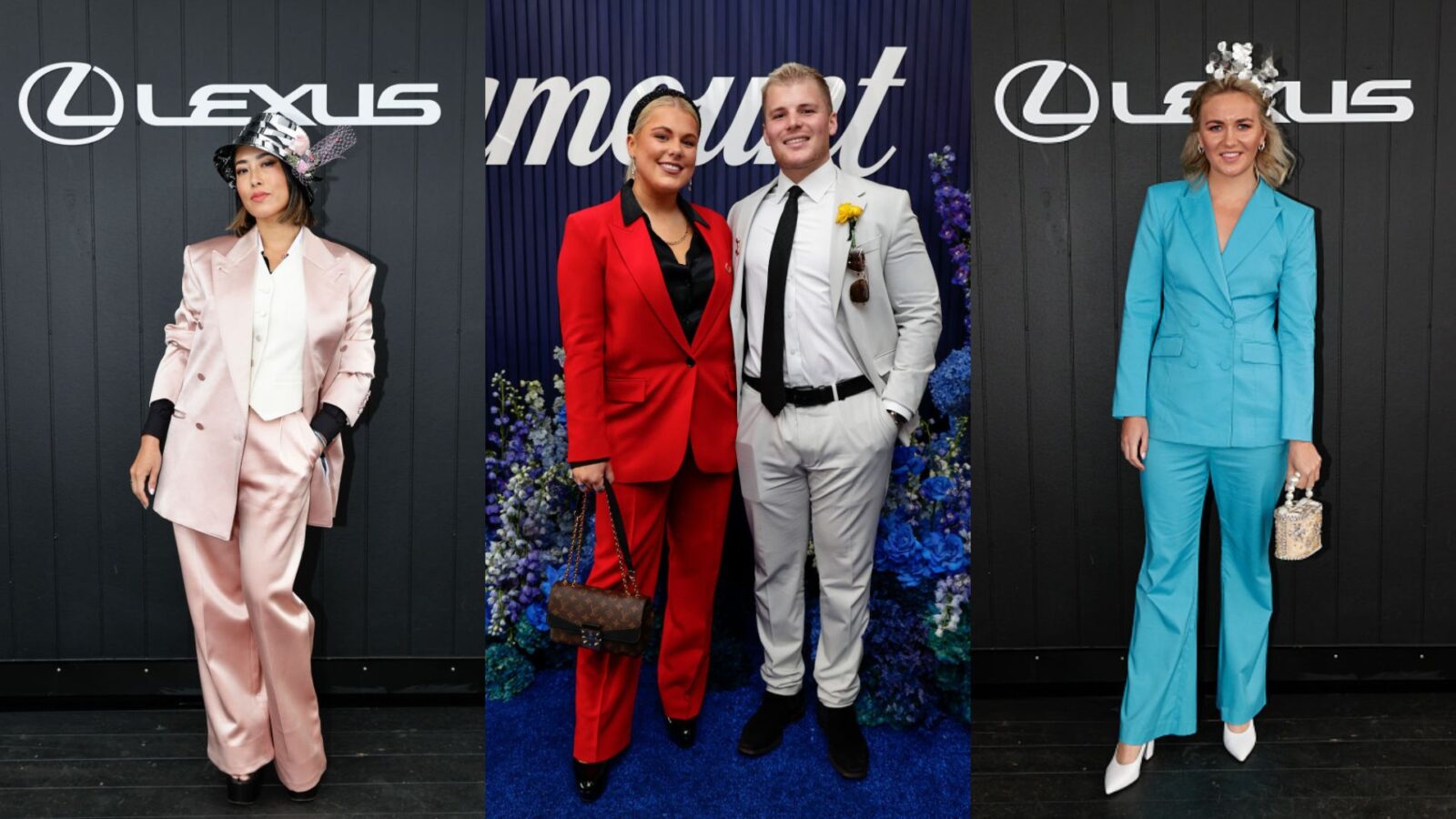 Picture (L-R) Melissa Leong, siblings Brooke and Jackson Warne, and Ariarne Titmus.
Suited up
Men weren't the only ones suited up for races this year either, as many fashionable ladies rocked up to Flemington wearing stylish suits.
MasterChef judge Melissa Leong was spotted enjoying the races in a retro-style suit by Gucci.
The baby pink velvet suit featured an oversized, double-breasted jacket with oversized lapels and flared trousers. Leong completed her look with a white vest, black chunky high heels, and a short-brimmed black hat with pink netting.
Siblings Jackson and Brooke Warne were also dressed to the nines at this year's Melbourne Cup.
Wearing an all-white suit and black necktie, Jackson looked like the spitting image of his late father, Shane Warne. Meanwhile, older sister Brooke was turning heads in a chic red power suit and black satin blouse.
Australian Olympic swimmer Ariarne Titmus also opted for a colourful suited look this year, arriving at the venue wearing a sky blue number which she teamed up with white pumps and a dainty silver headpiece.