Smiling Johnny Ruffo vows to 'beat cancer' in New Year party photo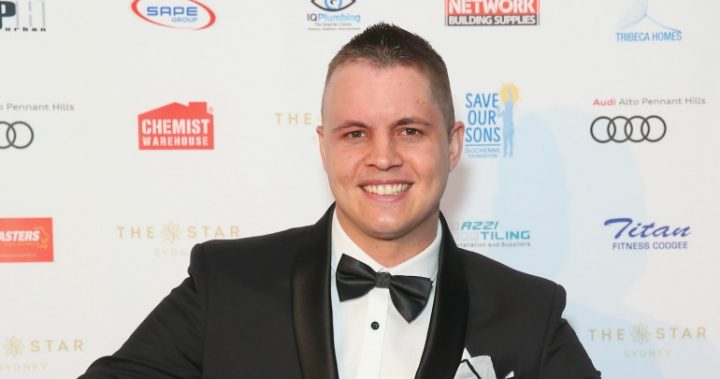 Johnny Ruffo has had a difficult year, and he's been keeping his fans updated with his health battle every step of the way.
But now the singer has vowed to "beat cancer" and revealed he "can't wait" for 2018 as he celebrated New Year's Eve with close friends.
In August, the 29-year-old took to social media to reveal that he underwent emergency surgery to remove a brain tumour after suffering what he thought was a terrible migraine.
He later shocked fans by revealing he had actually been diagnosed with brain cancer.
His recovery appears to be going well, as he posed alongside his friends during a pool party, revealing how much his hair has grown back since his recent operation.
Ad. Article continues below.
With just a hint of his fading scar on display, Ruffo looked happy and healthy in the beaming photo.
He captioned it: "Starting the festivities for NYE #newyearscrew #beatcancer cant wait for 2018."
Fans flooded Ruffo with supportive comments, with one writing: "You are looking so good Johnny, Happy New Year to you and your family, you are going to smash 2018!"
Ad. Article continues below.
Read more: 'What a huge difference': Johnny Ruffo gives update on cancer battle
And one added: "All the best for 2018 @johnny_ruffo jolet this be your year in control."
While one wrote: "How are you doing Johnny Boy. Are you Fighting hard still? Keep it up buddy."
Ad. Article continues below.
The singer has been updating his fans throughout his battle, letting them know the ups and downs of what it's like to have cancer.
Read more: Guy Sebastian gives update on Johnny Ruffo's cancer battle
One of the first pictures he shared was of his head with a massive cut on it where doctors underwent a dramatic surgery to remove most of the tumour.
The X Factor singer was forced to shave most of his hair and fans were noticeably shocked by the size of the gash on his forehead.
Ad. Article continues below.
In news that delighted both Ruffo and his fans, it appears that he's on the mend, as he shared a progress shot of the large cut on his head just weeks ago.
Ad. Article continues below.
While you can still see a faint scar, it's nothing compared to what his head looked like just a few months ago.
Read more: Johnny Ruffo sings for first time since cancer diagnosis
"What a huge difference," the entertainer wrote.
"Now I just need my hair back."
Do you have a message for Johnny Ruffo?