'What a huge difference': Johnny Ruffo gives update on cancer battle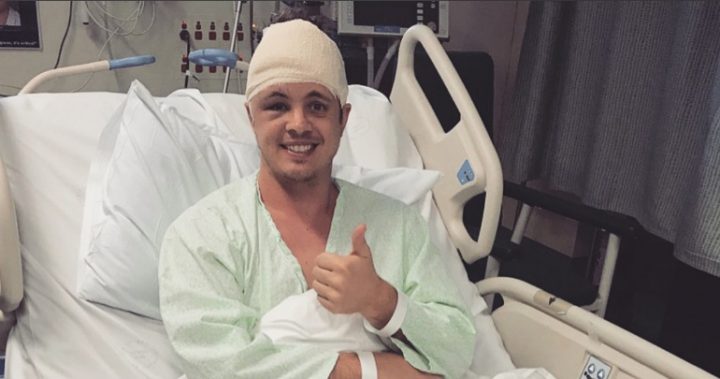 He's one of Australia's most-loved entertainers and Johnny Ruffo has given fans an update on his cancer battle.
In August, the 29-year-old took to social media to reveal that he underwent emergency surgery to remove a brain tumour after suffering what he thought was a terrible migraine.
He later shocked fans by revealing he had actually been diagnosed with brain cancer.
"So I have the news. It was a bit of a shock and I've got an interesting journey ahead and a bit of a battle," he wrote.
Ad. Article continues below.
"I am starting agressive [SIC] treatment for the next few months to fight the diagnosis of brain cancer. Please stay positive for me and ill try to update you guys on my progress."
The singer has been updating his fans throughout his battle, letting them know the ups and downs of what it's like to have cancer.
Read more: Guy Sebastian gives update on Johnny Ruffo's cancer battle
One of the first pictures he shared was of his head with a massive cut on it where doctors underwent a dramatic surgery to remove most of the tumour.
Ad. Article continues below.
The X Factor singer was forced to shave most of his hair and fans were noticeably shocked by the size of the gash on his forehead.
Ad. Article continues below.
In news that will delight both Ruffo and his fans, it appears that he's on the mend.
On Wednesday afternoon, the actor shared a progress shot of the large cut on his head.
While you can still see a faint scar, it's nothing compared to what his head looked like just a few months ago.
Read more: Johnny Ruffo sings for first time since cancer diagnosis
Ad. Article continues below.
"What a huge difference," the entertainer wrote.
"Now I just need my hair back."
Fans quickly rushed to Ruffo's Instagram page to share their support.
One person wrote: "Wow that's incredible. Looking good. Stay well."
Ad. Article continues below.
Another added: "Glad your healing so well sending lots of hugs and prayers."
A third message read: "Looking a lot better these days mate!"
His latest update comes after his friend and X Factor mentor Guy Sebastian spoke about Ruffo's health on the red carpet of the Aria Awards.
"I speak to Johnny a lot so I saw him literally not long ago and look, he's such a great guy," he told Yahoo.
Ad. Article continues below.
"Now he's obviously going through an incredible battle and he's right in the thick of it at the moment. But he's got a lot of good people around him I think and I'm there for him. I'll always champion him and I have from the start."
It's good to see him getting better.
Do you have a message of support for Johnny Ruffo?