Lynne McGranger's health update on Johnny Ruffo cancer battle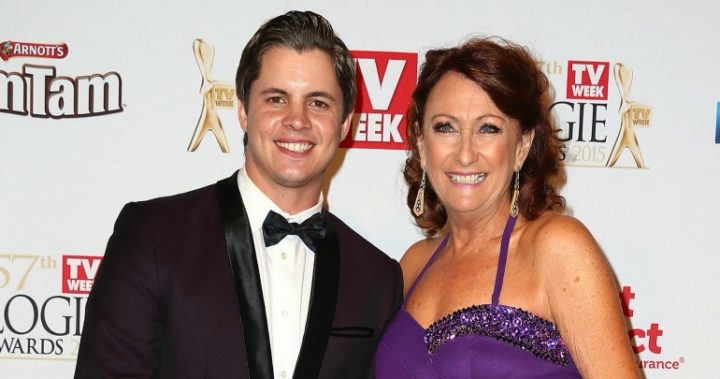 They appeared together on Home and Away and now actress Lynne McGranger has given an update on her good friend Johnny Ruffo's health condition.
Speaking to Starts at 60, the 65-year-old revealed the former X Factor singer is doing well after being diagnosed with brain cancer last August.
"He gets tired," she said. "He's doing oral chemo and it does make you tired."
Despite that, she suggested that he was still giving his all to beat the potentially deadly disease. "He is in great spirits," she said. "He's very positive and the good news is that the chemo is working."
The actress, who is best-known for her role as Irene Roberts on Home and Away, said she regularly catches up with the star. "I was at a function with him last Friday night, we're both ambassadors for Save Our Sons [the peak body for Duchenne muscular dystrophy in Australia], and he is terrific," she added.
Ad. Article continues below.
The pair have remained good friends for quite some time. Recently, Johnny poked fun at Lynne on her 65th birthday. Sharing a snap of his former co-star on Instagram, he joked: "Incredible arvo with this amazing woman," he told his many fans. "Having a few drinks to celebrate her 21st tomorrow, love you to the moon and back."
Ad. Article continues below.
Lynne also dropped some hints as to what Home and Away fans can expect of her character in the show's 30th season. "Well, I think that she will just be, no doubt, sticking her nose in other people's business and trying to help young people who have mainly gone off the track a bit," she said. "I'm sure she'll get caught in some hideous mishap somewhere along the way."
She also discussed whether Irene, who has battled alcohol addiction in the past, will succumb to her demons. "Hopefully she will stay firmly on the wagon. She fell off a couple of years ago. As we know, she's not a very nice drunk, she's a mean drunk."
Still, she remained positive that viewers will see the best in Irene. "Look, Irene will just continue to hopefully give out good advice and help others in need. Who knows, she might even find a love interest this year. We'll have to wait and see."
Do you have a message for Johnny Ruffo? Are you a fan of Lynne's character on Home and Away?