'I've been through a lot': Johnny Ruffo's cancer battle update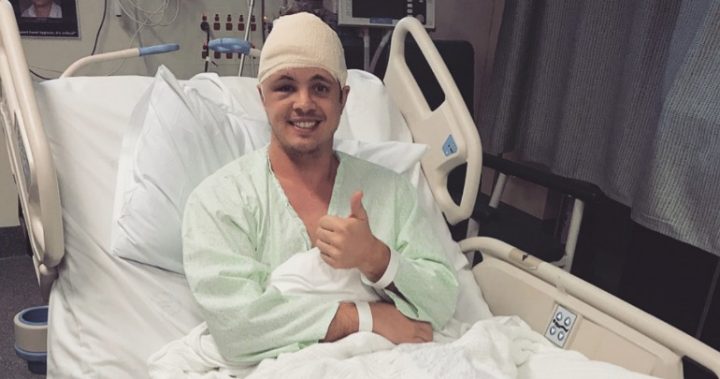 He won the hearts of the nation on The X Factor and Home and Away and Johnny Ruffo has given fans an update on his health.
The 29-year-old was diagnosed with brain cancer last August after doctors discovered a seven-centimetre tumour when he went to hospital with what he thought was a bad migraine.
The tumour was removed as soon as possible, leaving Johnny with a huge scar on his head and going through gruelling radiation therapy to overcome the disease. Fans have been hanging on Johnny's every word and he's given them another update.
Taking to his Instagram page, the singer said that the past eight months have been tough. He shared a photo of himself with two of his best friends and vowed to give back to cancer charities that have helped him during his recovery.
Ad. Article continues below.
"Over the past 8 months ive been through a lot and these two amazing friends of mine from @saveoursons have been incredible [sic]," he wrote. "And ive decided its my turn to give back, so i have committed to doing a charity walk with them and id like to raise as much money as possible to help find a cure for Duchenne muscular dystrophy [sic]."
The actor, who appears to be in better health, still has a long way to go until he's out of the woods. Earlier this month he described cancer as a "horrible disease" as he thanked his friends and family for their continued support.
His close buddy and former Home and Away co-star Lynne McGranger also revealed that Johnny was still getting cancer treatment. She appeared on The Morning Show where she also gave an update on Johnny's health.
"Johnny is doing really well … he is in great form, he is still having ongoing treatment but it's working," she revealed. "They don't continue treatment like that if it is not working but it's working and he is in such great form. He did have a couple of days where he is a little off colour and a little tired but then he is old Johnny again."
Ad. Article continues below.
Fans have continued to show their support for Johnny online. One person left a comment that read: "It's amazing that it's something as bad as this that brings out the best in your best mates, great support and positive vibes with you young man".
Ad. Article continues below.
Another person said: "Having the support of your friends and family can see us through most, you have certainly proven this true, you are an inspiration to so many, never give up," while a further fan added: "Shows the true character of a man when he's going through something life changing yet still has time for others. You're a champion mate".
Are you a fan of Johnny Ruffo? Do you have a message of support for him?
---
With Facebook removing news sites from your feeds we ask that you sign up for Starts at 60's emailers here. And to keep us on your wall, join some of our new Facebook groups and clubs:

News Junkies Club – Australia
News Junkies Club – USA 

See news on the change and links to all our other clubs and groups here.