Prince Harry's message for kids we can all get behind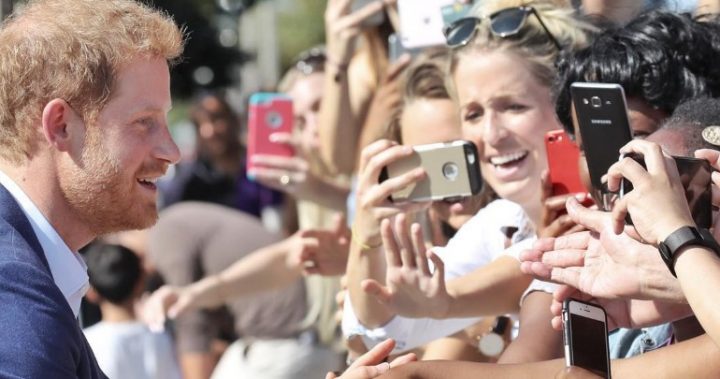 Prince Harry has certainly been attracting a lot of attention by his appearances at The Invictus Games.
Everywhere he goes he's had people lining up for selfies that are soon shared on social media.
But it's that very thing that's been a topic of conversation for him.
Ad. Article continues below.
Read more: Latest photos of Prince Harry have women everywhere in a tizzy.
It was while he made a surprise visit in Toronto at a WE Day event that he left an important messages to those who were eagerly clutching their mobile phones.
The 33-year-old said it was time they looked up from them and did something worthwhile.
"The thousands of you gathered here are proof that today's generation of young people is the most connected, most energised, and most confident the planet has ever known," Prince Harry said. "You know that differences of opinion, of circumstance, of race and religion – are to be respected and celebrated. You know that in a clickbait culture, we cannot waste time sharing and drawing attention to things that make us angry, or that we know to be false.
Ad. Article continues below.
"You all know that it's great to 'like' things on social media, but that it's more important to look up from our phones, to get out into our communities, and to take real action; to stand up for what you believe in."
Prince Harry made a surprise visit to Toronto #WEDay this morning! pic.twitter.com/voy15oZbXg

— Kensington Palace (@KensingtonRoyal) September 28, 2017
He challenged the audience to listen to the stories of the service men and women who had gathered for the Invictus Games.
"If you see them around town, introduce yourselves, make some new friends, hear what they and their families have been through."
Ad. Article continues below.
"Hear how they have overcome incredible challenges, and let yourselves be inspired. If you do that, I promise you, that I will work to do everything I can to support you; to create a platform where your voices can be heard and your ideas taken seriously.
"Sadly, I'm now part of a slightly older generation! But in the years to come I want to work with you to help encourage, identify and support the new generation of leadership,both local and global leaders."
Watch Prince Harry's full speech from @WEMovement – "Together, you are going to change the world." pic.twitter.com/kNr4zh8wp0

— Kensington Palace (@KensingtonRoyal) September 28, 2017
Read more: Prince Harry, Meghan Markle can't keep their hands off each other.
WE Day, held in Canada, the United States and the UK, raises money for the children's charity founded by child's rights advocate Craig Kielburger. It's a free event for students.
Do you think the younger generation spend too much time on their mobile phones?