Latest photos of Prince Harry have women everywhere in a tizzy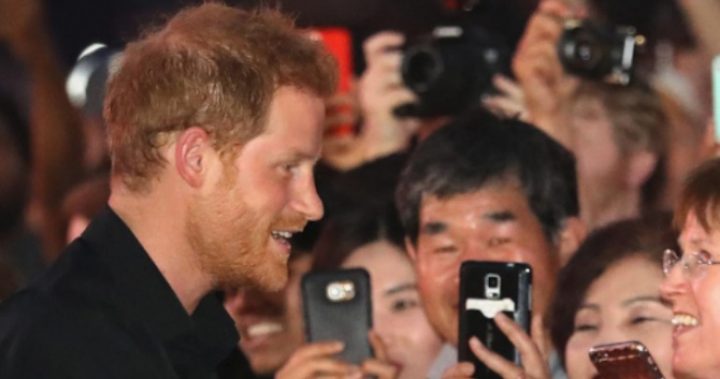 Prince Harry has stolen hearts once again at the Invictus Games, but this time it has nothing to do with his partner, Meghan Markle. The 33-year-old royal was photographed at the Sitting Volleyball Finals, sitting next to British parasport athlete and former royal engineer David Henson and his family.
As a double-amputee sprinter, David has participated in multiple Invictus Games and even the Summer Paralympics. He has also been honoured as a Member of the Order of the British Empire, but that doesn't mean he's above pulling dad-duty for his two-year-old daughter, Emily. 
Read more: Prince Harry, Meghan Markle can't keep their hands off each other
While David watched the match and had custody of Emily's teddy bear, his daughter had her eye on something else: Prince Harry. Or rather, the bucket of popcorn Harry was holding. 
Ad. Article continues below.
Seated on the lap of her mother (Hayley Henson), Emily watched the prince closely. 
Noticing her fondness for the snack, Harry made a few jokes and pulled a mock-horrified face before offering the young girl a few pieces, which she happily gobbled up. 
But Emily wasn't done; while the prince's attention was on the game, she leaned over to grab a cheeky handful of popcorn.
Ad. Article continues below.
Read more: Prince Harry wins hearts as he plays uncle to local children
Emily and Hayley had a good time joking with the prince, with Hayley bursting out laughing as Emily ignored all royal protocol and began playing with Harry's fingers and pulling faces at him. 
Embed from Getty Images
A loving uncle to Prince George and Princess Charlotte, Harry certainly has a way with kids, and has professed his love for children in the past. Throughout the UK vs. Denmark vollyeball match, he seemed equally interested in the action on the court and the little girl who wanted to make a new friend. 
Ad. Article continues below.
Read more: Princess Charlotte steals the spotlight with adorable hand-me-downs
But Harry wasn't done melting hearts that day; attending the Cycling Criterium time trial later in the day, he was only too happy to pose with a mob of schoolchildren who were ecstatic to see the prince in person. 
The Kensington Palace official Instagram posted a behind-the-scenes video of the moment, with kids clambering for the best position, some jumping up and down to ensure they made it into the snapshot.
What do you think of these cute photos?