Prince Harry and Meghan Markle delight fans on first joint visit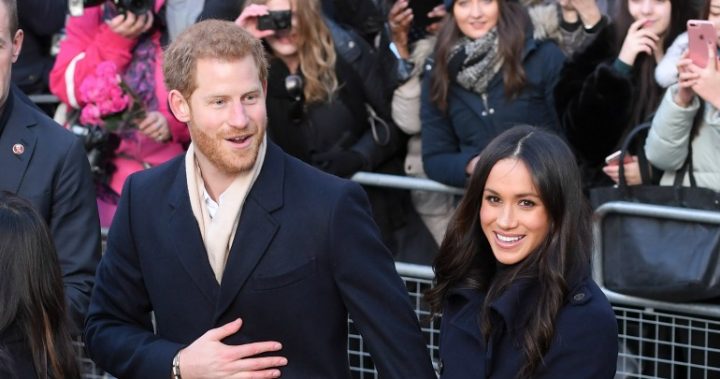 Kensington Palace had been teasing the visit since their engagement and on Friday, Prince Harry and Meghan Markle finally appeared together for their first public visit.
Giving his bride-to-be a taste of what's to come once she becomes a royal, Prince Harry invited Ms Markle to a World Aids Day charity fair.
The event, hosted by the Terrence Higgins Trust, gave fans of the Royal Family a chance to suss out Markle in the flesh.
As they waved and greeted fans, both Harry and his 36-year-old partner split to interact with the hundreds of people who showed up to the event.
Thank you Nottingham for a wonderful visit!
Find out more about the work being done here on #WorldAidsDay: https://t.co/5RYWtv9prh pic.twitter.com/TiwNVbGOJF

— Kensington Palace (@KensingtonRoyal) December 1, 2017
Ad. Article continues below.
Read more: The first details of Prince Harry and Meghan's wedding revealed
Ms Markle was given an array of gifts during the visit including cards, chocolates and flowers.
She opted for a royal-navy coat to protect her against the chilly British weather and wore her luscious brown locks down for the occasion.
Harry looked as handsome as ever and opted for a blue suit for the visit.
Ad. Article continues below.
Before leaving @NottinghamAcad, Ms. Markle received a posy from students at the school. pic.twitter.com/A61Za5InPH

— Kensington Palace (@KensingtonRoyal) December 1, 2017
Following that event, the pair moved on to a nearby school, where they met with teachers.
The Suits actress received more flowers from students at the Nottingham Academy. During that visit, they happily watched students perform an opera routine and posed for photos on stage following the performance.
She took her coat off for this visit and was wearing a skin-tight black skivvy top, matched with a gorgeous matching beige skirt, teamed with a black belt.
Ad. Article continues below.
Read more: Prince Harry reveals touching Diana tribute in Meghan proposal
The official Kensington Royal Instagram page shared several photos from the day with the couple's adoring fans.
The @wearefulleffect clubs helps young people make friends in their community and prevents them from being involved in youth crime. pic.twitter.com/MFCTunDNaV

— Kensington Palace (@KensingtonRoyal) December 1, 2017
"Prince Harry and Ms. Meghan Markle arrive in Nottingham for their first official visit together since announcing their engagement," the caption read.
Ad. Article continues below.
"Prince Harry and Ms. Markle met crowds who have gathered outside the National Justice Museum. Prince Harry has been to Nottingham several times before and was delighted to be introducing the city to Ms. Markle."
Fans who couldn't be there in person shared their well-wishes online.
One person wrote: "She does America Proud!!! She is beautiful, poised and kind!!! Love her! Many blessings for their future!!!"
Ad. Article continues below.
Another said: "I love seeing the joy on Harry's face, he looks so much more comfortable than usual."
A third added: "It is truly amazing to see HRH so happy! Diana's boys are such in a good path and she would be so proud of them!"
What do you think of Meghan Markle? Is she a good match for Prince Harry? Do you think Princess Diana would be proud?