Prince Harry wins hearts as he plays uncle to local children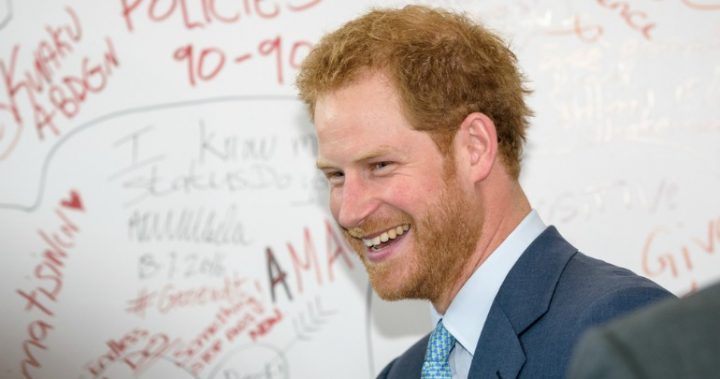 When Kensington Palace released a brief statement on Twitter saying that Prince Harry would spend the morning visiting "a summer holiday activity session", it seemed like another "smile and wave" opportunity for the royal family.
Prince Harry will this morning visit a summer holiday activity session in Newham, which forms part of the @StreetGames #FitAndFed campaign. pic.twitter.com/i4D4Y9qhEA

— Kensington Palace (@KensingtonRoyal) July 28, 2017
But the prince once again proved he's following in his mother's footsteps by ditching the official humdrum to get closer to his people, taking up a game of handball with local kids as part of a StreetGames campaign.
Fit and Fed is a series of holiday activity sessions located in poor neighbourhoods that offers a free, nutritious meal every day to prevent disadvantaged children from going hungry.
Ad. Article continues below.
In photos, Prince Harry can be seen smiling and chatting with some of the children as they collect their meals, but he couldn't resist joining in the fun of a European handball game.
Dressed in a navy business shirt, black slacks and dress shoes, Harry delighted the children by swinging them around in his arms in playful tackles that, while not in the rules of the game, were more fun than the kids bargained for.
Ad. Article continues below.
As the children ran for the ball, Harry used height to his advantage, holding the ball just out of reach as the kids tried to reach for it.
When he was relieved of the ball, Harry turned the game into a tickle match with one of his competitors, who tried his best to fend off the royal amid a fit of giggles.
Harry even paused to console one boy, who was crying on the field. Patting him gently on the head and checking to make sure the boy wasn't hurt, Harry soon had everyone smiling again.
Ad. Article continues below.
If these pictures are anything to go by, Prince George and Princess Charlotte are going to have some fierce competition for their uncle's heart and attention when it comes to playtime.
Do you think Harry made a good impression on the kids?