Dressed in the ceremonial dress uniform of the Welsh Guards, Prince William, Prince of Wales, showcased a single-breasted design made from Hainsworth scarlet wool doeskin.
The uniform was adorned with intricate gold hand embroidery on the collar, cuffs, and back skirts. The collar featured the emblematic silver leek, skillfully embroidered, while the regimental insignia graced the jacket's gilt buttons.
While Catherine, Princess of Wales, was a vision in her official robes, which she wore over an Alexander McQueen ivory silk crepe dress featuring intricate silver bullion embroidered roses, thistles, daffodils, and shamrock motifs that represented the various nations of the United Kingdom.
In addition to her stunning attire, Catherine adorned herself with a pair of diamond-set drop-pearl earrings that previously belonged to Princess Diana.
She also embellished her look with an opulent silver bullion laurel-shaped headpiece designed by Jess Collett in collaboration with Alexander McQueen.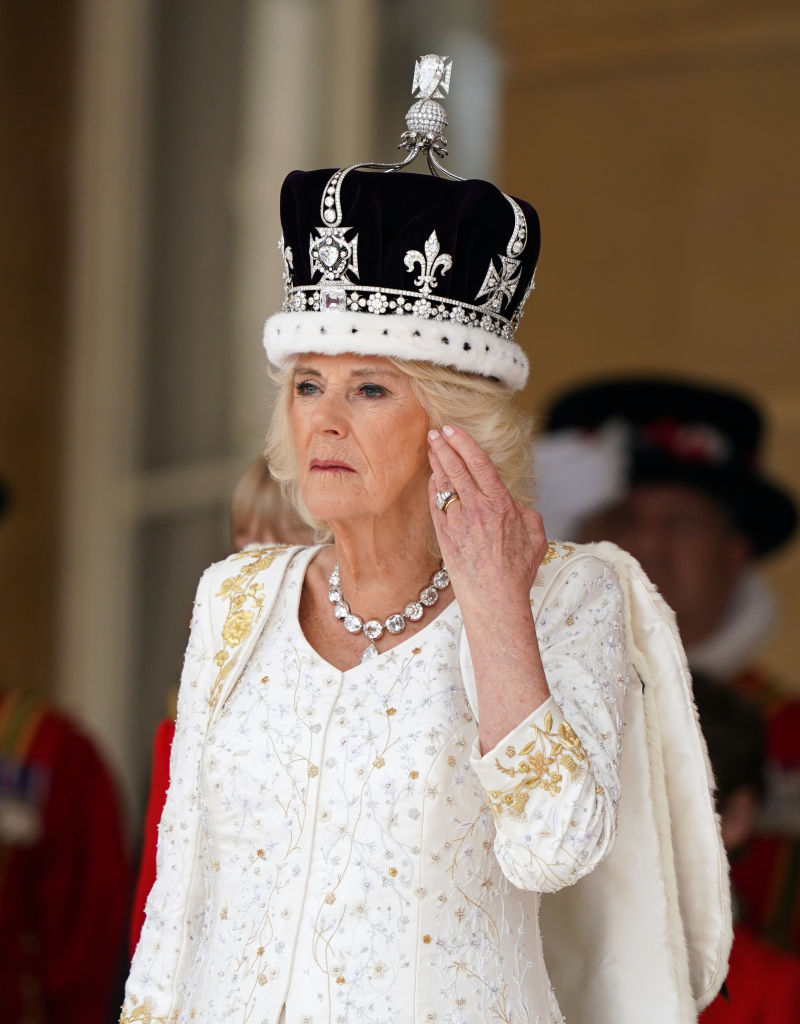 While embracing modern elements, the newly crowned Queen Camilla's ensemble honoured tradition with a personal touch.
Camilla donned a majestic crimson velvet and ermine Robe of State for her arrival at the Abbey. Beneath the ceremonial attire, she wore a beautifully crafted coronation dress in ivory, silver, and gold embroidery, designed by the renowned British fashion designer Bruce Oldfield.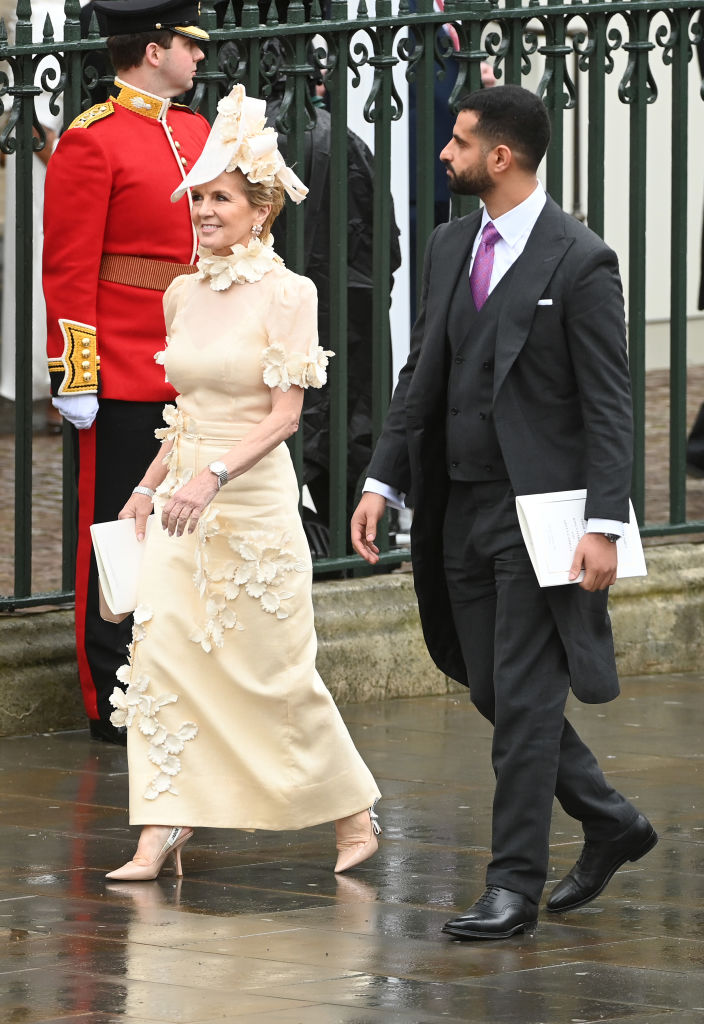 Among the Australian attendees, Julie Bishop, the former foreign minister known for her impeccable fashion sense, made an entrance at the Abbey.
She showcased a custom-made two-piece ensemble from the 2023  Zimmermann collection. The outfit featured a cascading floral design in a beige colour, adding a touch of elegance to her appearance. Bishop accessorised with a beautifully coordinated floral hat designed by Nerida Winter, wore jewellery from Margot McKinney, and carried a Lady Dior bag which she paired with Dior slingback shoes.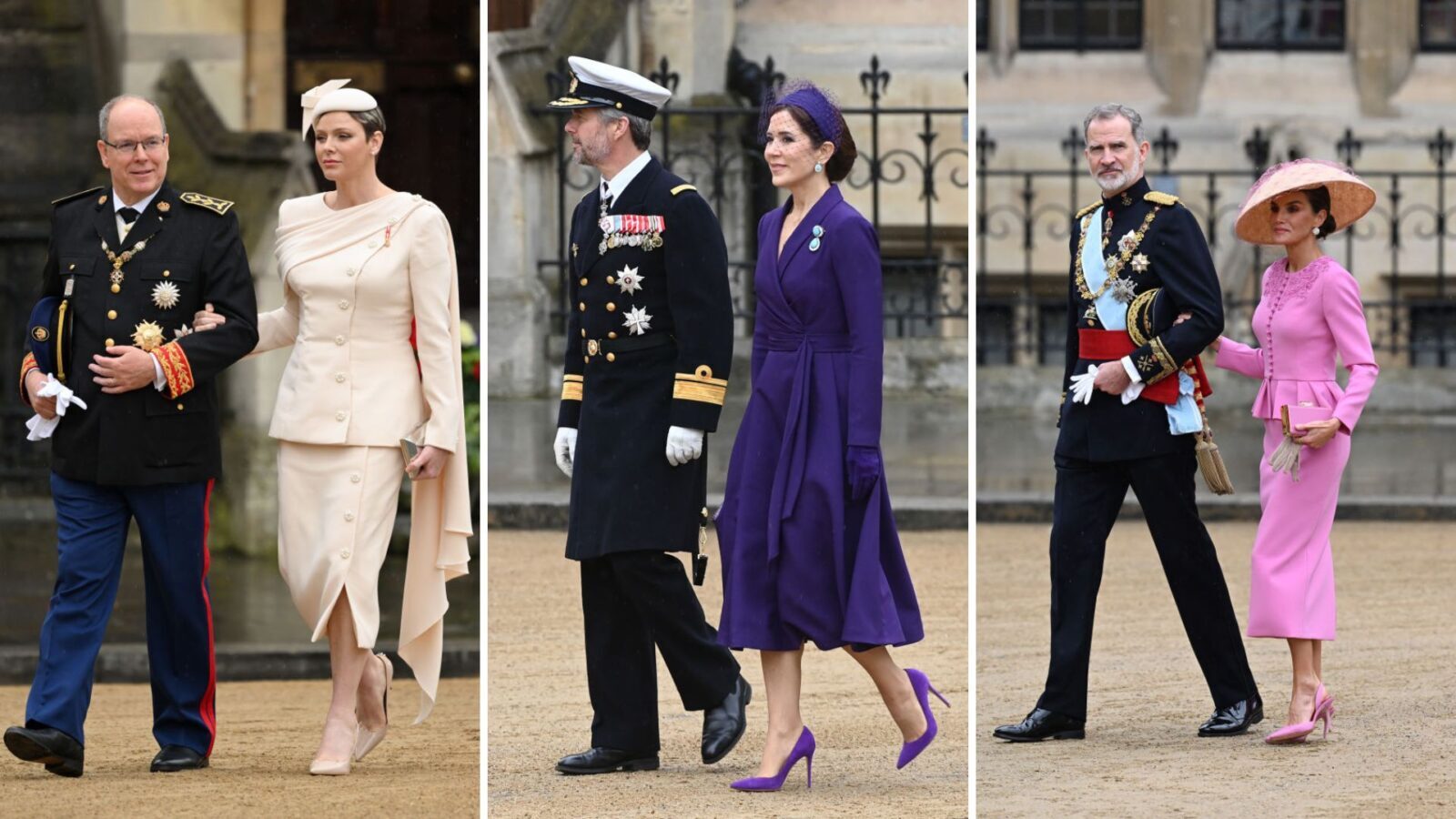 Adding some international flair to the Coronation was the presence of Queen Letizia who made a stunning entrance alongside her husband, King Felipe, wearing a vibrant hot pink peplum skirt suit designed by Carolina Herrera. Her look was elegantly paired with a wide-brimmed hat, completing her stylish and eye-catching look as they entered the Abbey.
Tassie-born Princess Mary of Denmark also made a fashion statement at the Coronation with her stunning outfit. She wore a regal purple dress coat designed by Danish designer Soeren Le Schmidt.
The dress coat was paired with a matching headpiece featuring a veil which she paired with turquoise jewels. To complete her look, she wore purple pointed pumps, adding a bold and stylish touch to her overall appearance.
Completing the list of best-dressed European royals was Princess Charlene of Monaco, who appeared both striking and understated in her outfit. She wore a pale beige button-up skirt and blazer ensemble that was elegantly complemented by a sash-style drape. The overall effect was refined and sophisticated, and she looked every bit the epitome of timeless elegance.