Nonetheless, the spokesperson confirmed that the Queen would still attend the special beacon lighting event which took place last night, June 2, where the Monarch took in the incredible view from her Windsor Castle home.
"The Queen is looking forward to participating in tonight's Beacon lighting event at Windsor Castle and would like to thank all those who made today such a memorable occasion", the spokesperson announced.
The Monarch walked down the red carpet unattended, despite the use of her walking stick, as she made her way to the podium to perform the beacon lighting command.
The Queen initiated the iconic beacon lighting ceremony as she touched the Commonwealth of Nations globe, looking the picture of grace and duty as she donned a long-sleeve aqua-coloured dress and crisp white gloves to perform the special command.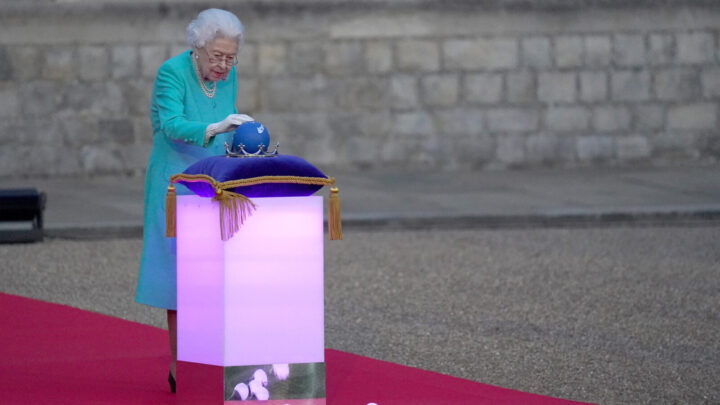 Upon her touch, an incredible lighting display commenced across the grounds of Windsor Castle. As described by Nine, the formal event formed part of "a duel ceremony with Prince William" who was "waiting 34 km away at Buckingham Palace, where the beacon centerpiece was illuminated on the Queen's touch command".
The display at Windsor Castle synced up with the display at Buckingham Palace, where Prince William and royal watchers looked on as the display lit up the incredible 'Tree of Trees', which was decked with beacons as it sparkled in the night sky.
This was then followed by a colourful 'projector' display of a young and old Queen splashed across the walls of Buckingham Palace in an iconic tribute to the Queen's 70 year reign.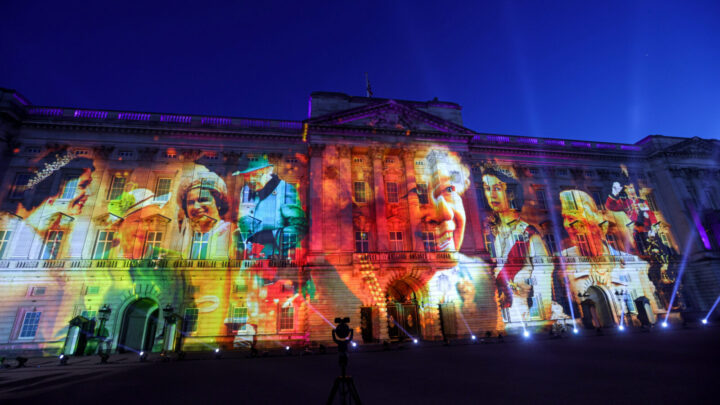 On Her Majesty's command, a total of 2,500 Platinum Beacons were lit throughout the United Kingdom and the Commonwealth, commemorating the Monarch's incredible leadership and legacy over the last 70 years and marking the first community event of the four-day Jubilee weekend which runs from June 2 – 5.
Earlier in the day, the Queen appeared on the balcony of Buckingham Palace alongside close royal family members. Joining Her Majesty on the Palace balcony were the Duke and Duchess of Cambridge and their three young children, George, Charlotte and Louis, the Prince of Wales and the Duchess of Cornwall, Princess Anne and husband Sir Timothy Laurence, the Earl and Countess of Wessex along with their children, Lady Louise and Viscount Severn were also present.
Despite the Queen's recent withdrawal, she appeared lively and well, smiling widely at yesterday's Trooping of the Colour as she watched the fly-past and enjoyed a sweet moment with her great grandson, Prince Louis, 4.
The Duke and Duchess of Sussex were absent for the intimate balcony gathering after it was revealed last month that the Queen had forbid the ex-royals from the this year's balcony appearance.