"I can confirm that Princess Lilibet was christened on Friday, March 3 by the bishop in the Episcopal Diocese of Los Angeles, the Rev John Taylor," the spokesperson said.
"The children's titles have been a birthright since their grandfather became monarch.
"This matter has been settled for some time in alignment with Buckingham Palace."
Despite receiving invitations, no members of the Royal Family attended Princess Lilibet's christening.
Recognition of Archie and Lilibet's royal titles is linked to their grandfather, King Charles' ascension to the throne, under a regulation established by King George V from 1917 that states: "…the grandchildren of the sons of any such sovereign in the direct male line (save only the eldest living son of the eldest son of the Prince of Wales) shall have and enjoy in all occasions the style and title enjoyed by the children of dukes of these our realms."
Although the Royal Family's official website currently does not display their updated prince and princess titles, it's believed the Palace will be updating the website to reflect the titles of the children.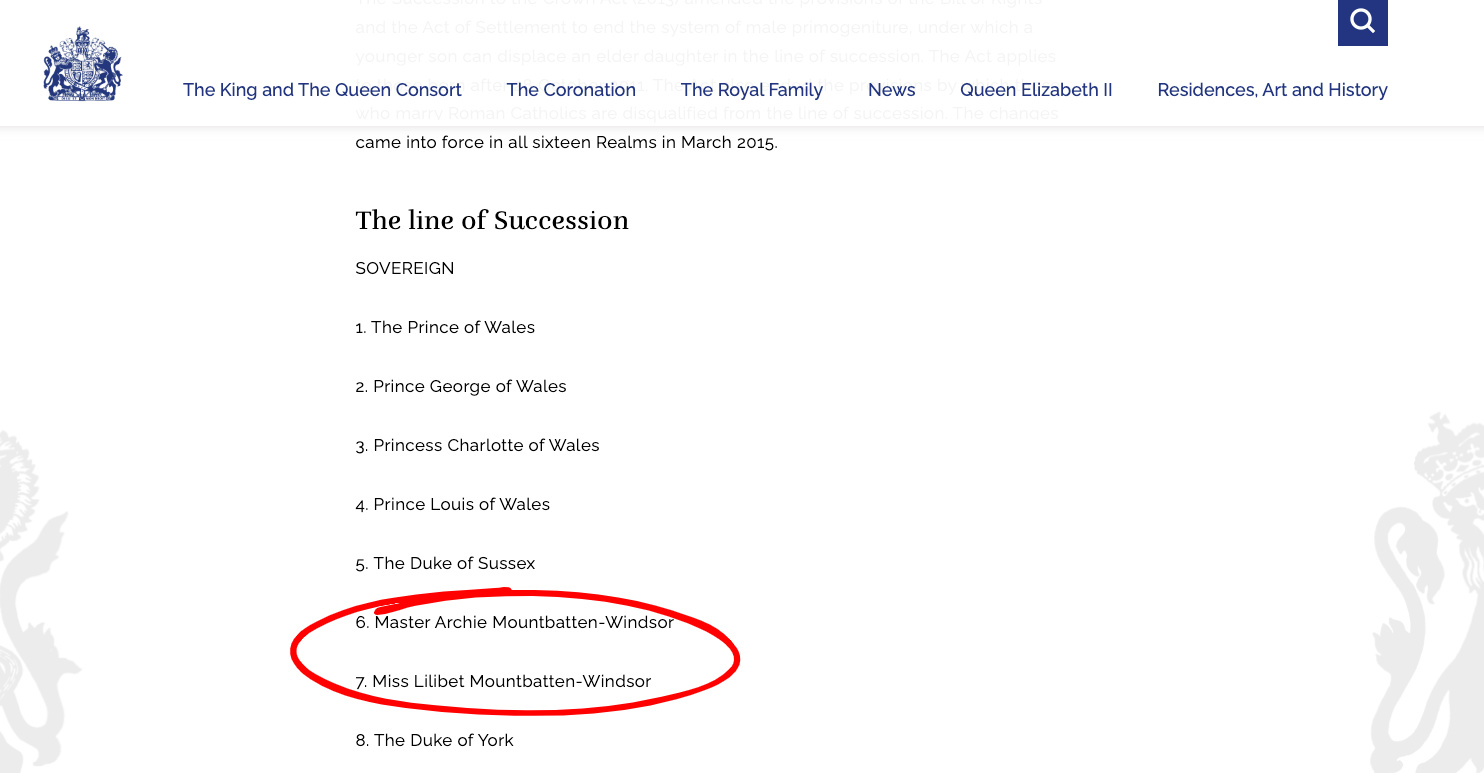 Confusion over whether the Sussex children would be afforded royal titles first came into question during Harry and Meghan's first tell-all interview with Oprah in 2021.
"They were saying they didn't want him to be a prince or princess, which would be different from protocol, and that he wasn't going to receive security," Meghan said.
"This went on for the last few months of our pregnancy where I was going, 'Hold on for a second.' "
The Duchess said she would have liked Archie to receive the title if it "meant he was going to be safe."
"And it's not our decision to make," she said.
"Even though I have a lot of clarity of what comes with the titles good and bad…that is their birthright to then make a choice about."
It's understood Archie and Lilibet's royal titles will be reserved for formal settings.