Addressing the guests at the event, after tying the knot in front of Queen Elizabeth II, Prince Philip, Princess Anne, Prince Harry, Prince Edward and more, Gabriella thanked everyone for their help in organising the momentous occasion.
https://www.instagram.com/p/Bxo773BnG_U/
"Thank you so much for making all of this possible, both the beautiful St George's chapel and here at Frogmore, a place so filled with charm and history throughout the house and in the charming gardens," the royal said according to Hello! magazine.
"It is particularly meaningful to me as my grandparents, who I never had the chance to meet, are buried here."
Cameras were at the ready throughout the day with one snap capturing the newlyweds cutting their elegant, eight-tier wedding cake. The beautiful creation was white in colour and featured flowers matching those in Gabriella's bouquet. It was reportedly made by the same baker that created Prince William and Catherine's cake.
"The beautiful bride Lady Gabriella Windsor and her husband Mr Tom Kingston cutting their Fiona Cairns wedding cake at Frogmore House yesterday," the post, shared by cake designer Fiona Cairns, read.
"We were so honoured to make this royal wedding cake and be part of the special day."
https://www.instagram.com/p/BxnGMUshVif/
Friends and family members also took to Instagram to share snippets from the big day with Gabriella's friend Fernando Montaño uploading a selfie of the two together.
The gorgeous royal looked picture perfect in her wedding gown with the stunning diamond tiara and veil still firmly in place.
"It was great to see my dear friend so happy and beautiful on her special day," Fernando wrote alongside the happy snap.
https://www.instagram.com/p/BxnR-lCHQ8J/
Among the royal guests was the Queen herself who looked lovely in a pink coat and matching coloured hat. Her Royal Highness was pictured sharing a special moment with the newlywed, with the two looking deep in conversation when they were photographed after the ceremony.
Gabriella was seen leaning down to the Queen, holding hands with the 93-year-old who looked lovingly into her eyes.
https://www.instagram.com/p/BxnM8C4Ft1F/
"Wonderful day at Windsor for the wedding of my lovely adorable cousin Ella," Prince Dimitri of Yugoslavia wrote in the post on Instagram.
Meanwhile other guests didn't waste the opportunity for a selfie, posing inside the reception and outside in the grounds of the castle.
In one snap, three guests smiled for the camera with a gorgeous view behind, while in another two friends of Gabriella posed happily beside the beautiful bride.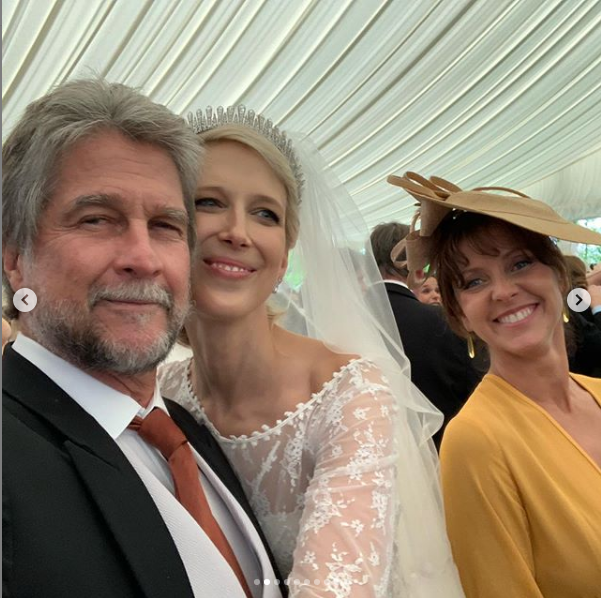 Read more: Royal wedding: Lady Gabriella Windsor ties the knot in stunning lace gown
Are you a fan of the royal family? Do you like hearing about the lesser known members of the family?