The state of California might be in lockdown as the coronavirus crisis continues to unfold, but that hasn't stopped Goldie Hawn from taking a break from isolation to step out for a spot of exercise over the weekend. The actress was spotted taking a walk with a friend in Los Angeles over the Easter break.
The star of The First Wives Club wore a black tank top and tights, paired with blue and black trainers. She accessorised with a chic straw visor to protect her from the sun, chunky gold jewellery and black leather bumbag. But the real showstopper of her exercise ensemble was a bright blue face mask which perfectly complimented her blue shoes.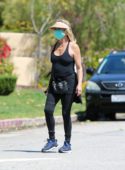 While residents of California have been urged to remain indoors as much as possible in an effort to slow the spread of the virus, people are allowed to venture outdoors for exercise, while still practising social-distancing.