See who sparkled just a little more than the rest and which stars took a more unique fashion spin for the Met Gala 2022 theme, "Gilded Glamour."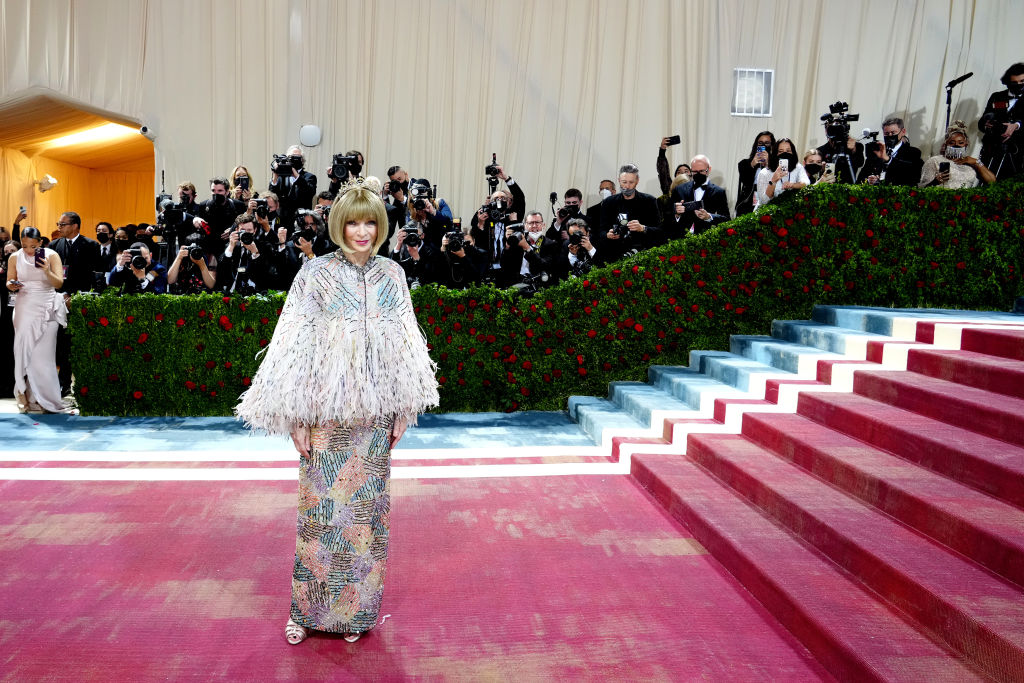 Anna Wintour
Vogue editor-and-chief and "mastermind" behind the Met Gala, Anna Wintour, cemented her status as the reigning Queen of the Met Gala with a tiara as her statement piece for the evening, choosing to ditch her signature sunglasses for the star-studded event.
The 72-year-old graced the red carpet wearing a Chanel sheer ankle-length dress that featured a multi-coloured beaded design, complementing her look with a feather-trimmed shawl.
It also comes as no surprise that the British-American journalist came dressed in Chanel, as she almost always turns to the luxury label as her designer of choice, having worn the label for nearly three decades straight.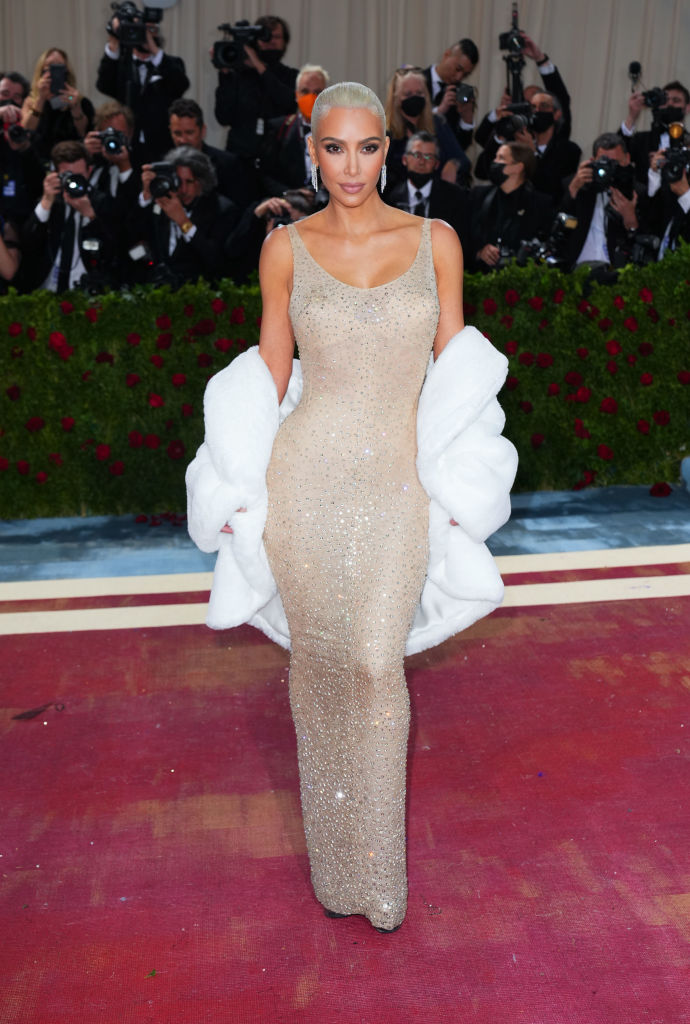 Kim Kardashian
If there's one thing this Hollywood socialite does well it's a flare for the dramatic, so it comes as no surprise that Kim Kardashian's entrance to this year's Met Gala sent jaws-dropping.
The instant the starlet stepped foot on the red carpet, there was no doubt who she took inspiration from for this year's look- the one and only American bombshell Marilyn Monroe.
Kardashian wore Monroe's infamous, original glittering "naked" dress, the very same one the late actress wore when she sang Happy Birthday to former US president, John F Kennedy.
To absolutely nail her look, the 41-year-old mother of four spent 14-hours straight dying her hair platinum blonde prior to the event and spent weeks in advance adhering to a strict diet in order to fit into the original dress.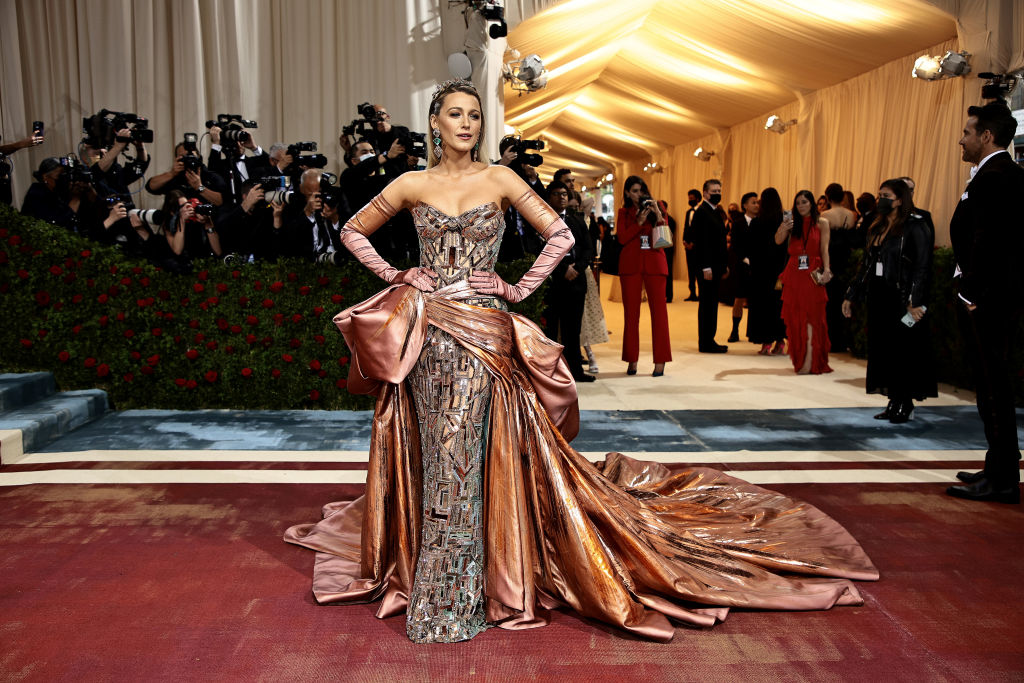 Blake Lively
Another star who stole the show was non-other Blake Lively. It's no easy task to catch everyone's attention during one of the biggest nights in fashion, but thanks to a dramatic dress transformation on the red carpet, Lively proved once again that when it came to the Met she reigned as the Queen of the evening.
Lively opted to wear her go-to red carpet brand, Atelier Versace, in a dress inspired by New York City itself. Speaking to People on the carpet, Likely explained how she "looked to New York City architecture and the classic buildings" to influence her dresses design.
And while her dress took inspiration from the city's buildings, Lively's seven-tier crown paid tribute to the Statue of Liberty.
Lively has been a reoccurring guest of the Met Gala since 2008 and never disappoints, often being named one of the event's best-dressed. And clearly, this year was no different.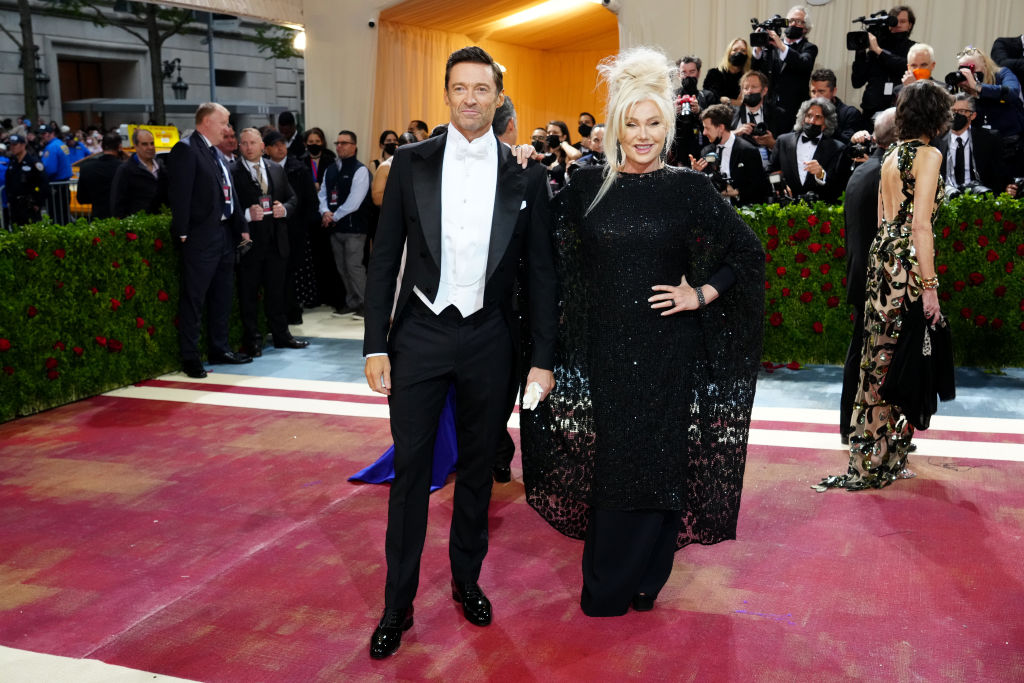 Hugh Jackman
Iconic Aussie couple Hugh Jackman and wife, Deborra-Lee Furness, stepped into this year's Met Gala turning heads dressed in Tom Ford. Keeping with the "gilded glamour" theme, Jackman looked dapper in a classic three-piece suit while his wife donned a figure-hugging black lace dress, with a dramatic cape.
Furness accessorised with glitzy chandelier earrings and wore her blonde hair in an old-fashioned beehive updo.
The couple currently lives in New York City and has recently celebrated 26 years of marriage earlier this month.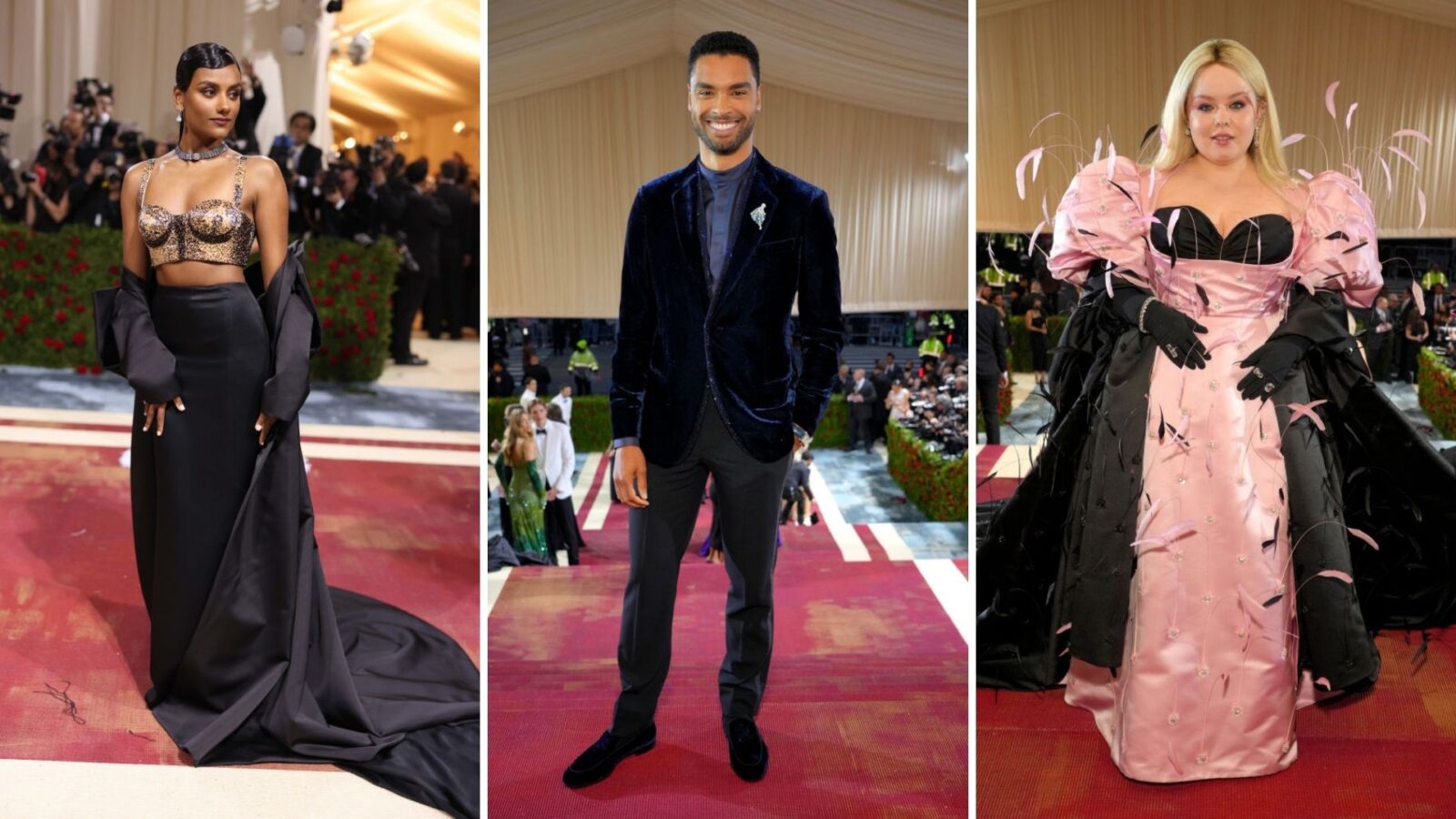 The stars of Bridgerton | Simone Ashely, Regé-Jean Page, Nicola Coughlan
The cast of Bridgerton took a much-needed break from their usual period piece attire and opted for only the best designer threads.
Irish actress Nicola Coughlan swapped her corset for a feathery baby pink gown that featured puffy princess sleeves, a black-accented bustier and a dramatic black cape that matched her elbow lengthed satin black gloves.
Newcomer to the fashion world, 27-year-old Simone Ashley, who plays Kate Sharma, the primary love interest in season 2 of Bridgerton, had her own dramatic cape with her. Posing on the red carpet the actress wore a body-hugging black high-waisted skirt and bronze bustier that gave a peek at her toned midriff. Her onyx hair was slicked back into a clean ponytail and topped off her look with a diamond choker necklace and diamond drop earrings.
Bridgerton's original heartthrob Regé-Jean Page may not have returned as the Duke of Hastings for the series' second season, but there's no way fans of the show will be forgetting him any time soon, especially after his Met Gala appearance.
Page was snapped wearing a dark blue velvet suit jacket lined with blue crystals that matched his velvet blue loafers. His trousers were a dark grey that featured black pipping and for accessories, the actor boasted a sparkling silver broach on the left collar of his jacket.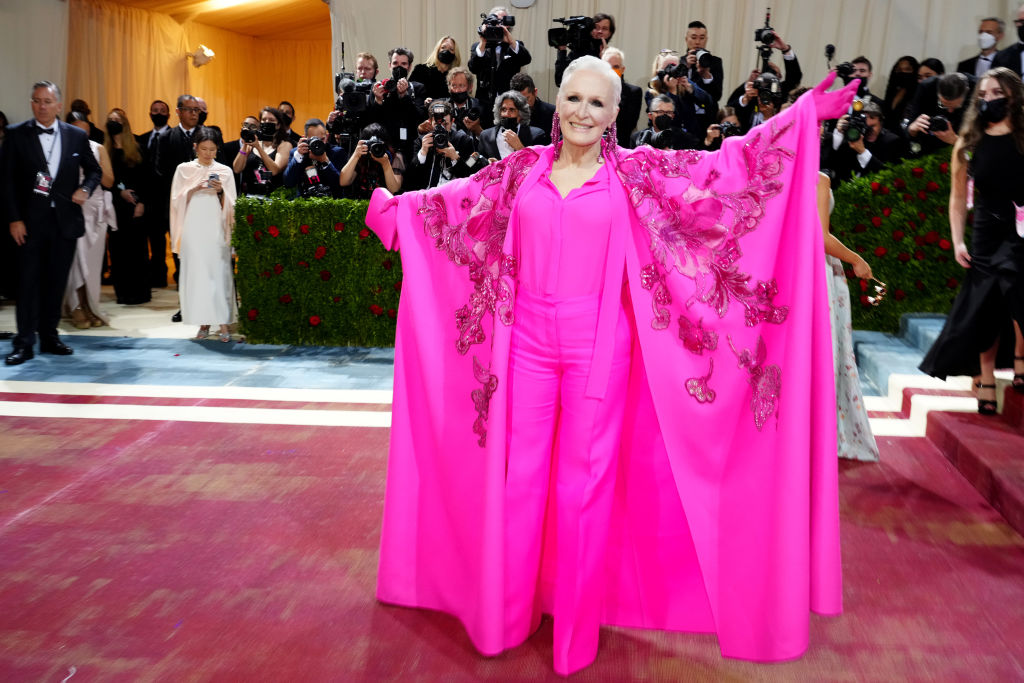 Glenn Close
For her first-ever appearance on the Met Gala red carpet, Glenn Close made sure she would be remembered. Never one to shy away from bold looks, the 75-year-old appeared in a head-to-toe hot pink ensemble designed by Valentino.
Featuring bright fuchsia floor-length trousers and a matching blouse the eight-time academy nominee was all smiles as she posed for the paparazzi, arms wide to show off her statement embroider cape.
Like many other attendees, Close's cape was the star's main piece of attraction for her outfit. It featured intricate dark pink beadwork sown to make a flowing floral pattern that spread across her shoulders and down her arms.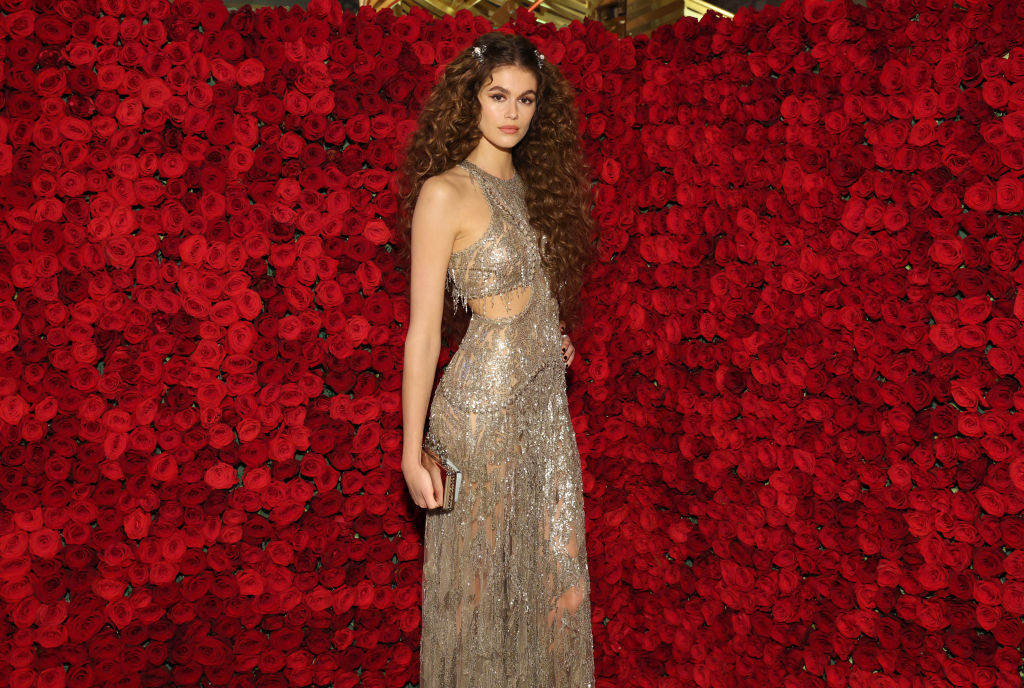 Kaia Gerber
The daughter of supermodel Cindy Crawford proved that good looks do run in the family as the 20-year-old model took on a dramatic hair change for this year's Met Gala.
Arriving at the star-studded event, Gerber stepped into the scene wearing a glimmering sheer silver dress and debuted waist-length cascading brown curls. The brunette beauty's voluminous ringlets were clipped away from her face with silver pearl barrettes.
As for her dress, Gerber wore an Alexander McQueen gown that played tribute to the '70s and '80s disco glamour. For makeup, the young model wore purple shimmery eye shadow, keeping her signature bushy brows full and opted for a nude lip to finish off the look.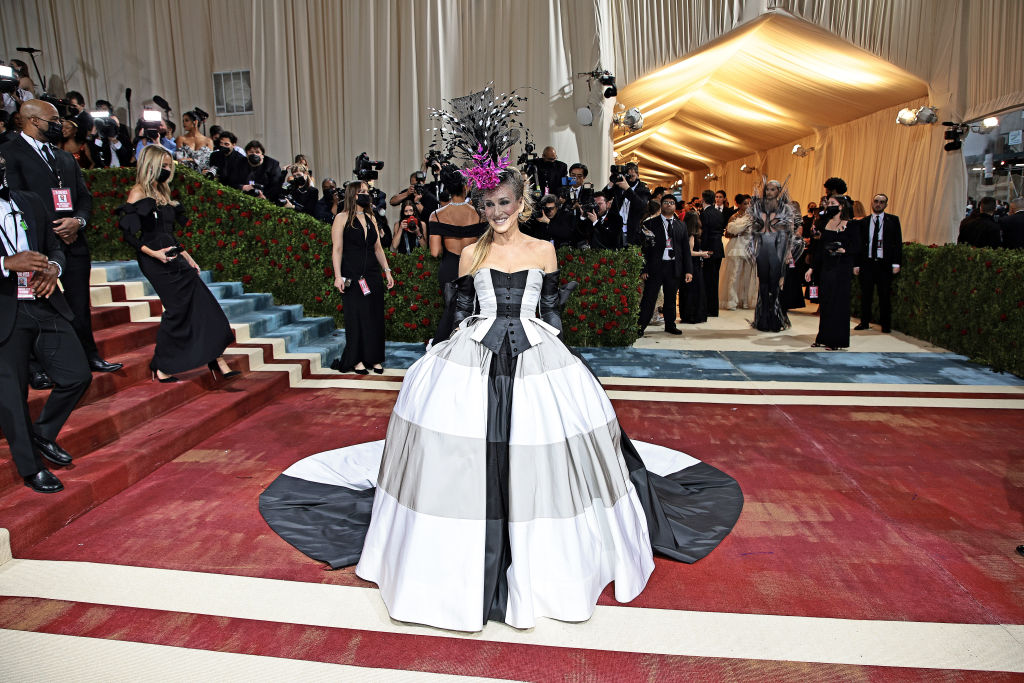 Sarah Jessica Parker
Fashion icon and Met Gala veteran, Sarah Jessica Parker reportedly spent over 10 months alongside designer Christopher John Rogers for this year's look.
Parker's dress pays homage to Elizabeth Hobbs Keckley, the White House's first-ever Black female designer. Keckley was a former slave who then became the official dressmaker to first lady Mary Todd Lincoln. According to Rogers, the inspiration behind Parker's gown came from "the dichotomy between the extravagant, over-the-top proportions of the time period, and the disparity that was happening in America at the time".
The black and white gingham design comes from an original design from Keckley herself, the inspiration resulted in Rogers creating a black-and-white fitted top and ballgown skirt with a swooping silk train. The dress itself was made from taffeta and features Swarovski-crystal buttons.
To tie the whole look together, Parker wore a customer veil embellished with black stones by designer Phillip Treacy. The headpiece is donned with black and white features and features a hot pink flower in the middle.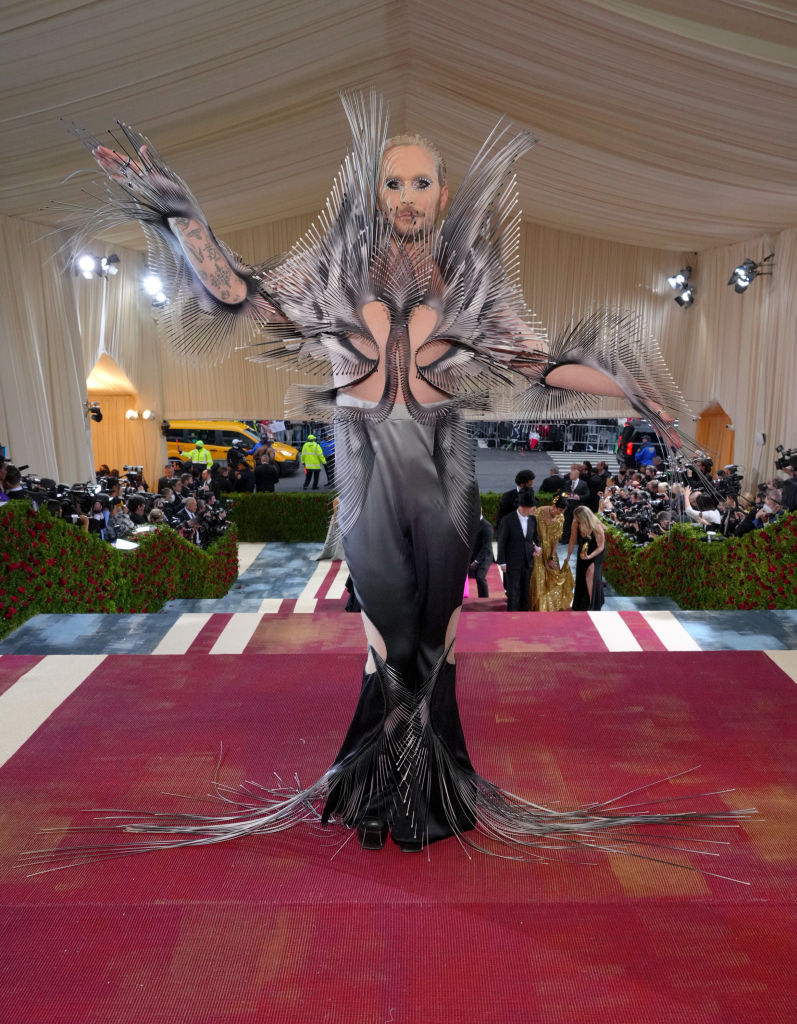 Fredrik Robertsson
Fashion entrepreneur Fredrik Robbertsson was yet another standout in this year's Met Gala as he entered the event wearing a futuristic bodysuit covered in intricate needles which, according to Brian Marks from the DailyMail, made him "look like a cross between a porcupine and a pufferfish".
The unique design featured grey and white spikes that covered Robertsson's upper torso, arms and then from his knees down, sweeping the floor. Paired with opaque pants, the complicated design also covered Robertsson's chest in swirling patterns and also features needle-like extension on his fingers.
The fashion enthusiast looked almost eery as he wore smoky-eyed makeup with white dots decorating the corners of his eyes and had his silver-blonde hair slicked back.
Michelle Yeoh
Actress Michelle Yeoh opted for a sustainable approach for her Met Gala look, arriving in an upcycled silk gown by designer Prabal Gurung. The Everything, Everywhere All At Once actress's emerald green gown featured a sharply draped bodice and an off the shoulder, fitted silhouette that connected to a show-stopping sweeping cape.
For jewellery, Yeoh wore a breathtaking diamond and pearl Tasaki statement necklace and its matching cuff bracelet as well as a white, diamond-encrusted wristwatch. The star also wore a bold red lip to contrast the colour of her gown.