This includes a perfect white shirt, an elegant blazer, well cut trousers, a dress that flatters everyone and the perfect tote. Dubbed 'The Smart Set Capsule Collection', the range offers women classic wardrobe pieces to help them feel confident as they mobilise back into the work space.
In unseen photographs shared on the Sussex Royal Instagram page, Meghan can be seen posing alongside models wearing the clothes she helped created. Other unseen pictures by photographer Jenny Zarins show the mother-of-one hugging models and happily posing with them as they wear her collection. Speaking at the launch, Meghan explained why the project has been so important to her.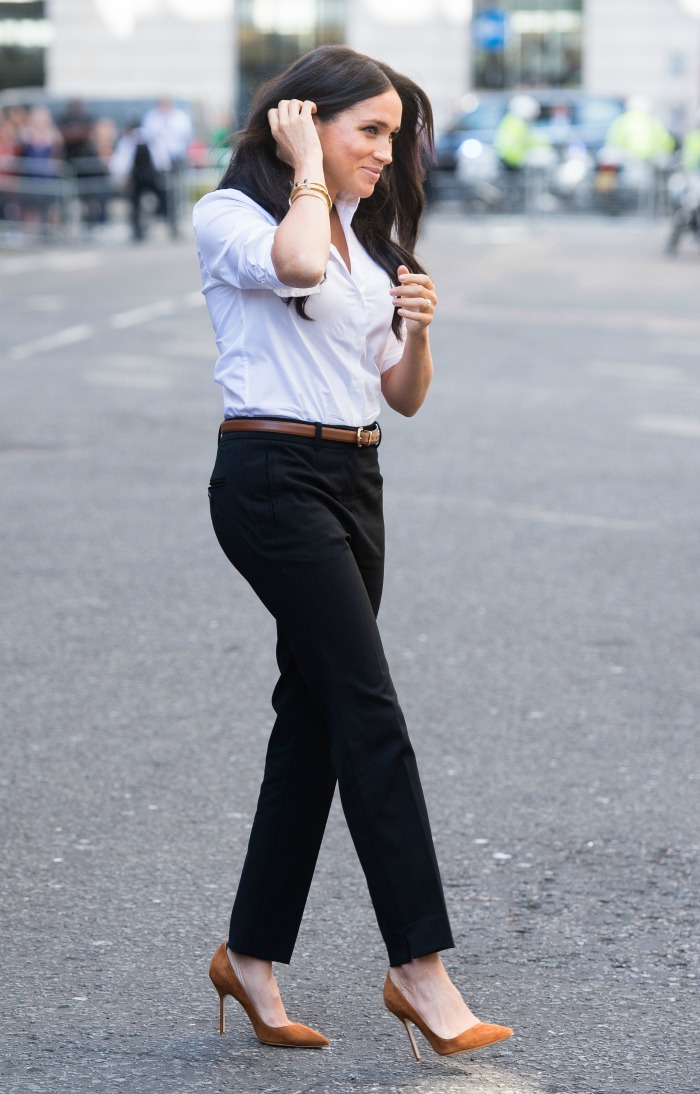 "Since moving to the UK, it has been deeply important to me to meet with communities and organisations on the ground doing meaningful work and to try to do whatever I can to help them amplify their impact," she said. "It was just last September that we launched the 'Together' cookbook with the women of the Hubb Kitchen in Grenfell. Today, a year later, I am excited to celebrate the launch of another initiative of women supporting women, and communities working together for the greater good."
Meghan thanked the four brands that came together to support the exciting project and pointed out that the brands were placing purpose over profit and community over competition. She continued: "In convening several companies rather than one, we've demonstrated how we can work collectively to empower each other – another layer to this communal success story, that I am so proud to be a part of."
She also explained that while the organisation is inundated with donations, the right sizes and classic wardrobe staples weren't always available to women. Meghan went on to say that she thought all women needed to support and uplift each other.
Smart Works was created in 2013 with the goal to help unemployed women regain the confidence that may have been blurred during more difficult times. The organisation provides support in these women's return to employment and towards transforming their lives.
In addition to the clothing range, Smart Works also provides access to one-to-one interview training and the opportunity to join Smart Works Network, meeting every month to further their professional and personal development.
For the launch, the former Suits actress wore a crisp white blouse with a pair of smart black trousers believed to be from the new Smart Set collection. She accessorised with a pair of heels and matching belt and wore her luscious brunette locks in a wavy style for the event. Meghan added some sparkle to her outfit with some gold bracelets.