Catherine glows in striking green dress on all-black BAFTAs red carpet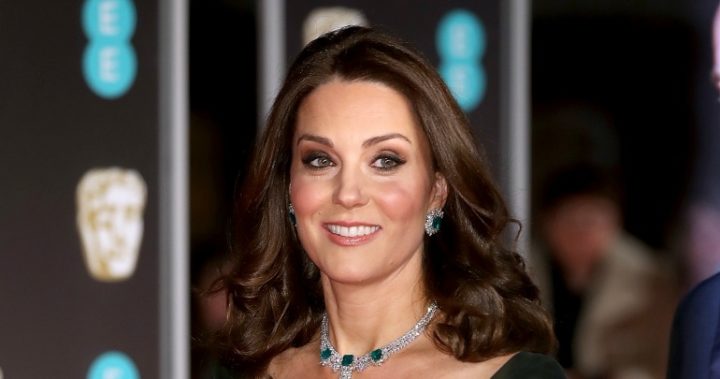 The Duchess of Cambridge made a bold fashion choice as she joined a stream of stars at the BAFTAs – choosing to wear a flowing green dress in a sea of black outfits.
A number of celebrities followed an all-black theme this year to honour the 'Time's Up' campaign against sexual harassment, but Catherine stood out in a stunning deep green ball gown – in keeping with royal protocol – alongside her husband Prince William.
Showing off her baby bump, the mum-of-two was glowing in the flattering number, and added a huge diamond necklace to the striking outfit. Wearing her hair loose and slightly curled, she stole the show as she smiled for cameras and greeted guests outside on the red carpet.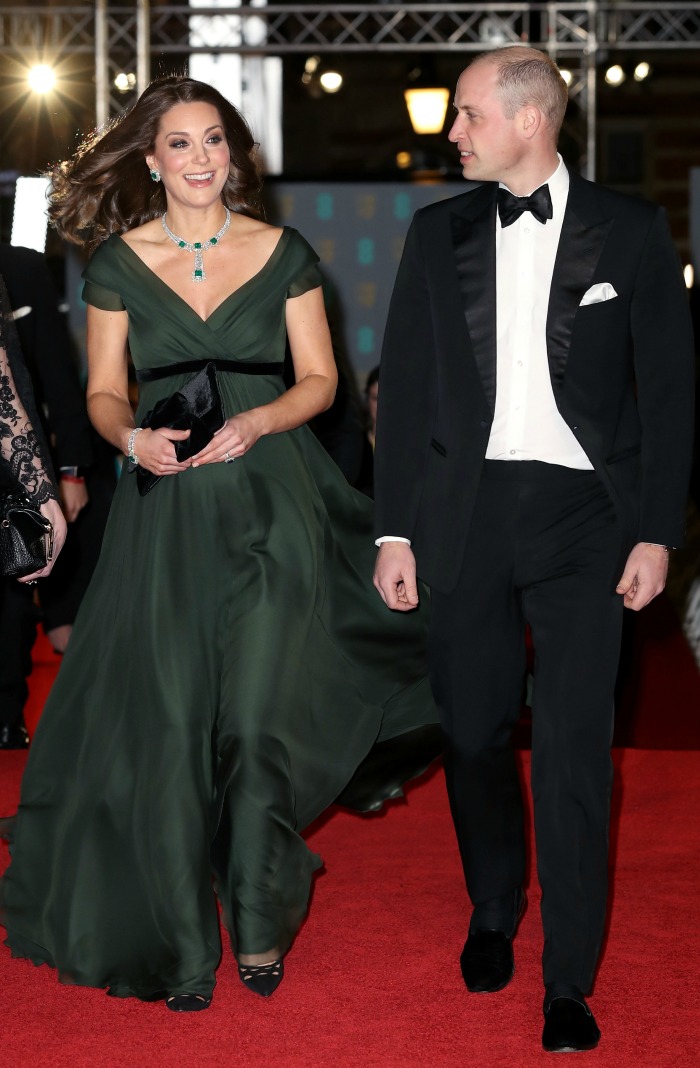 William dressed for the occasion in a black tux, and remained close to his wife's side as they walked inside. According to protocol, all members of the royal family should remain politically neutral – so wearing black may have be seen as a breach of that. The Monarchy's website states: "As head of state, the Queen has to remain strictly neutral with respect to political matters."
Ad. Article continues below.
The BAFTAs is just the latest awards ceremony to see its guests choose an all-black theme to honour the Time's Up campaign, and announcing it on Twitter recently, a post read: "Tonight, black is not just for the red carpet. Tonight, at the #BAFTAs and beyond, we wear black to say #TIMESUP on workplace abuse, inequality and harassment. Tonight, join us in your homes, your community and on social media as we show the world #WHYWEWEARBLACK."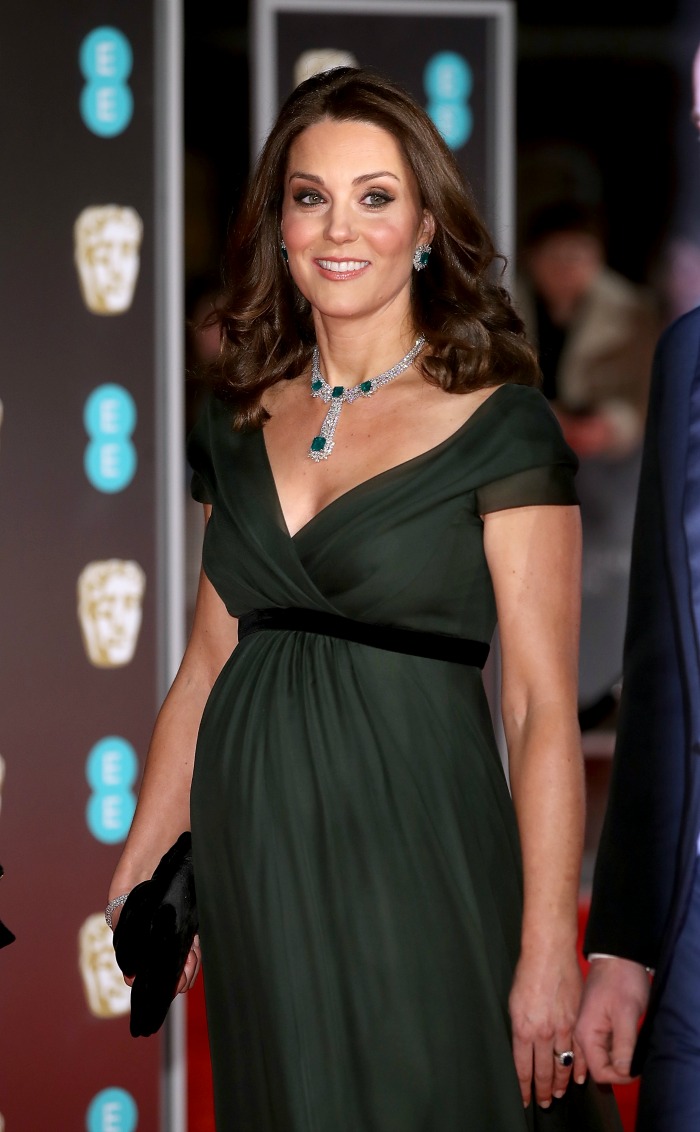 Catherine joined everyone from Aussie beauty Margot Robbie to Angelina Jolie and more as they stunned in glitzy ball gowns for the annual bash at London's Royal Albert Hall.
Ad. Article continues below.
Meanwhile, the popular royal looked in good spirits as her due date approaches in the next few months. But while it's unclear if she's expecting a boy or a girl, her husband recently made it clear they're not expecting twins this time round. The royal joked his "mental health" would be tested if his wife gave birth to twins unexpectedly – and either way, he expects to be "permanently tired" following the new arrival.
Read more: Prince William jokes over 'mental health' fears if Catherine has twins
The couple, who already have son George and daughter Charlotte together, are expecting their new bundle of joy in April, shortly before William's brother Harry is set to marry his fiancee Meghan Markle.
Ad. Article continues below.
Speaking to Raymond Stoner, boss of Anston Properties, at a recent Centrepoint event, William said: "Our third child is due in April, I'm getting as much sleep as I can."
According to the Telegraph, Stoner joked he could save time by having twins, but the royal replied: "Twins? I think my mental health would be tested with twins." He then added to another supporter: "Two is fine I don't know how I'm going to cope with three, I'm going to be permanently tired."
Do you like Catherine's BAFTAs outfit? Do you think she was right to follow royal protocol?