Prince William jokes over 'mental health' fears if Catherine has twins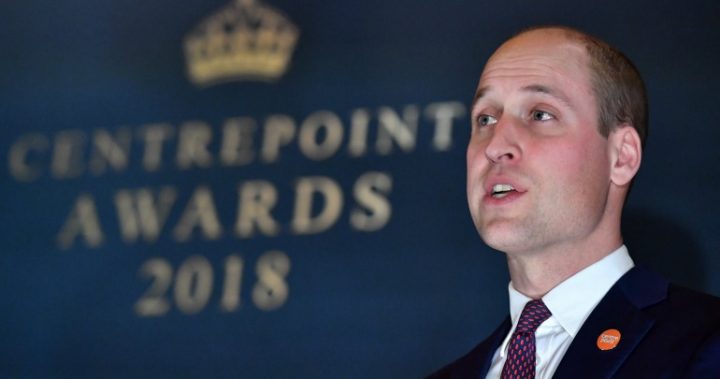 Prince William only has a few months to wait before the arrival of his third baby with wife Catherine – but he's definitely only expecting one.
The royal joked his "mental health" would be tested if his wife gave birth to twins unexpectedly – and either way, he expects to be "permanently tired" following the new arrival.
The couple, who already have son George and daughter Charlotte together, are expecting their new bundle of joy in April, shortly before William's brother Harry is set to marry his fiancee Meghan Markle.
And appearing at the Centrepoint Awards on Friday – where he handed out prizes to former rough sleepers – William joked he's getting as much sleep as he can now.
Speaking to Raymond Stoner, boss of Anston Properties, he said: "Our third child is due in April, I'm getting as much sleep as I can."
Ad. Article continues below.
According to the Telegraph, Stoner joked he could save time by having twins, but the royal replied: "Twins? I think my mental health would be tested with twins."
Ad. Article continues below.
He then added to another supporter: "Two is fine I don't know how I'm going to cope with three, I'm going to be permanently tired."
Kensington Palace shared a photo from the event, as the happy Prince laughed with fellow guests and award winners. Taking to the stand later on, he reportedly said in a speech: "For me, tonight is one of sharply contrasting emotions. Soon Centrepoint will be 50 years old.
"I feel immense pride in all Centrepoint has accomplished in that time, but with it, disappointment and frustration – frustration that in one of the most prosperous countries in the world homelessness is still putting the lives and futures of our young people at risk."
It comes after William sent a powerful message to some high school students in London just days ago.
Read more: 'I worry for you girls': William slams 'fake' cyber world
Ad. Article continues below.
Year 10 students at Burlington Academy in West London received a surprise visit from the Duke of Cambridge and British rapper Professor Green, with unlikely duo teaming up to talk about the impacts of cyberbullying and the "fakeness" of the online world.
Speaking to the class from the stage, William revealed his fears about cyberbullying and the online pressures facing young teenagers today. In the open discussion, the father-of-two gave advice on maintaining a healthy wellbeing in the face of photoshopped images and social media pressure. 
"I worry for you girls. The touched up pictures are not real," William said, Daily Mail reports. 
Do you or any of your family have twins? Are you looking forward to the birth of the next royal baby?