Amal Clooney makes stunning post-baby return to red carpet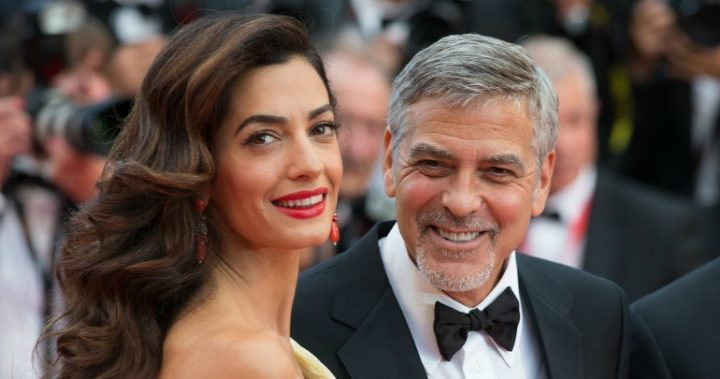 Amal and George Clooney have been keeping a low profile since welcoming their twins into the world in June, but the couple made a triumphant return to the spotlight at the Venice Film Festival on Saturday.
While they were walking the red carpet to promote George's new film Suburbicon, it was Amal who stole the show in a stunning lilac gown.
The 39-year-old kept her accessories simple with pendant earrings and gold strappy heels. She added a splash of red lipstick to complete the look.
Ad. Article continues below.
While the couple has mostly stayed quiet about their twins so far, proud dad George could barely contain his excitement when the topic of his newborns arose during an interview with Entertainment Tonight.
Read more: George Clooney opens up about first-time fatherhood at 56
He was joking around with close friend, and Suburbicon star, Matt Damon, when asked how he tells the twins apart.
"They start out with a personality right off the bat," he told ET.
Ad. Article continues below.
"[Alexander] is a thug already. You saw him," he joked with Matt Damon. "He's a moose! Literally, he just sits and he eats."
Matt chimed in: "He looks like he could bounce right now, some place in Hollywood. Like, checking IDs on the way into the nursery."
As for daughter Ella, Geroge explained: "She's very elegant, and all eyes. She looks like Amal, thank god."
Read more: George Clooney sues magazine over shocking invasion of privacy
George and Amal bucked the celebrity trend for creative and often odd baby names, with George explaining they "just didn't want to have really dumb names."
Ad. Article continues below.
"We figured these kids are going to be looked at a lot and watched and [have their] every move sort of judged, and we wanted them to at least have a break with the names," he shared.
"So we looked for some sort of normal names. We didn't have any great inspiration. It wasn't Alexander the Great and Ella Fitzgerald."
What do you think of Amal's striking gown? Do you like more traditional baby names?