George Clooney sues magazine over shocking invasion of privacy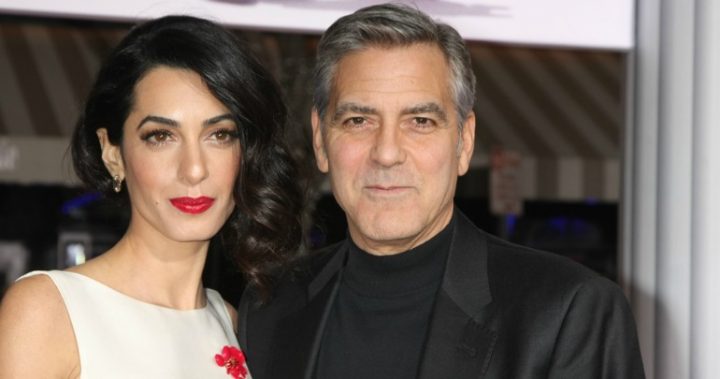 George Clooney is threatening to sue French magazine after they published paparazzi photos of the actor, his wife Amal and their newborn twins inside their Lake Como property.
The BBC reports the actor said in a statement: "Over the last week photographers from Voici magazine scaled our fence, climbed our tree and illegally took pictures of our infants inside our home."
"Make no mistake, the photographers, the agency and the magazine will be prosecuted to the full extent of the law. The safety of our children demands it," he said.
Read more: Amal Clooney brings back the 70s with groovy outfit
Ad. Article continues below.
The statement was released shortly after the magazine hit stands on Friday.
While the couple is fuming over the breach of privacy, the magazine has defended their actions, claiming it was in the public interest.
"People love George Clooney and have been following his life story for years now," a statement from the magazine says, reports the BBC.
"The birth of their twins, Ella and Alexander, has also been commented a lot, by themselves and their families.
"Those pictures do not put in danger Mr Clooney, his wife or their kids."
Ad. Article continues below.
The Clooneys welcomed their twins Alexander and Ella in June and have gone to great lengths to keep them out of the public eye.
They happy couple joked about George's coping ability in a short statement after the birth.
"Ella, Alexander and Amal are all healthy, happy and doing fine," they said. "George is sedated and should recover in a few days."
In early July, the couple were pictured carrying their babies off a private jet after flying from their home in London to George's Lake Como mansion.
Ad. Article continues below.
While the couple sold pictures of their lavish 2014 wedding to People magazine (with the proceeds going to charity) they have so far kept their twins out of the spotlight.
Read more: George Clooney's dad reveals details about son's relationship
What are your thoughts on this? Did the magazine take it too far?