Frail Cornelia Frances vows to keep fighting 'painful' cancer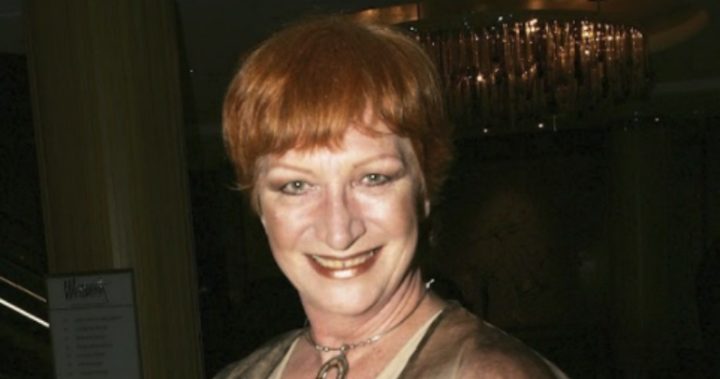 Home and Away star Cornelia Frances, well known for playing Morag Bellingham on the Aussie soap, has vowed to keep fighting her cancer, as she gave a brave and honest interview from her hospital bed.
The soap star, 76, first revealed she was fighting bladder cancer last month, and said she got the diagnosis in 2017 following a series of health scares.
Now, speaking on A Current Affair, she revealed her dramatic transformation as she continues to bravely fight the disease. Lying back in her bed in a hospital gown, the star wore large glasses to greet the show's host, but kept her winning humour throughout.
"I'm fine, albeit what's inside me, but really feeling OK," she insisted. "The pain comes and goes but you expect that. It's path of the cause."
Ad. Article continues below.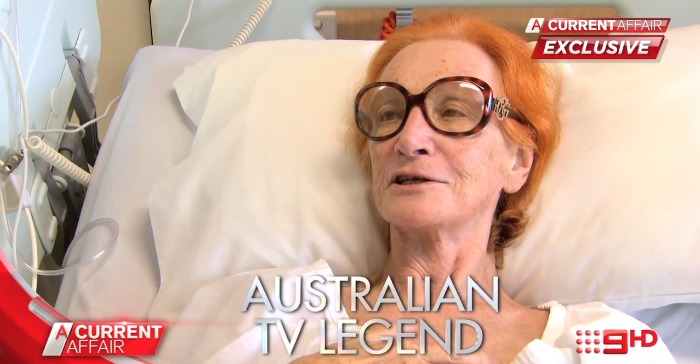 However, she insisted: "I'm going to fight it, by God I am."
Speaking about her glittering career on TV, with top shows including The Weakest Link, Young Doctors and Home and Away, she added: "That's 60 years of being in the industry which has thrilled me, it's been a wonderful road and I've loved every minute."
Ad. Article continues below.
She's made a name for herself thanks to her strong female roles, and is well known for her frosty attitude on screen – a far cry from her friendly nature in real life.
"Everybody knows I'm a b***h. Being naughty and wicked is great fun," she joked. Asked if she's keeping that strong mentality now, she said: "It's a hard road but we'll get there."
She went on: "The nurses are really really sweet, except one from the other hospital, who's an absolute tyrant."
She's been Australia's favourite small screen villain for almost half a century. But TV legend Cornelia Frances is now facing a very real villain of her own. #9ACA https://t.co/t6FRB8Po0t pic.twitter.com/s5KHZqLcBz

— A Current Affair (@ACurrentAffair9) February 28, 2018
Ad. Article continues below.
As her friends revealed she's never received a Logie award, despite being nominated six times, she added: "It's a public opinion. They like nice ladies, not b*****s or nasty people. I've enjoyed it, and being nominated is an honour.
"I've been very lucky, and I thanks all the producers who hired me."
Meanwhile, as she was shown footage of her on her past TV shows, she said: "I've loved every soap I've been on, it's hard not to. I've loved every one of them."
Read more: Cornelia Frances 'fighting for life' after cancer diagnosis
Ad. Article continues below.
Frances rose to fame on Aussie soap Young Doctors in which she played the acid-tongued Sister Scott.
She also appeared on Sons and Daughters before taking on the role of Alf's evil sister Morag on Home and Away. 
Revealing her cancer battle for the first time earlier this year, told the Daily Telegraph that she almost didn't make it through 2017 after undergoing surgery for the ulcer in her throat.
"I swear I have had a hex placed on me for the past 12 months," she said at the time. "I discovered I had bladder cancer. This then spread to my hip bone which fractured, and then I almost died from loss of blood due to an ulcer in my throat. Despite all this, I am still here, as the old song goes."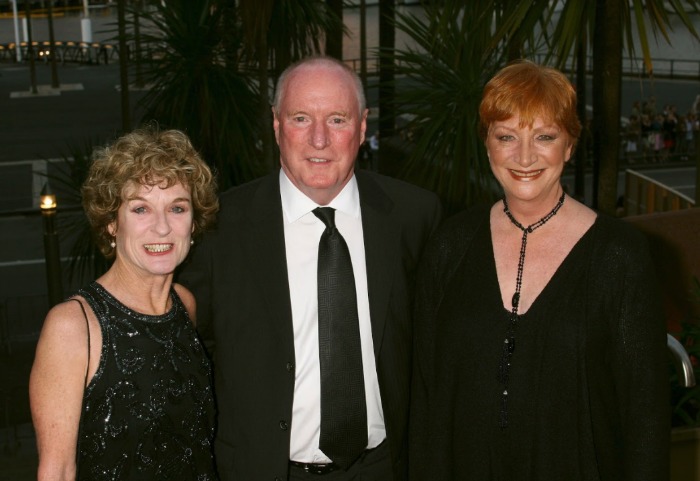 Her surgeon told her he "didn't believe they could get me back from the brink" after she started bleeding heavily during the procedure. Despite the hard run, Frances always said she would fight the disease.
Frances was the third Home and Away star in recent years to be diagnosed with cancer.
Johnny Ruffo, who played Chris Harrington on the show, underwent surgery and radiation therapy last year after being diagnosed with brain cancer.
Ad. Article continues below.
Read more: Lynne McGranger's health update on Johnny Ruffo cancer battle
Meanwhile, Tessa James, who starred as Nicole Franklin for three years, is in remission after being treated for Hodgkin's Lymphoma in 2015.
Do you have a message for Cornelia Frances?