Trump speaks out on Melania's stiletto controversy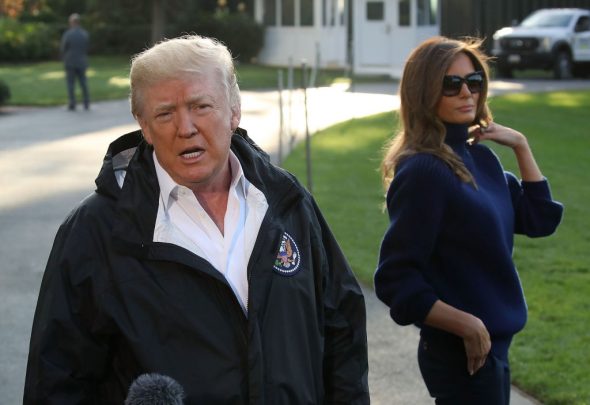 The internet had no shortage of opinions over Melania Trump's fashion choices. 
While few could deny the First Lady's impeccable style, her choice of timing – specifically, when visiting disaster-prone areas – has raised plenty of eyebrows.
The White House has previously issued a statement that it was "sad" people were concerned with her shoes during an ongoing natural disaster. But only now has President Trump personally spoken out about the his wife's recent style choices.
In August she made headlines by wearing four-inch stilettos to flood-ravaged Texas, editorials and social media commentators were quick to label her "Flood Watch Barbie".
Ad. Article continues below.
During this week's Presidential visit to Puerto Rico, she went in the opposite direction with a more practical and conservative "workman chic" look – though her choice of white pants to a cleanup zone still undesired attention.
This was followed immediately by a visit to survivors of the Las Vegas massacre, where she caused a stir by wearing sunglasses at night.
Ad. Article continues below.
In his latest interview with Mike Huckabee, Trump said his wife simply wants to look good "out of respect for the White House" when she makes a public appearance.
"She took tremendous abuse," he said. "But the good news is, the people understand it."
He added that she changed into more comfortable and practical sneakers between appearances.
"She doesn't need to be adored by people, but she does like to help people. And she sees how important it is."
"She is very popular."
Do you agree with President Trump's response? Were the First Lady's style choices appropriate in these situations?