Melania wears sunglasses at night after sad visit to Vegas survivors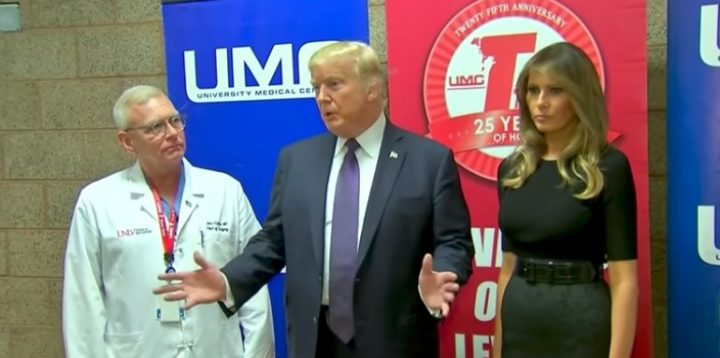 A sombre Donald and Melania Trump returned to the White House after meeting with survivors and first responders involved in the Las Vegas shooting, with the First Lady choosing to hide her eyes behind black sunglasses even at night.
The couple had spent the day at a trauma centre in the shocked city, where the president praised the bravery of the people who ran into the hail of bullets fired by gunman Stephen Paddock to rescue strangers.
"Americans defied death and hatred with love and with courage," he said, according to CNN, adding that the nation thanked the many heroes – both emergency services workers and civilians – who acted so quickly.
He also called Paddock, who had compiled a huge arsenal of powerful weapons before launching his attack from the 32nd floor of the Mandalay Bay resort on a crowd of people at a country music festival, a "sick, demented man".
Ad. Article continues below.
But the president declined to be drawn on the broader issue of gun violence, despite the fact that Paddock was able to purchase 33 firearms in the past year alone, according to news reports. He had a total of 47 weapons at the hotel and at his home, and used legal devices that transformed semi-automatic weapons into automatic weapons.
It emerged at a press conference held by law enforcement officials while Trump was in Las Vegas that Paddock was able to kill 58 people and injure 489 in just 10 minutes of shooting.
VIDEO: @Sheriff_LVMPD provides an update, including a detailed timeline of the incident that occurred on Oct 1. https://t.co/wo8LVCxkjX

— LVMPD (@LVMPD) October 5, 2017
Ad. Article continues below.
Clark County Sheriff Joseph Lombardo released more details about Sunday night's event, revealing that police believed Paddock may have had some kind of assistance, because it was difficult to believe that he had moved the amount of guns found in his hotel room into the room alone.
Lombardo also said that the shooter had made an escape plan of sorts. Instead, he shot himself dead as police approached his hotel room. Ingredients that could be used to make explosives were found in Paddock's car, he added.
Meanwhile, Paddock's girlfriend, Marilou Danley, said in a statement released by her lawyer that she was unaware of Paddock's plan. She said that he had bought her a ticket to visit her family in the Philippines, and while she was there had sent her $100,000, but that she thought that meant he was breaking up with her, not that he planned to die after committing mass murder.
"I voluntarily flew back to America because I knew the FBI and Las Vegas Police Department wanted to talk to me, and I wanted to talk to them," she said in the statement. Danley lived in Australia for 20 years and has Australian citizenship, according to reports.
Do you think Donald Trump will eventually address the issue of gun violence in the US?
Ad. Article continues below.