Melania Trump's 'workman chic': Fab or fail?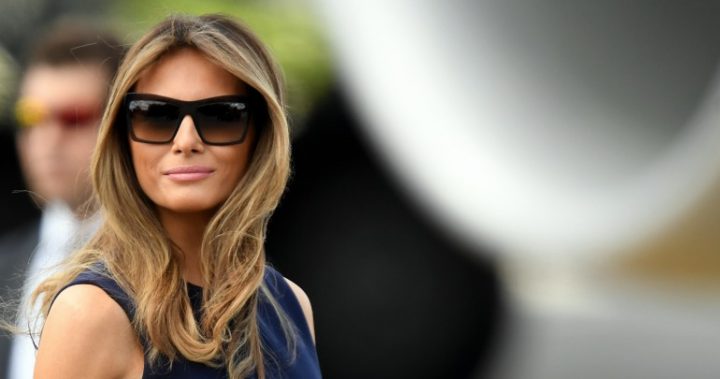 Melania Trump is more often than not known as a woman with impeccable style.
But sometimes it is her choice of outfit for certain events that raises a few eyebrows, and creates more than a few headlines.
Earlier this year the US first lady was titled 'Flood Watch Barbie', and mocked for wearing sky-high stilettos while inspecting flood covered regions in Texas. 
She's obviously learned her lesson from that experience. 
Ad. Article continues below.
While on a visit to Puerto Rico, with her husband President Trump, to inspect the damage from Hurricane Irma she chose a more appropriate piece of footwear. This time it was a pair of Timberland style boots. These sensible work boots are waterproof and sell for around $170 US. 
However, it was the rest of her outfit that has continued to raise eyebrows, and again create headlines. Why? Because she was wearing these boots with a pair of white jeans.
USA Today, for example, questioned the practicality of the colour choice. Twitter was having a field day too, with many saying she was missing the mark. 
Ad. Article continues below.
lol Melania is wearing white jeans and Timbs in Puerto Rico

— Katherine Krueger (@kath_krueger) October 3, 2017
I approve of Melania's boots. Is she reading my tweets? I said she should wear work boots. The white jeans are still a no-go.
: ( https://t.co/hT5CcZ10HA

— Arlena de Victorious (@ArlenadeVictor) October 4, 2017
I hope Melania doesn't get her expensive white jeans dirty!

— Ken Klinkner (@GridUnplugged) October 3, 2017
Ad. Article continues below.
Others came to her defence, saying it was just petty jealousy.
The pathetic left are at it again, trashing Melania for wearing work boots and white jeans. Jealousy rears its head. https://t.co/1B3DRniWMn

— Jo Faiman (@JoJoFaiman) October 3, 2017
Let's be honest, white jeans are hard to look good in, but she does it well. Should she wear them if she wants to? 
Ad. Article continues below.
What do you think? Is she getting a raw deal over her colour choice?