The popular cereals that contain more sugar than chocolate biscuits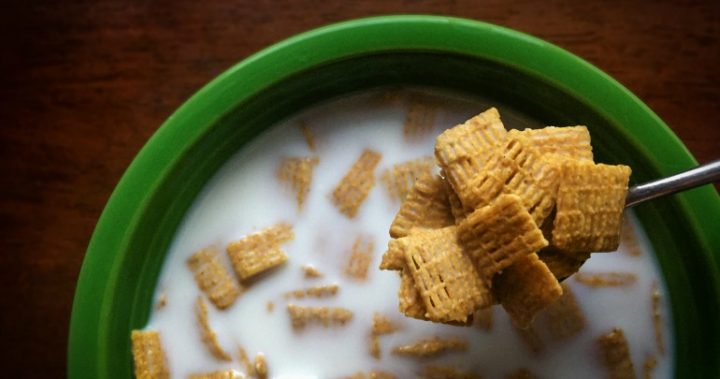 We're constantly being told that breakfast is the most important meal of the day and many people turn to eating cereal to get their day off to a good start.
With many tasty options available, shoppers have more choice than ever before when it comes to picking a cereal that suits their taste.
New research by Nine Coach has found that 21 popular Australian breakfast cereals actually contain more sugar than two Tim Tam biscuits.
They report that a classic Tim Tam contains 8.2g of sugar or 44.9g per 100g eaten.
At present, the World Health Organisation suggests that people should only be consuming 25g of free sugar a day.
Ad. Article continues below.
Nine Coach's research took into account the added sugar from milk that people have with their cereal.
Nutra-Grain, the cereal that prides itself as being "iron man food", contains roughly 17.2g of sugar per 40g serve.
Just ahead of it was Crunchy Nut, the delicious, honey-coated corn flakes that have been a favourite for generations.
Read more: Australia's favourite biscuits ranked by calories
A 35g serve contains 17.6g of sugar, while kids favourite Coco Pops contains 18g of sugar for every 30g you eat.
Ad. Article continues below.
Surprisingly, Just Right, a cereal that prides itself on being a healthy alternative, contains the same amount of sugar as Coco Pops, while the similar Health Wise by Uncle Tobys is even higher at 18.4g per 45g serve.
Froot Loops, the colourful rings made of flavoured corn and wheat are also on 18.4g, while Dorset Cereals' Simply Fruity Muesli is just ahead at 18.6g or 4.5 tablespoons of sugar.
Read more: Australia's most sugary soft drink revealed
Another shock was Sultana Bran. While it contains a lot of fibre, it also contains 19.2g of sugar per serve, while Frosties, made famous by Tony the Tiger, contain 19.4g of sugar.
Other popular breakfast items with high volumes of sugar to be aware of include Yoplait Passionfruit Yoghurt on 22.6g of sugar per serve, Just Juice Apple Juice with 20.2g of sugar per serve and even Cottee's Breakfast Marmalade with 19.2g of sugar per two slices of toast.
What do you think of the findings? What is your favourite breakfast cereal?