Prince Harry and old pal Barrack Obama reunited at Invictus Games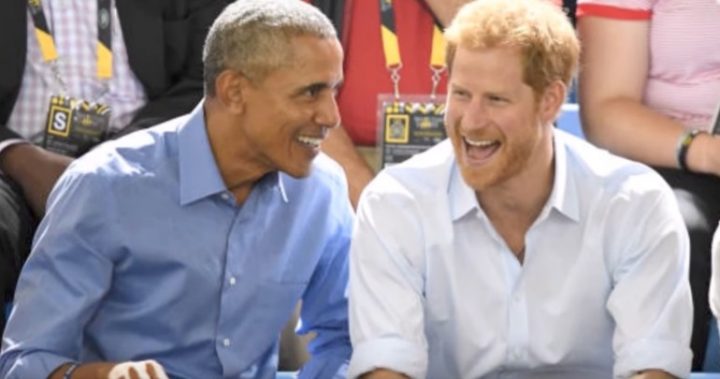 It's no secret that despite being thrown together for official duties during Barrack Obama's presidency, Prince Harry and the former US President enjoyed a special friendship. 
And now, the pair have caught up to watch a game of wheelchair basketball at the Invictus Games in Toronto, Canada. Sharing plenty of laughs, the jolly pair were joined by former Vice President Joe Biden, and his wife, Jill. 
Read more: Prince Harry's message for kids we can all get behind
Ad. Article continues below.
Read more: Prince Harry charms the crowd in Toronto with a cheeky smile
The Games are incredibly close to Harry's heart, having founded them in 2014 after serving with the British Army in Afghanistan.
He gave a rousing speech at the Games' Opening Ceremony on Saturday night where he recalled the exact moment he knew he had to do something for his wounded comrades.
Ad. Article continues below.
"As I was waiting to board the plane, the coffin of a Danish soldier was loaded on by his friends. Once on the flight, I was confronted with three British soldiers, all in induced comas, with missing limbs, and wrapped in plastic. The way I viewed service and sacrifice changed forever. And the direction of my life changed with it," he told the packed stadium.
"I knew that it was my responsibility to use the great platform that I have to help the world understand and be inspired by the spirit of those who wear the uniform.
"In a world where so many have reasons to feel cynical and apathetic, I wanted to find a way for veterans to be a beacon of light, and show us all that we have a role to play; that we all win when we respect our friends, neighbours, and communities.
"That's why we created Invictus. Not only to help veterans recover from their physical and mental wounds; but also to inspire people to follow their example of resilience, optimism, and service in their own lives."
What do you think Obama and Prince Harry were laughing about?