Karl Stefanovic blasts Diana's butler for cruel Kate comments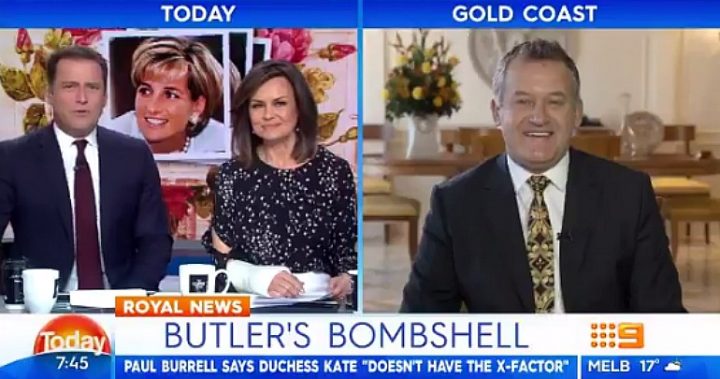 Today show host Karl Stefanovic has jumped to the Duchess of Cambridge's defence after Princess Diana's former butler said Catherine "doesn't have to X-factor" and doesn't measure up to her late mother-in-law.
Paul Burrell appeared on the Today show on Wednesday morning to peddle his new book about his time with Diana and the royal family and faced an angry Stefanovic who fired up over Burrell's earlier comments to about the Duchess.
"I met Mother Teresa — she had it, Pope John Paul II had it, the Queen has it, Diana certainly had it. Kate doesn't," he told Nine News.
He said that while Kate is a, "lovely, lovely girl," that "extra something, which you call the X factor," is not there.
Stefanovic was having none of it.
Ad. Article continues below.
Read more: Duchess of Cambridge a vision in lacy yellow number
"We have a lot to talk about this morning, but first I want to ask you about your comments about Kate Middleton … That's way too harsh, isn't it?" he asked, reports News.com.au.
"How dare you even say that."
"Well, because you see, standing beside someone like Diana I saw something so special and so magical that I can't — I have never seen that," Burrell said, shifting awkwardly in his seat.
Ad. Article continues below.
"How often have you stood beside Kate?" Stefanovic asked his guest.
"No, I haven't. I don't know Kate. I just see her the way you see her, through a lens," said Burrell.
Read more: Young boy cries after meeting beautiful Duchess of Cambridge
Burrell went on to describe Kate as a "beautiful lady" who "should be Queen of England," insisting his earlier comments had been "taken out of context."
Ad. Article continues below.
"With respect, you are not taking anything out of context, you are saying it again and again and again that she doesn't measure up to these other people in front of the camera. It is ridiculous," Stefanovic fired back.
"Why don't you leave Kate alone? Do you have some sort of oxygen deprivation at the moment?
"I mean, come on. Leave her alone. She is a mother of two doing the very best she can. She is awesome."
Co-hots Lisa Wilkinson stepped in an attempt to ease the confrontation, but Karl was quick to take another jab.
"If William is king one day and I found out you had said that about Kate I wouldn't be letting you back into the country," he told Burrell.
Ad. Article continues below.
Nine aired a snippet of the encounter on their Twitter page.
Princess Diana's butler Paul Burrell joined us live. #9Today pic.twitter.com/ggNGPaivaQ

— The Today Show (@TheTodayShow) August 8, 2017
Read more: Princes William and Harry share private snaps of Princess Diana
What are your thoughts on this? Do you think Kate has the "X-factor"? What are your thoughts on Paul Burrell's words?