Miley Cyrus doubles for godmother Dolly Parton in hilarious video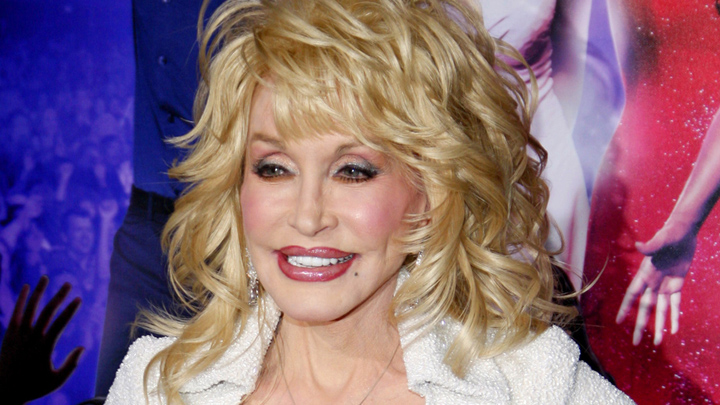 Dolly Parton may be godmother to Miley Cyrus, but that's not where the connection ends. The young pop singer has inherited a healthy amount of country twang from her father, Billy Ray Cyrus, and a broad vocal range allows her to mimic her godmother with surprising ease.
Cyrus appeared on The Tonight Show Starring Jimmy Fallon to promote her new album, Younger Now, and teamed up with Fallon for a recreation of Kenny Rogers and Dolly Parton's iconic "Islands in the Stream" duet.
Fallon was almost unrecognisable in his grey wig and beard, but it was Cyrus who turned heads as soon as she walked out. Donning a massive blonde wig and some, ahem, temporary enhancements for her décolletage, she was the spitting image of her godmother.
Read more: Dolly Parton reveals adorable sneak peek of new album
Cyrus's dress was also very similar to Parton's, right down to the sequins on the bodice and the thigh-high split.
Ad. Article continues below.
Everything from the singers' entrances to their movements on stage and the slightly faded visual effect applied to the performance were a throwback to a performance in the 1980s by Rogers and Parton.
Parton was also able to lend her vocals to "Rainbowland", one of the tracks on Cyrus's new album.
Read more: Dolly Parton makes big announcement for fans
It's not the first time the two have collaborated; Parton made several guest appearances on Cyrus's TV show, Hannah Montana, where she played Hannah's aunt.
With Cyrus currently appearing as a judge on the US version of The Voice, godmother and goddaughter came together to perform a stunning duet of Parton's hit, "Jolene".
Ad. Article continues below.
Read more: Dolly Parton channels Barbie in skintight, sequinned awards gown 
Parton came to Cyrus's defence in 2014, when her goddaughter was going through a rebellious stage in her career.
"Back in the day, doing my own things my own way, and dressing sexy and showing my cleavage and all that, I got a lot of criticism. Lots of people thought I was making a mistake and that I was just trashy, which I was," Parton said in a People article.
"So I did go through that, but I don't give her advice. Everyone has to walk this journey according to their own rules. That's what she's doing."
Check out the similarities between the performances of "Islands in the Stream" below.
Ad. Article continues below.
Do you think Miley Cyrus does justice to her godmother's music?