'Kochie's blitzed!' Sunrise host enjoys 'jolly' night at Brownlows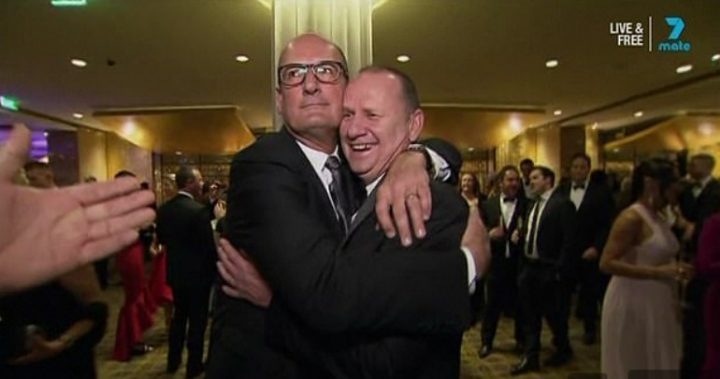 He normally appears to be the more straight-laced and conservative host in the breakfast television field, but if looks were anything to go by, David Koch loosened his tie and let his metaphorical hair down at the Brownlow Medal awards on Monday night. 
The veteran host of Channel Seven's Sunrise program, affectionately known as 'Kochie', appeared rather jolly on the broadcast of the awards ceremony, prompting social media users to speculate on the normally serious Port Adelaide chairman's alcohol consumption.
Read more: Kochie gets choked up over touching Father's Day tribute
"David Koch p*ssed already," tweeted one viewer. 
While another wrote: "A few few too many beers there Koch!"
Ad. Article continues below.
Other Twitter commenters were less amused with his exploits. 
"No one tunes into the #Brownlow to watch kids getting falcons or a pissed David Koch chatting to BT. Get rid of that crap."
One viewer went as far as to compare it to the infamous Brownlow night back in 2009 when then-Carlton player Brendan Fevola was fined for his drunken behaviour at the ceremony, and later dumped from The Footy Show, tweeting: "Kochie is very close to being Fev'd right now."
Read more: Even Sam and Kochie argue over old man vs woman issue
Kochie was absent from the Sunrise desk on Tuesday morning, with sports reporter Matt Doran filling in. This lead to further speculation that Koch was nursing a hangover, but a Channel Seven spokesperson advised the Daily Mail that he had taken planned leave from the breakfast show on Monday and Tuesday. 
Did you watch the awards? Did it appear Koch had had a bit to drink?